Humans have been using outdoor fireplaces for hundreds of years. In the early years, fireplaces were the major source of heat, especially during the freezing winter months.
Adding an outdoor fireplace to your house is one of the best decisions you can make as a homeowner. This is because it provides warmth during cold weather and increases your home's value.
In this post, we discuss the 10 benefits of an outdoor fireplace. Let's get started.
1. Gathering place for friends and family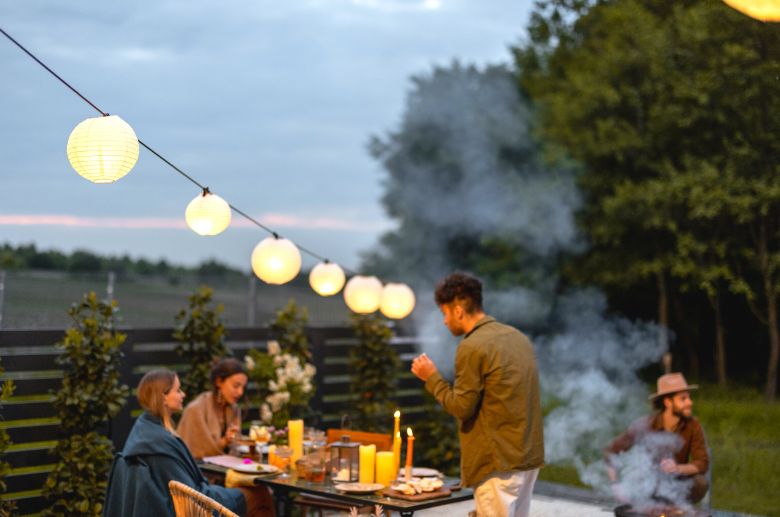 An outdoor fireplace is an ideal place in your home to have a family gathering.
In many homes, finding a good area of the room to bond as a family is difficult because of small floor spaces or cluttered living rooms.
If you have an outdoor fireplace, you can always gather once in a while as an extended family around the crackling fire. It also allows you to spend time outside the house during the cold season.
Outdoor fireplaces are ideal spaces for anniversaries, holiday parties and birthday parties that fall in the winter months.
So, building an outdoor fireplace would be a wise decision if you regularly host relatives and friends or have a small living room.
2. Provide warmth on cool evenings
Many years ago, fireplaces were the main heat source in homes. The introduction of heating systems like furnaces, heat pumps and boilers meant that people didn't need to install fireplaces.
The problem is that most heating systems are designed to be used indoors.
An outdoor fireplace is still the best heat source you can build in your backyard. This is because it is more efficient at providing warmth than regular patio heaters.
They are perfect for evening family gatherings or parties when the temperatures dip and staying outdoors is not an option.
Furthermore, outdoor fireplaces allow you to enjoy the beauty of the natural environment, especially on a starry or moonlit night.
3. Increases the value of your home
According to the National Association of Real Estate Appraisers, fireplaces increase your home's value by 12%.
But how does it increase the value of a residential property? Most potential buyers look for homes with unique aesthetic features and an outdoor fireplace is one of them.
It gives a home a timeless look, making it perfect for hosting family gatherings and parties.
Another reason to build an outdoor fireplace is that it provides warmth during cold weather and allows you to spend some hours outside your house.
Note that most buyers looking for residential property in upscale neighborhoods seek those with outdoor fireplaces.
So, if you want to increase the sellability of your home, adding an outdoor fireplace is a surefire way.
4. Serve as a stylish centerpiece for your outdoor space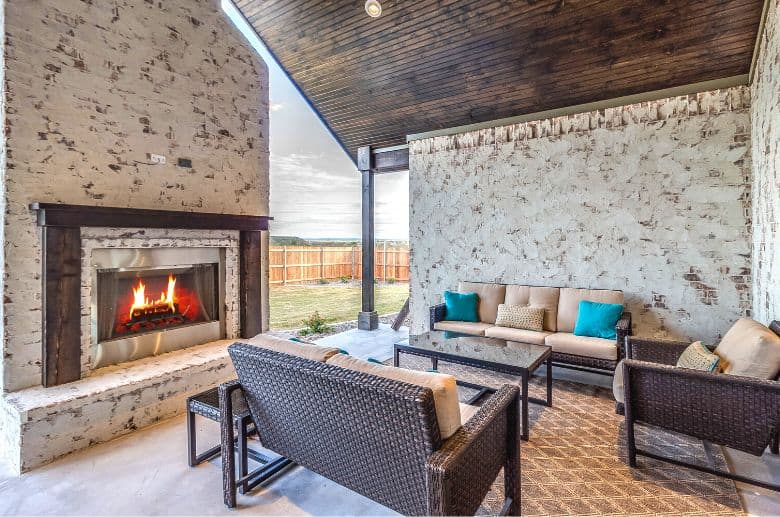 If you are thinking of adding some style to your deck, patio or backyard, you can never go wrong with a unique outdoor fireplace. This amenity gives your home a unique look.
You can choose from a wide range of designs such as rustic, traditional or modern. Even when you are not using the fireplace, it can be a standout aesthetic feature that will significantly improve the attractiveness of your home.
It is important to note that your external fireplace's design should match your home's overall look.
If you want to build one, get in touch with a professional who will guide you on the materials and the best place to install it.
5. Can be used for cooking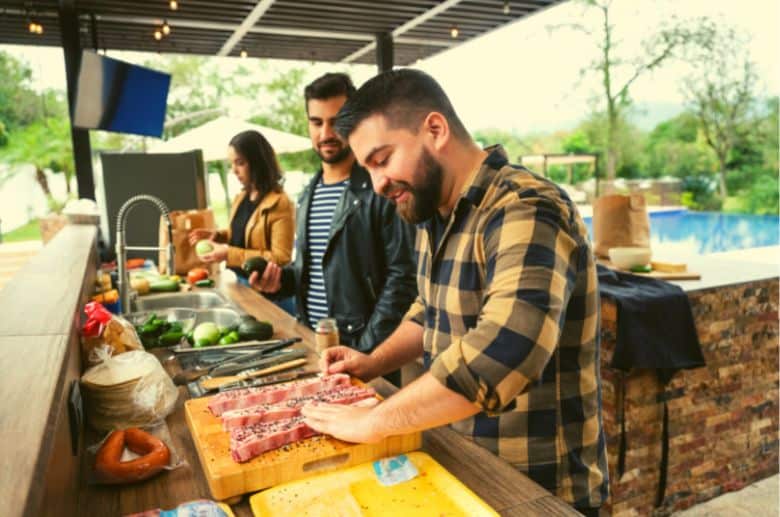 Food prepared outdoors is a breath of fresh air. You don't have to wait for the next camping trip to eat food cooked over an open fire.
Some foods you can prepare in an outdoor fireplace include hot dogs, s'mores, seafood, steaks, soups, stews, and burgers.
Ensure you have the right tools for fireplace cooking like a skewer, Dutch oven and a cooking grate. Outdoor cooking is perfect for your family's backyard barbeques.
Adding fireplace food can also make the parties you host in your home more enjoyable and memorable.
6. Extend the livability of your outdoor space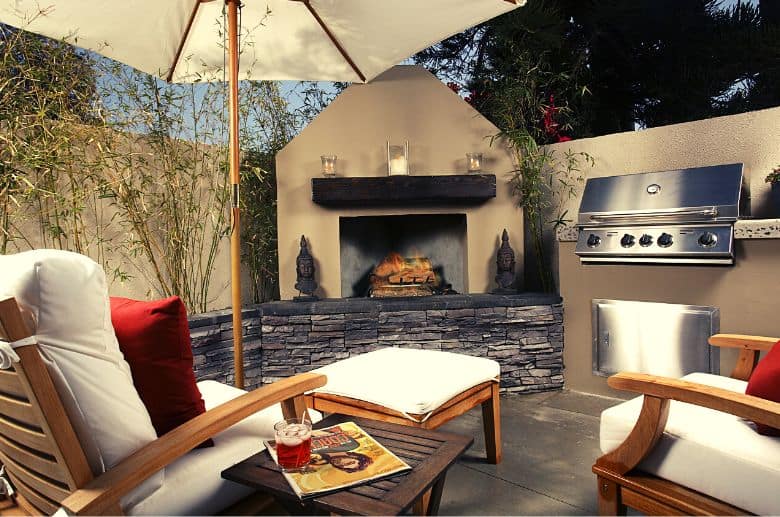 An outdoor fireplace isn't just for providing warmth during the freezing winter months. It acts as part of your living room.
Instead of watching TV indoors, you can curl up on the couch near an outdoor fireplace on your patio, reading your favorite book.
If your home lacks an outdoor fireplace, there is only one option-your living room. But if you build an outdoor fireplace, you will have an alternative relaxation center in your home.
What's more, the outdoor fireplace will let you spend more time in your backyard during winter or in the evening when temperatures drop.
7. Great place to relax and unwind after a long day
When you're done with the day's activities, the only thing you want is to find a place to rest. An outdoor fireplace is a perfect spot for enjoying your evenings.
During warm weather, you can do activities such as lounging at the pool or sitting in the shade.
But when it is cold or starts to get dark, you have no option but to go indoors. An outdoor fireplace provides the warmth you need to stay outside your house. In addition, you get to relish the fresh outdoor air.
8. Outdoor fireplaces are low maintenance
Maintaining an outdoor fireplace is pretty easy. Keep your outdoor fireplace in excellent condition by doing these three things:
Remove creosote that builds up in the chimney liner
Creosote is a sticky tar-like substance formed when wood burns in the fireplace. It is highly flammable and can trigger deadly chimney and home fires.It is also a health hazard as exposure can cause conditions like eye and skin irritation. When there is a lot of wood creosote in the fireplace and chimney, it is advisable to contact a certified chimney sweep to remove it.
Regularly remove ash from the fireplaces
Never let it accumulate to the point where starting a fire becomes difficult. If you don't remove excessive ash, it will spread to the surrounding items like furniture.
Install a fireplace door or screen
A fireplace door or screen is an important accessory for your outdoor fireplace. These components prevent children and pets from accessing the firebox.
It also prevents sparks and embers from flying onto combustible items near the fireplace.
9. Easy to install
When installing an indoor fireplace, you usually have to tear down walls and erect supporting structures to prevent damage to your home.
This isn't the case with outdoor fireplaces; all you have to do is start the building process at a spot of your choice. This means saving on installation costs and the construction takes a shorter time.
10. It keeps bugs at bay
Bugs like mosquitoes, flies, bees, wasps and gnats in your outdoor space can be a nuisance. You can keep these creatures away by having a fire in your backyard.
Insects do not like smoke so if you have a fire in your fireplace, they will steer clear of your home. You can use slightly moist wood if you want the fire to produce more smoke.
Does an outdoor fireplace need a chimney?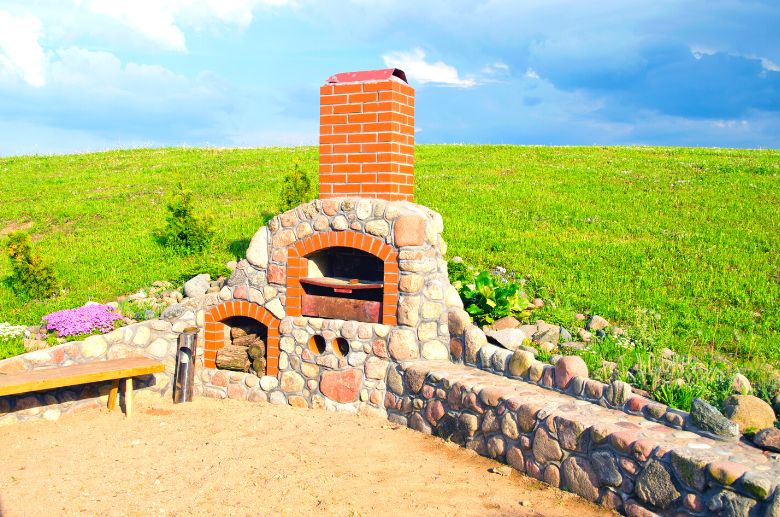 We recommend having a chimney in your outdoor fireplace. Some homeowners think it's not an important feature, but it is.
Smoke can stain the exterior of your home. With a chimney, you can direct this smoke away from your home.
A chimney also creates draft and improves the circulation of oxygen in the fireplace, keeping the fire burning for long periods.
Moreover, it is a vital aesthetic feature that will improve your home's look.
Conclusion
If you weren't sure about building an outdoor fireplace in your home, now you have enough reasons to. And when you build one, ensure you schedule an annual inspection and cleaning with a reputable chimney sweep to keep the fireplace in excellent condition.