Most homeowners keep every corner and room of their house clean. But sometimes, they tend to miss one aspect of the house: the roof. Considering that your roof is located at the top, it's not immediately noticeable to the household members inside it.
But for your neighbors and passersby outside, your roof is one of the most visible aspects of your house. Once your roof is covered with dirt, dry or dead leaves, mold, or moss, it can be very distinguishable when looking from the outside.
Thus, keeping your roof clean at all times must be one of your priorities to keep it in its best shape and maintain the aesthetic appeal of your home. Furthermore, regular cleaning of your roof can also prolong its lifespan and prevent possible pest infestation or mold growth.
Other benefits of cleaning your roof may include:
Increased property value;
Easily spot possible roof problems beforehand;
Prevent potential decay of the roofing material;
Bigger energy savings (since dirt and moss growth can interfere with your roof's ability to reflect the sun's rays);
Remember, your roofing system has cost you a huge investment, so roof cleaning must not be taken for granted. So, how can you clean your roof in the best way possible? Here are the four best ways how.
Hire A Professional Roof Pressure Washer
One of the major reasons homeowners struggle to keep up with their roof cleaning is because it's challenging. You won't reach your roof and scrub it if you don't have a ladder at home. And even if you have ladders and can climb up on your roofs, it is still a dangerous idea.
Without a complete safety outfit or a full-body safety harness, you could risk falling off the roof or being prone to other accidents.
Thus, one of the safest ways to clean your roof is by hiring a professional to pressure wash your roof. These professionals have the tools and equipment to climb your roofs and ensure they execute the task safely and effectively.
Furthermore, they also know the best methods of pressure washing your roof, depending on their materials. Remember, trying to DIY (do-it-yourself) your roof pressure washing could be dangerous for your roof and cause damage like cracking or stripping off your shingles.
Roof pressure washing can help remove stains, dirt, grime, or moss, especially if you haven't cleaned your roof in a very long time.
If you're living within Texas, you may check out some pressure washing Austin, TX services and inquire about their pressure washing services and prices. Preferably, you can have your roof pressure washed once a year during summer.
Scrub your roof
Besides washing your roof, which should only be done once a year, another way to maintain your roof's cleanliness is simply scrubbing it with a roof-cleaning brush.
Scrubbing your roof can help remove any grime, dead leaves, or dried algae accumulated on your roof. You can create your own homemade roof cleaning solution and apply it to your roof before scrubbing.
Your roof cleaning solution must consist of a small amount of bleach, hot water, and a detergent. Place it inside a garden sprayer, apply it to your roofing, and let it dry for 15 minutes before you start scrubbing. After the first scrubbing, you may repeat the process until your roof is spotless.
You don't necessarily have to hire a professional since the length of the brush is long enough to reach your roof. This means you can reach and scrub your roof from the ground without the dangers of climbing on a roof. Alternatively, if you have an attic with a window, you may also reach from that area to scrub your roof.
You can check out some roof cleaning Austin, TX services or shops and browse for their different roof-cleaning brushes. Ultimately, scrubbing your roof by yourself can be a tedious job, but it'll be worth it.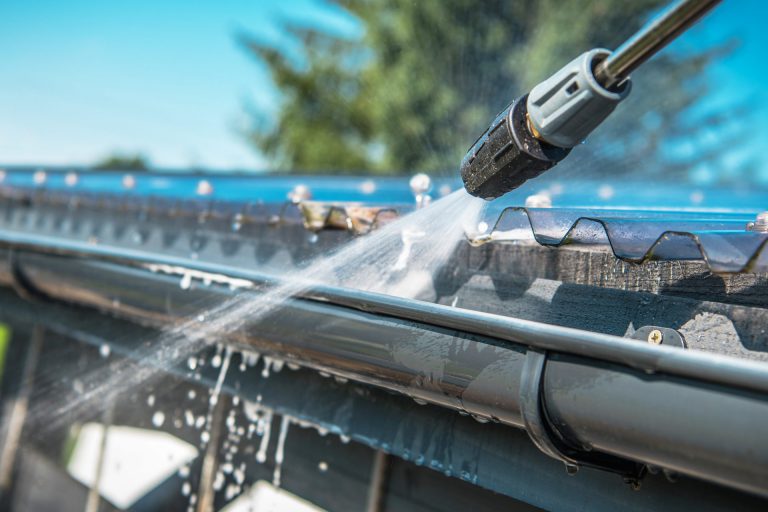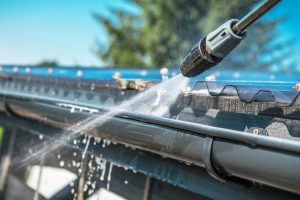 Clean Your Roof Gutters
The gutters are also part of your roofing system. It protects your home's siding and foundation from damage and severe runoff. But over time, sticks, leaves, and other debris can clog your gutters.
When left unresolved, these clogs can cause water to creep under your roof and eventually lead to moss or mold growth. Thus, it's essential to pay attention to your gutters and keep them clean, especially when winter is approaching.
You can clean your gutters using gutter scoops which you can buy from a hardware store. Once you've removed all the debris clogging your gutters, you may use a garden hose to clean and flush out the remaining debris.
Get Rid Of Any Sources Of Debris
Perhaps the best way to keep your roof clean is to prevent it from being dirty in the first place. Check your roof and observe what type of dirt or debris is commonly accumulated on your roof. Do you always see dried leaves stuck on your roof or gutters?
In that case, trimming the tree or removing the branches that are growing over your roof may be the best option. This way, there won't be any leaves, twigs, or sticks stuck on your roof.
In addition, this will also expose your roof to the sun, preventing moss or mold growth.
Wrapping Up
Regular roof cleaning is necessary to prolong your roof's lifespan and maintain your home's exterior aesthetic appeal. So, try out these cleaning tips and formulate a roof-cleaning schedule.