Due to globalization, the volume of goods traded worldwide is significant. The need for product shipping services has become more apparent as a result. Plus, efficient shipping forms part of excellent customer service and ensures healthy profit margins. Therefore, shipping is an integral part of local and global supply chains alike.
Many businesses rely on shipping services to keep their operations going. Most companies can't even afford disruptions in the supply chain. That's why streamlining the product shipping process is essential. So, to make shipping processes more efficient, businesses have to leverage the power of technology.
That said, here are some ways to make your product shipping more efficient:
1) Use Digital Freight Brokers
Freight brokers connect shippers and carriers. Since brokers have strong relationships with shippers and couriers, a constant supply of business will be available to you if you partner with them.
Relationships are perhaps the most critical asset that brokers have, which is precisely what you need. Note that every freight broker will charge a small brokerage fee for every load.
However, using traditional freight brokers has its disadvantages. Some disadvantages include lack of supply chain visibility, slow response, and high freight brokerage charges.
Digital freight brokerage services overcome these disadvantages. They leverage the power of digital freight networks. A connected marketplace can efficiently bring shippers and carriers together through information technology software and machine learning.
These networks have plenty of data that enhances the efficiency and accuracy of the brokerage process. Plus, digital freight brokers have lower charges on average.
2) Use Process Automation
Process automation can create time and cost savings. This is because, with automation, you won't need human resources as much. Most of the shipping processes will be done and executed by machines. Machines are more efficient at executing most activities.
How could you automate the shipping process? Think about how robotic process automation (RPA) can sort warehouse inventory with greater efficiency.
Automation also enables supply chain optimization since it allows you to integrate or link various systems together. For example, it could link the order fulfillment system, order tracking system, demand forecasting system, and inventory management system altogether. This allows you to have a holistic view of the entire supply chain.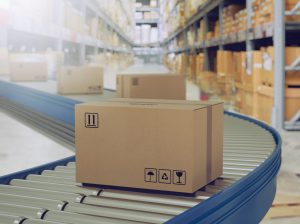 3) Choose The Right Packaging And Tools
Efficient shipping and excellent customer service start with choosing the proper packaging. Poor or inefficient packaging can affect your margins and take up storage space. If you standardize your packaging process, you can speed up the packaging process to allow products to get shipped off sufficiently early.
Also, if you minimize the package size wherever possible, you save on costs. However, just make sure you don't compromise on the quality of the packaging.
Here are some ideas on how you can optimize the packaging process:
Poly Packaging
It's good to switch from cardboard to poly packaging for items like clothes. It's much more efficient and cost-effective.
Custom Packaging System
Invest in custom packaging systems to optimize the whole packaging process. This system will help determine appropriate packaging. This applies to choosing a suitable shipping container as well.
To make this easier, you could organize your inventory such that the frequently purchased items and perishable goods are nearest to the shipping area. This will reduce the time between order placement and fulfillment.
Packing Order Sequence
Establish an efficient packing order sequence as an operational flow chart that you and your employees can follow. With this, you standardize the packaging process.
4) Collaborate With Carriers
To optimize the supply chain, you need to work closely with the supply chain partners to find areas that can be improved further. An agile supply chain needs ample data sources, business processes, and excellent customer service. So, when choosing partners, consider their reliability in terms of service delivery.
In addition, consider the need for an order tracking system. Customers value the feature of order tracking. Therefore, you ought to partner with a carrier that offers this service.
5) Create A Solid Plan And Strategy
If you're going to make product shipping more efficient, a solid plan is a prerequisite. You need to evaluate your business' shipping needs before making your first shipment. Having a plan in place helps you make the right decisions. This will guide you in choosing suitable carriers, brokers, and other supply chain partners.
Also, you need to be customer-centric because the customer is the most crucial part of your business. Therefore, having a plan to deliver excellent customer service is paramount. You can't achieve something you don't plan for. You certainly don't succeed by mistake.
Conclusion
Leverage technology to make your product shipping more manageable and efficient. Using automation and digital freight brokers, for example, can help you save time and money because it optimizes the whole product delivery process.
These connected platforms make it considerably easier to identify and connect with the right partners. Plus, there's an opportunity to establish strong relationships with partners in the process.