Door locks are one of the essential parts of your home. They provide the necessary safety and security you and your family need by deterring would-be burglars and intruders from entering your home while keeping it private at the same time.
However, there's a wide range of door locks to choose from. Each type has a specific purpose and offers a different level of security. Some door locks are often installed in the main entrance because of the extra layer of security they provide, preventing trespassers from entering.
Other door locks are better installed within your home, particularly in your bathrooms, bedrooms, closet doors, etc. They offer the right level of security to keep individual rooms secure and private.
With tons of options to choose from, it's crucial to understand each of them in detail so you can choose the right one that fits your needs. That said, read on to discover some of the different types of door locks and security levels.
Knob Locks
Knob locks are probably the most common type of door locks used in bathrooms, bedrooms, and other doors inside your home. They're also often installed in front doors in combination with a more secure door lock since knob locks don't provide extra layers of security your home needs.
The locking mechanism of a knob lock lies within the interaction of its tube latch and knob. A tube latch is a barrel-shaped metal piece that locks and unlocks the door when knobs are being turned. To ensure high-quality door latches, purchase them from reputable hardware stores such as Keeler Hardware Solutions.
Hand Levers
Hand levers are best used for doors inside your home, particularly closet doors, pantries, and basement doors. Some hand levers have handles on both sides of the door, while others have only one on the outside and a twist knob to lock the door from the inside.
However, hand levers don't provide the right security level to keep intruders out. So, they shouldn't be installed in your front doors. But they help you open doors easily using one hand, especially when carrying groceries or laundry.
Handleset Locks
These locks have a combination of a keyhole opening and an external handle. On the inside, it has a twist knob similar to a knob lock but smaller. That knob is used to lock the door on the inside, preventing anyone from entering your home unauthorized.
In addition, handleset locks use deadbolts instead of spring bolts for an added layer of security. Overall, this type of lock is similar to a knob lock but with a more aesthetic look to your home's exterior.
Deadbolts
Deadbolts are separate locking systems from your doorknobs. This provides your front doors with an extra layer of security. This is why most residential and commercial establishments opt to have deadbolts to complement their knob locks to reduce the risk of unwanted intrusions.
Deadbolts create a locking mechanism that makes it almost impossible for an intruder to break in your door. Also, they come in a single or double cylinder, with the latter providing more security and protection.
Chain Locks
Chain locks are commonly used in hotel doors, particularly on the inside panel. These use a catch installed in the doorframe (where the chain is located) and a locking mechanism on the door (where you can hook the chain).
The concept behind chain locks is simple. It lets you see who's behind the door by keeping it locked and partially open. People won't be able to barge in until you close the door again and remove the chain hooked to the body.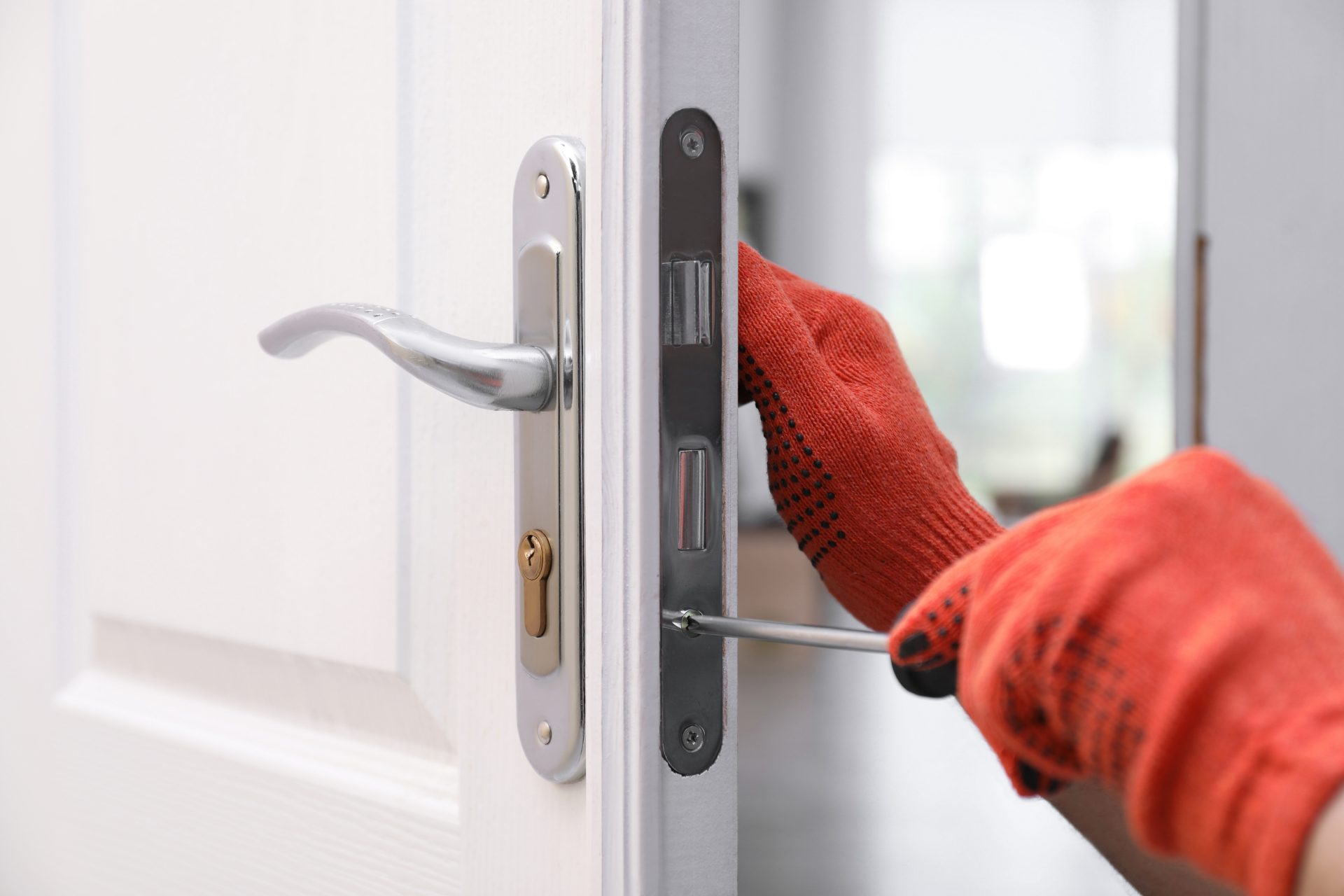 Security Levels Of Door Locks
Below are the three security levels (or grades) of door locks based on the American National Standards Institute (ANSI).
ANSI Grade 1: If a door lock possesses this security level, it has the highest level of protection and security. This is rarely used in some residential properties but is often used in commercial buildings.
ANSI Grade 2: This offers high-level security and durability for residential properties but is not commercial grade.
ANSI Grade 3: This security level refers to the basic and least secure type of lock commonly used in most residential properties.
Conclusion
Door locks are crucial to the safety and security of your home. Without them, burglars and other unwelcome guests may access your home quickly and easily. But there are plenty of options with different purposes to choose from. That said, you can use the detailed discussion above at your disposal to determine the type of door lock you need.