For some homeowners, they consider double glazed windows as an unnecessary expense because of the cost. What they don't realize is they provide numerous benefits that can elevate and transform a home.
Here are five ways double glazed windows could level up your house:
Makes Your Home More Energy-Efficient
With the power prices continuing to increase every year, homeowners must look for ways to make their household more energy efficient. One way of doing this is to install double glazed windows.
A double glazed window uses two panes of glass, which allows it to drastically lower the amount of heat that enters or exits your home. Double glazed windows have unique insulation properties that help your house become cooler during summer and warmer in winter.
The two panes reduce the flow of hot or cold air that gets inside. As a result, you get to keep a comfortable indoor temperature all year round while minimizing your dependence on your HVAC system, which in turn lowers the amount of electricity that your household uses.
Enhanced Home Security And Safety
The dual pane design of double glazed windows allows for enhanced home security and safety. The added pane of glass makes them twice as tough and acts as a sturdier line of defense against intruders.
Double glazed windows are tougher to break into than their single counterparts. Their durability and toughness give you a strong sense of protection and peace of mind as you sleep soundly every night.
Additionally, the finest double glazed windows come with advanced locking mechanisms, which add another layer of extra protection to your home.
Make Your Home Healthier And More Comfortable
Double glazed windows also aim to prevent condensation from building up inside your home. With the airtight seal of the two panes, they can significantly reduce the moisture inside. Traditional windows allow the buildup of condensation, which makes for an ideal environment for bacteria and mold to thrive.
Condensation is bad news for you and your family. It increases the likelihood of viruses, fungi, and mites that can cause health problems such as respiratory infections, asthma, and allergies.
Aside from condensation, double glazed windows also protect you from harmful UV rays. As we all know, UV rays are extremely harmful to our skin. Aside from that, they can also cause your furniture, carpets, and other home décor to fade. With double glazed windows, UV rays can't penetrate through the glass, which protects your home's interior.
If you install double glazed windows, you're not only creating a comfortable indoor temperature, but you also get to create a healthier living environment for your family.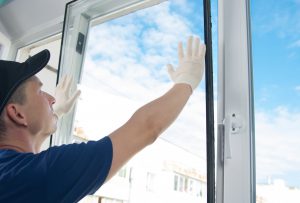 Creates A More Soundproof Home
Unwanted outside noise can cause a negative impact on your mood and comfort. If you want to make your home more soundproof and keep noise at bay, you should consider double glazing your windows. This is especially true for those who reside near airports, as well as live in the busiest areas of a city or in a very noisy neighborhood.
By doing so, the noise coming from your neighbors or traffic won't affect your good night's sleep. Double glazing your windows makes them thicker, making them more effective in reducing the amount of noise entering your home.
Double glazing gives your windows better sound insulation. Sound waves tend to reduce as they travel through the dual pane design of double glazed windows. Also, bear in mind that double glazing also comes with different glass options, which provide different noise reduction results.
Make Your Home Look More Modern And Increase Its Resale Value
If you're looking to improve the visual appeal of your property without doing much, you may want to consider double glazing your windows. Double glazed windows come in different patterns and styles to suit the preferences of homeowners.
The glass panes are shiny and make your house look more modern. What's more, they can be easily installed without changing the original look of your property.
By enhancing the aesthetic appeal of your home, double glazed windows can also increase the resale value of your property should you want to sell it. Double glazed windows can play a key role in helping you get a good deal for your house.
They can make your home look modern, more energy-efficient, safer, and secure. All of which is what most potential buyers are looking for when buying a house.
So, if you're thinking about selling your home, you might consider double glazing your windows to get a better deal.
Final Thoughts
The benefits of double glazed windows far outweigh their initial costs. The amount of savings you can get in the long run from double glazed windows should be enough to convince you that they're a worthwhile investment.