Construction works are usually very intensive with the need to lift and carry heavy loads. This can't be achieved through human strength, thus the need for construction cranes.
Cranes fall into two different categories. First are the mobile cranes that can be shifted from one point to another without the need to assemble and dismantle them.
They're mounted on vehicles to facilitate quick movement. The second category is the fixed cranes which are carried as separate parts. You should assemble these parts at the project site mostly for the duration of the construction project.
But before deciding between the two, you need to consider many things such as the size and terrain of the job site, the weight and size of materials, the height of lifts, distance and radius required, the project timeline, and of course, the safety hazards. All of these play a significant role in your choice of a crane and the success of your project.
In Australia, like in any other country, buying a crane can be expensive. It's not cost-effective when you're handling a short-term project. Therefore, you may hire a crane according to your need from companies near you such as crane hire Sydney.
You may use the rented crane on several projects for a specific period, and should you need to transfer the heavy equipment from one place to another, you'll need the help of an expert hauler.
This article helps you know some cranes used in construction and their advantages. These are:
1-Tower Crane
This is a type of a fixed crane used across the world during the construction of skyscrapers. You should fix it on the ground and attach it to the side of your building. As the building rises, the crane is also increased in height.
As its name suggests, it's the tallest and it's said to carry the heaviest and biggest loads in construction. Here are the benefits:
They're extremely stable and can perform the hardest tasks.
They can rise to any height, unlike many other cranes.
They can lift the heaviest load compared to other types of cranes.
The lifting capacity of a tower crane is quite impressive but don't be deceived; the equipment has a weight limit of 18 tons.
2-Telescopic Crane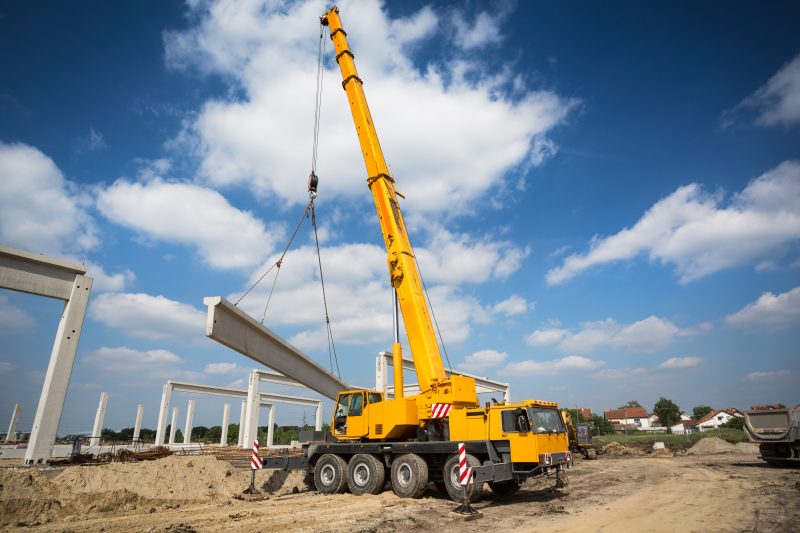 Just like the tower crane, telescopic cranes are used to transport heavy goods. One will also often see telescopic cranes in cargo vessels because they're often used to embark and disembark cargos. This crane is constructed with a large boom that has tubes put inside each other. The tubes help increase the height of the crane using the hydraulic principle.
They're best when you want to transport heavy loads to high points. Here are the benefits:
You can adjust their height according to the place of use.
They employ precision when moving loads.
They're employed in rescue missions such as lifting boats out and in the water because of their ability to adjust in height.
Their mobile nature gives the flexibility of moving loads.
Load picking and disembarking can take place in any port using these types of cranes.
3-Rough Terrain Crane
This is a type of mobile crane in the class of the hydraulic group. It's meant to work on rough surfaces or off-road. It's constructed on a carrier with four rubber tires and is self-propelled.
They find their major use in chemical and power plants, large-scale projects, and building bridges. Here are the benefits:
The tires are big enough for efficient control.
They have a broad wheelbase and a bigger engine, unlike truck cranes.
They have good stability due to their wide center of gravity.
They're capable of maneuvering surfaces that limit the movement of other rubber wheels.
Since this crane is a bit smaller than others, it can maneuver into smaller sites easily but still with maximum lift capacities. It can travel over rocks, dirt, and roads for convenient moving from one project to another.
4-Truck-Mounted Crane
This is another type of mobile crane that's mounted on a truck for easy mobility. This crane is self-propelled for loading and offloading loads. It also has a rotating cantilever boom. The boom is fitted with tubes that are used to adjust the height of the crane.
You can use the truck-mounted crane to carry heavy loads from one point to another, including in high places. It uses the same engine for the crane and the undercarriage. Additionally, this equipment that can carry up to 10,500 pounds can help load and unload palletized goods. Here are the benefits:
They can travel along highways.
They can be used in emergency operations as they can travel at 65km/h.
Some cranes can be rotated to 180 degrees while others can be rotated up to 360 degrees.
They're flexible and have multiple uses.
You can use them to load and unload motor truck rolling stock.
5-Crawler Crane
This is a mobile crane that can move on tracks. According to your needs, you can get a crawler crane with a lattice boom or telescopic.
A crawler crane can move in your construction site with no need to set up. The tracks give stability for the crane to work without the need for outriggers. Here are the benefits:
They can move on any kind of surface, whether rough terrain or soft surface.
They can be employed in unprepared places as their load is distributed across a greater area.
They have one engine with two or more cable-operated drums.
6-Railroad Crane
There is a broad range of use for this heavy equipment. One can use a railroad crane in port cargo handling, civil engineering, and construction. Its ability to move on soft surfaces makes them the go-to equipment in recovery during disasters. They're also widely used in the agriculture sector. And they are the preferred equipment to perform jobs in severe weather conditions.
They move on railway trucks and are used in the construction and repair of railway tracks, as well as during maintenance. Here are the benefits:
They're fitted with a rapid self-propelling system.
They can carry heavy loads of up to 250 tons.
They're safe and efficient due to their movement on tracks.
Wrapping Up
Construction sites need high safety standards that don't endanger the lives of the involved personnel. One way of achieving this is through the use of cranes to carry heavy loads. With a crane, the operator can ensure that the load is far away from the people around to mitigate fatal accidents in case a load falls off the crane.