If you have a warehouse or other similar facility, you're likely to handle a lot of materials and products. Hence, you want to make sure that these materials and products aren't damaged as you move them around your facility. That's why having the proper material handling equipment is important.
Understanding The Purpose Of Material Handling Equipment And Its Benefits
Material handling equipment refers to a variety of machines, tools, storage units, and vehicles that store, control, transport, and protect materials and products during the manufacturing, distribution, disposal, or consumption process.
It's critical for the success of a company since it aims to handle products and materials efficiently. Improper handling and storage can cause damaged material, product loss, and inefficiencies in your supply chain.
A good material handling system offers distinct advantages to a business. These include:
Reducing product and material waste
Lowering material handling costs
Creating better work conditions and increasing workers' safety
Achieving greater warehouse capacity
Improving distribution and material flow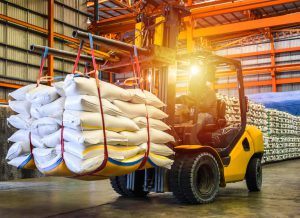 Type Of Material Handling Equipment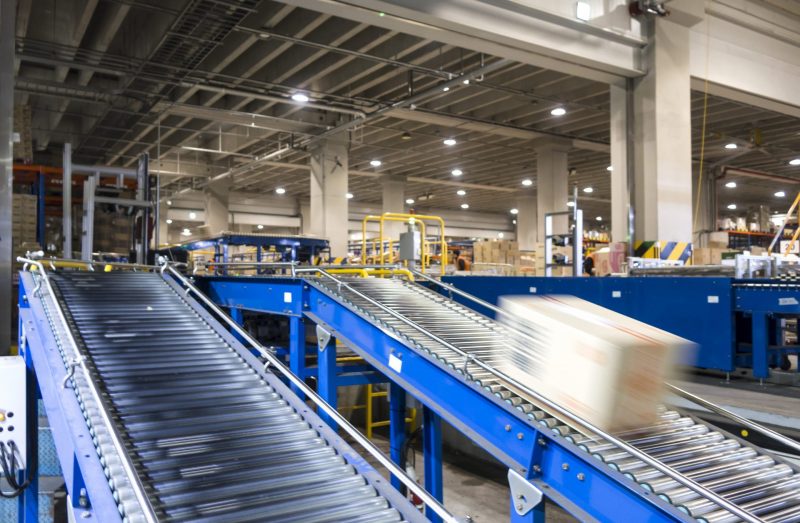 In general, material handling equipment is categorized into four. Knowing more about these categories can help you be more aware of the types of equipment that fit the needs of your business.
1) Bulk Material Handling
Bulk material handling systems are responsible for moving and storing large materials or goods in bulk or loose form—with the latter being most common. Equipment for bulk handling usually works on metal items, food, and liquid forms.
Conveyor belt is the most common form of equipment used for handling bulk or loose material. It's composed of continuous moving strips whose purpose is to carry materials from one place to another.
In general, you'll also see drums and hoppers at one end of the belt that funnels the loose items into areas where the materials are handled or packaged.
Other examples of bulk handling material are:
Stackers
Stackers are typically automated that pile bulk material onto stockpiles and move them between two points.
Bucket and Grain Elevators
Bucket elevators are also known as grain legs that allow you to transport bulk materials vertically. Meanwhile, grain elevators move materials along the production pathway and store them.
Silos
A silo is a tower that holds materials, like grain, coal, woodchips, food, and saw dust. It's more common on farms but useful in various facilities too.
Reclaimers
These are large machines used to pick out products and materials from your stockpile.
2)  Storage And Handling Equipment
This type of equipment is designed to hold materials that aren't being used. Moreover, it can hold products at the start or end of a production process. Traditional storage and handling equipment are not automated. Otherwise, they fall under another category known as engineered systems.
Common forms of storage equipment are shelves, pallets, and racking. These items allow warehouses and other facilities to store material neatly.
If you have limited space in your warehouse, stacking frames can be used to stack materials on top of each other like blocks while keeping everything organized. Mezzanines, on the other hand, help clear more floor space by increasing vertical space, creating a platform raised above the floor.
3) Engineered Systems
Engineered systems, also known as automated systems, can automate the handling process and help with the transportation and storage of material. Instead of being a single piece of equipment, engineered systems are usually made of several units.
The most common form of an engineered system is the automated storage and retrieval systems (AR/RS). It's typically connected to the computer network of the warehouse, making it easy for workers to keep an eye on their stock control.
In general, an AR/RS features racks, aisles, and shelves for storing. Shuttles are used to pick the material and place it on the system.
Other types of engineered systems include:
Automated guided vehicles
These are computer-operated trucks transporting loads along a predetermined path, featuring detectors and sensors, to avoid bumping into anything.
Robotic delivery systems
Like AGVs, a robotic delivery system helps transport materials and products around a facility.
Conveyor system
This system consists of mechanical devices or assemblies to help move materials around a facility with minimal manual effort.
4) Industrial Forklifts And Trucks
This category covers a broad range of equipment with one major purpose: transporting materials and products.
These machines are available in a range of sizes. For instance, you can find something small enough to be hand-operated and others that are large enough to be driven.
Some of the primary types of industrial trucks and forklifts are:
Hand trucks
Pallet and platform trucks
Sideloaders
Walking stackers
Order pickers
Pallet jacks
Takeaway
To remain competitive in your industry, you need to invest in the right material handling equipment for your business. Without the proper equipment and systems in your corner, you're more likely to damage products and fall behind in your productivity target.
So, upgrade your warehouse or facility with the best material handling equipment, which will allow you to grow your business and overall bottom line.