Weather damage and age-related deterioration can lead to cracked chimney mortar, an issue that should be addressed before the development of structural problems. Structural issues can eventually lead to chimney collapse, causing extensive roof damage as chimney pots and bricks cascade down the roof breaking roof tiles along the way.
Chimney repointing and rebuilding are both effective remedies to crumbling mortar but what are the differences, what does each involve and when should each course of action be considered?
Chimney Repointing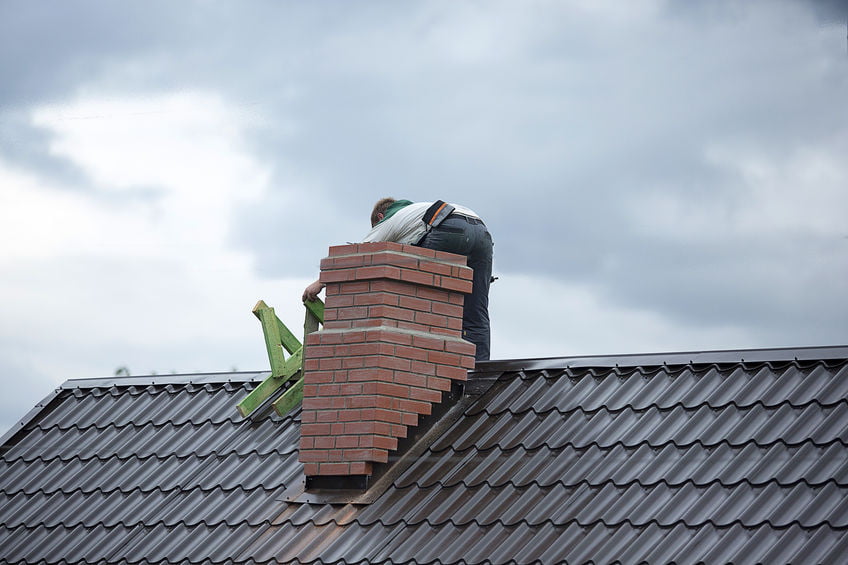 A cement-based mortar is applied between brickwork courses to hold the chimney structure together. The result of exposure to the UK weather will eventually result in deterioration of chimney brickwork mortar, allowing water into the chimney stack where further damage can occur.
Assuming cracks and missing mortar is discovered early, and the chimney is otherwise structurally sound, replacing damaged mortar with chimney repointing is a great way to prevent structural problems from developing.
Chimney repointing is the process of raking out and renewing the mortar joints between brickwork to form a watertight seal that prevents water from entering between and gaps or cracks.
As well as the functional benefits that repointing delivers, there are aesthetic benefits as well with freshly pointed chimneys drastically improving the appearance of your property.
Chimney Rebuild
Sometimes, the extent of chimney damage is too great, and repointing is no longer an option. When this is the case, some form of chimney rebuild is probably the only option remaining.
Broadly speaking, there are two options available when considering a chimney rebuild:
Partial Chimney Rebuild: This option can be employed where some of the stack is in fair or good condition and as a result, only part of the chimney requires a rebuild. The extent of the partial rebuild will depend on how damaged the chimney is. It may be that only the top few courses of brickwork require replacement, it could also be that a chimney rebuild is required from the roofline up. If in any doubt, the assistance of a structural engineer should be sought.
Complete Chimney Rebuild: This is the best option where serious structural issues exist and a chimney stack is leaning or at the point of collapse. This method would be most costly and generally involves replacement lead flashings.
Rebuilding a chimney stack will almost certainly require the use of scaffolding to provide safe access to the stack. This can add significant expense to a project but safety should never be compromised.
Any period detailing often found on historic buildings will also have a big impact on cost. For buildings with listed status, it is critical that all elements of a chimney stack are replaced like for like so as not to alter the appearance of the chimney.
Part of the chimney reconstruction process will involve chimney pot removal. Chimney pots are generally bedded in mortar known as flaunching. This will be hacked off at the start of the process and chimney pots can be re-bedded in new flaunching assuming they are not damaged.
Chimney Surveys and Regular Repairs
Regular surveys of chimney stacks are the best form of defence against the development of substantial chimney defects. Carrying out chimney repairs identified in the survey should be treated as a priority to ensure that the chimney continues to perform its role and does not allow water into the building.
Repointing is a great example of the type of preventive low-cost repairs that can be identified early to avoid costly structural issues where the only course of action that remains is rebuild.