Construction sites are full of hazards that can endanger workers and passersby. Ensuring construction sites are safe is essential to prevent accidents and injuries, but it can be difficult to know what precautions are necessary when you don't fully understand all of the hazards involved.
This article will cover some of the most common risks at construction sites and offer tips on how to avoid them.
Common Hazards in Construction Sites and Raising Awareness with Safety Signs
Around the worksite, it's important to raise awareness of all the potential dangers with suitable construction safety signs. 
Fires
Let's start with one of the biggest dangers – the potential for fires. There are many flammable materials around, and even the smallest sparks from tools or equipment can cause a major blaze. 
That said, people need to be aware when they're near flammable materials. Signs like "No smoking", "Flammable liquids" and "Fire door" can help keep workers protected from fires.
Falling Objects
Another common risk at construction sites is falling objects. Many things can fall at a site, including tools, machinery, debris and even other workers. You should always ensure that your workers are not working in an area where objects or materials could fall on them. Using signage like "No entry", "Forbidden access" and "Keep clear" is some of the best ways to prevent people from getting hurt by falling objects. 
Electrical Hazards 
You should also be aware of the potential for electrical hazards at your site. Even if you don't have any power tools or machinery, there will likely be some electrical outlets in the area and it is important to mark them with the appropriate signage so that no one accidentally gets shocked. As with falling objects, you want to make sure that all workers are out of range of any possible sparks or explosions.
Injuries
Another hazard frequently present at construction sites is injuries sustained by workers while they are working. This can include cuts and bruises from tools or equipment, but it can also include more serious injuries such as broken bones and head wounds. 
To prevent these types of injuries, in addition to providing workers with the proper training before they begin their work, you can also use caution signs. Signage like "Watch out for forklift", "Slippery when wet", "Beware of moving machinery", "Low headroom" and similar can prevent a variety of worksite injuries. 
Pollution
Another potential problem involves pollution. If there are any toxic substances on or around your site, they could contaminate nearby land and water supplies if left unchecked.
It is important to use Hazchem signs so that workers can be more cautious when working around toxic substances. Ensure that all safety precautions are taken at all times to prevent these types of accidents from happening.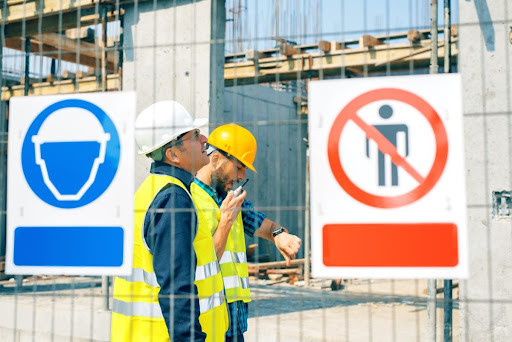 Tips for Preventing Accidents and Hazards
To prevent the aforementioned hazards, besides using construction signs, there are several different measures you can take, such as establishing proper safety guidelines and training workers on how to utilize them. 
The first step in preventing accidents is creating a safe working environment by installing safety equipment such as fall-prevention devices, and clearly outlining the appropriate use of all tools and machinery. Next, you should create an organized system for keeping track of hazards such as unsafe conditions or faulty equipment. 
It's important to make sure that your employees are fully aware of the safety precautions at work and that they know how to properly utilize them.
Having a comprehensive construction safety plan in place is critical to the safety of your workers and anyone else who may be affected by your site's activities. A good safety plan will include all of the necessary equipment, precautions, training and protocols that are required for an accident-free environment. Your safety plan should cover all aspects of construction from planning to implementation, including but not limited to: 
Training – All employees must receive training on how to properly use any equipment and tools at the site. 

General Guidelines – There must be clear rules about what is considered safe activity and what isn't, as well as emergency procedures that can be followed in case of an accident. There must be clear rules about what is considered safe activity and what isn't, as well as emergency procedures that can be followed in case of an accident. 

Equipment – Certain pieces of equipment and tools must be used in a certain way, such as fall prevention devices for ladders. 

Protocols – Different procedures can be followed to ensure the safety of workers, such as how to properly transport hazardous materials.
To create an effective safety plan at your site, it is important to consult professionals who have experience with building sites. They will be able to help you develop the right kind of precautions, training programs and equipment so that your workplace is as safe as possible. 
After you have created a safety plan, make sure that all workers are aware of it. You should hold regular safety meetings at which you can go over the rules and regulations as well as any violations that have occurred. It is also important for managers to regularly review their employees' work logs and ensure that they are following all safety guidelines.
It is important to set up emergency procedures in case of an accident or other problem at your construction site. You need to have a clearly defined plan for what will happen in case of fire, medical emergencies and other such emergencies. In addition, you should make sure that all workers are familiar with these procedures and know how to follow them when necessary.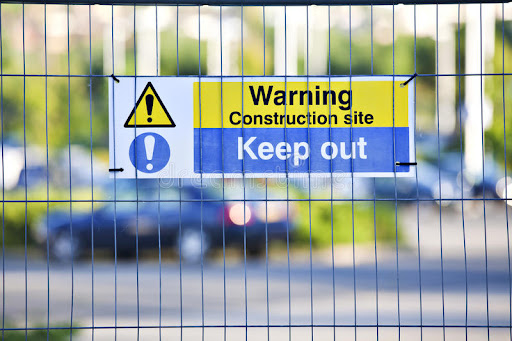 When it comes to safety equipment, the first thing you should do is purchase quality products that can be used by all workers on your site. It is important to provide everyone with personal protective gear and fall prevention equipment as well as emergency response devices such as flashlights and radios.
You also need to make sure that your workers know where all of the safety equipment is located at all times, so you should always keep it marked in a designated area. 
The second step in preventing accidents is providing training for all new hires, making sure that everyone knows how to properly use their fall prevention gear and keeping track of violations.