Decorating a small outdoor space can be challenging, but with a dose of creativity and maybe a few simple details or pieces of furniture, you can easily turn your miniature garden into a picture-perfect oasis.
That is why we created a list of inspiring ideas that will help you decorate a small garden and make it more attractive and enjoyable.
Make It Look Bigger with an Outdoor Mirror
Nothing like a good optical illusion to make your space look and feel bigger. By installing a large mirror, you're not only adding light to the space, but you're also increasing the perceived size of the garden it will be placed in. Make sure the mirror is positioned to reflect something you find beautiful. That way it will also visually enhance the space.
Install an Outdoor Fireplace or a Pit
Having an outdoor fireplace actually works better in smaller gardens than it does in bigger ones because smaller spaces help you feel the coziness better. If installing a fireplace is not an option, you can explore some interesting fire pit ideas (which should also be easier to make).
Add a Small Raised Bed Garden
Try to frame a small garden by utilizing some raised beds and you'll quickly see how your outdoor space gets that much more appealing. This way you can add a whole new little area to the garden and use it to grow some non-native plants, or fruits and vegetables.
Raised beds are a great way to make the garden more beautiful, while also maximizing the available space in a clever and efficient way.
Get Creative with Strong Landscaped Lines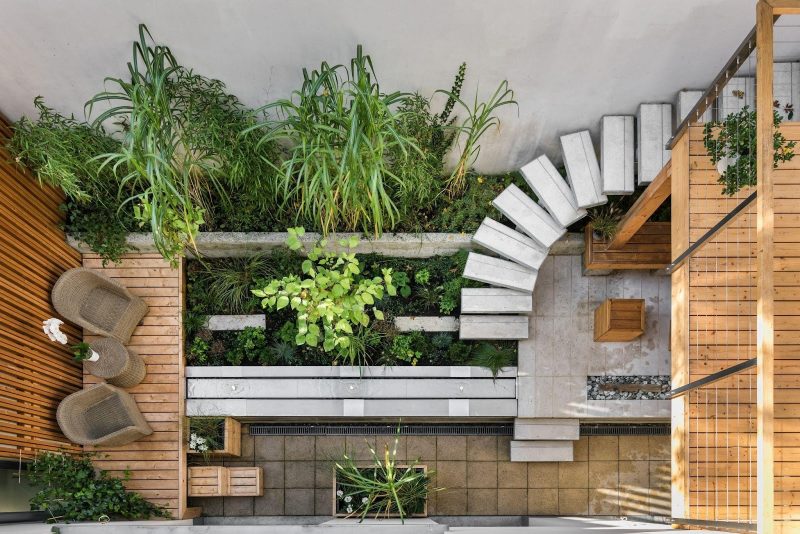 Well-planned strong landscaped lines can transform a tiny garden into a stunning area with an attractive, contemporary look. If you use distinctive materials such as decorative stones or wood-stained decking, you'll be able to create eye-catching interlocking zones that look incredibly stylish.
Build a Central Gravel Path
Gravel is an amazing material if you're looking to create fluid and attractive paths that can enhance the look of any garden, regardless of its size. A lovely central path surrounded by luscious borders will help you play around with space in your small garden and create an illusion of a larger area.
Plant a Tree to Add Height to the Space
Trees are not only reserved for large gardens. There are many attractive tree species that can fit in nicely with a small garden area, or even a garden container. Adding a tree to your small outdoor space will visually expand the area upwards, instead of keeping all the attention focused on the floor space.
Stack Garden Pots in Multiple Heights
Container gardening is an ideal solution for gardens smaller in size, especially the ones that have a patio or decking.
The more types of pots and different sizes you manage to use, the more it will help add texture and dimension to the area. For example, play around with materials and sizes too, and try to combine tall glazed pots with ones made of terracotta.
Keep Your Lawn Spotless
No matter how tiny your lawn is, make sure you don't neglect it. If you mow it regularly and keep it neat and sculpted, it will give the garden a smarter and more spacious look. A pristinely manicured lawn will create a sense of a scaled-down version of a large formal garden.
Paint Small Garden Fences
If you want to restyle your tiny garden in just a day or so, you can choose any bright color you like and paint the fences around it.
Replace the worn-out and faded look with some vivid colors and add some brightness to the space. If you think the new color is too striking, you can always soften its look by adding an interesting trellis with climbing plants over the top.
Choose Furniture on Wheels
Gardens can serve multiple purposes such as relaxing, exercising, dining, socializing, and many more. If your garden lacks the space needed to adhere to all of the activities you plan to use it for, use stylish portable furniture that you can bring in and move around however you wish.
This trick will improve both the functionality and the appearance of your outdoor area.
Add a Lovely Egg Chair
Choosing your garden furniture and seating carefully can make a huge difference in the area's look, and it can easily make it transition from seeming cramped to looking luxurious. A nice and comfortable egg chair is a great choice for small gardens since it can seriously elevate the appearance of a tiny space.
The size of your garden should not be an obstacle to your creativity. With a little bit of effort and the fresh perspective you got from our new landscaping tricks and ideas, you'll be able to decorate your small garden and get the look you've always dreamed of.
Also read: 10 Tips for Selecting a Roofing Contractor