Designing the interior of a hotel may take a lot of work since you commonly need to work with a large space. Also, it'd be best to consider various factors like the hotel's brand and current style when conceptualizing its interior.
If you don't know where to begin, you may struggle to execute the design project and create a welcoming and impressive space. So, here are some tips to remember:
Create A Cohesive Design
One of the most crucial materials you should prepare when designing a hotel's interior is your master plan. Before you make any changes, you should have an idea of what the result will be like to take the necessary steps to achieve it. If you wish to create an excellent interior, you can pick a theme you want to execute.
Once you know what design you prefer, you should pick key elements you wish to add to various areas in the hotel.
For instance, you can add gold details to door knobs, bathrooms, and other places to create a harmonious ambiance. Other ideas like making the dining hall furniture similar to the ones in the rooms will help ensure your hotel's theme is consistent.
When creating an impressive interior design for big spaces, it may be helpful to hire professionals. For one, they can suggest which theme and materials would suit the space.
Additionally, they can ensure your hotel's theme is visible throughout the facility. So, if you need assistance, you can look for interior design companies that can do your hospitality fitout.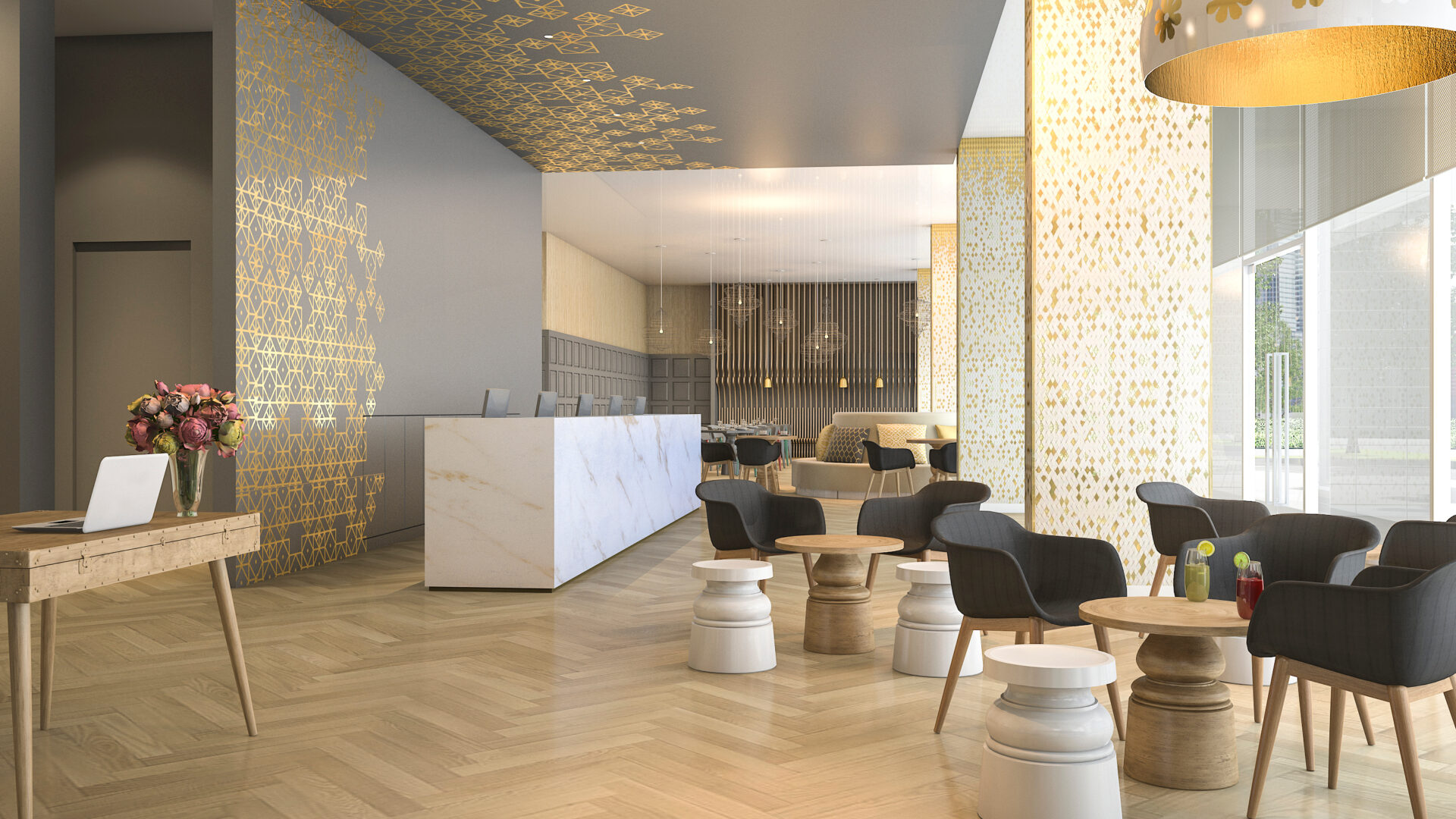 Think Of Function And Comfort
One critical factor you should consider when designing a hotel's interior is the customer's experience. After all, the facilities' appearance can affect their comfort and enjoyment during their stay. Hence, it's essential the hotel's interior doesn't feel cramped or difficult to navigate.
For instance, if there's a hotel restaurant, you can strategically place the furniture so people can walk around without bumping into anything. If the arrangement is unorganized, the staff and customers may struggle to move. This may affect a customer's satisfaction and the hotel's reputation.
When designing the interior of various hotel parts, you should think of function and comfort. You can consider how people navigate the areas to identify the best placement for each element.
Ensure no objects are blocking common areas and walkways to prevent accidents. Also, it may be best to keep the hotel well-lit to create a comfortable and convenient indoor space.
Consider The Cost
An impressive interior design plan won't benefit your hotel if you can't execute it well. And various factors like your budget may hold you back from creating an interior you like. However, creating an inviting hotel space can cost considerable money.
If you wish to control your expenses, you may need to make adjustments to ensure you won't overspend. Fortunately, you can still create an inviting space without spending a fortune.
If you want to make the most out of your funds, it may help if you find more affordable interior materials. For instance, instead of using marble for your countertops, you may opt for quartz as it has the same elegant appeal. You can save some funds that you can then use to elevate other parts of your hotel.
You may also work with an interior design company since they may be able to provide better prices for all your construction needs. This way, you can achieve the interior look you want for a reasonable price.
Think Of Maintenance
The appearance of your hotel isn't the only thing you should think about when designing it. It's essential you also consider the upkeep it's going to require in the long run. After all, an impressive interior won't last long if you fail to take care of it.
So, you must design your hotel with longevity and convenience in mind. It may be helpful to pick interior elements that are easy to maintain or repair.
Furthermore, your interior materials should be durable to avoid replacing them every few years. For instance, you can pick tiles for your common area flooring since you can clean them easily whenever it becomes dirty. They're also long-lasting, so you won't have to change them frequently.
Overall, you should consider how you'll preserve the appearance of your interior during the design stage. After all, you may struggle to provide quality service if your facilities don't meet your market's standards.
Final Thoughts
Designing a hotel's interior is quite different from other projects as you must be meticulous and consider many details. For one, you should know how much you're willing to pay, as a hotel project can cost significant money.
Additionally, you should remember to prioritize comfort and convenience when planning different interior elements to provide an excellent experience for your guests.