If you're a retailer, wholesaler, or supplier of goods, you'll most likely need a warehouse to store all your products. Thus, a pallet racking system may be ideal to maximize your floor space. You can go as high up as your vertical space permits. No space is wasted, and you can keep a steady and consistent flow of products coming in and out of your warehouse.
With that, the success of your warehouse operations is highly dependent on a well-made pallet racking system. However, it can be an overwhelming task to set up, particularly when you have a big warehouse to cover, but it's possible with the help of experts.
Keep reading for some of the best industry tips that can help you better understand the flow, limitation, and capability of a pallet racking system to come up with the perfect one.
Ensure All Pallet Components Have The Same Weight Limit
For uniformity's sake, ensure all your pallet components have the same weight limit. It's added mental work to try and recall the weight limit of each component. Moreover, if you'll need to store more of the same product in a specific pallet component or location, you won't have to worry about that component being unable to handle the weight.
It will be easier to manage a pallet racking system that's uniform. Likewise, it can keep everyone in the warehouse safe when you know that the component is durable enough to withstand the weight you're putting on the pallet. Additionally, your warehouse must pass rack safety inspections to ensure your staff's safety.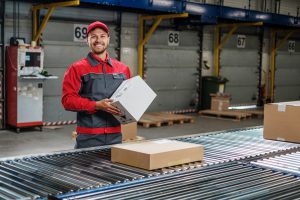 Determine Your Storage Needs
Your storage needs will depend on the type of products you're storing and the average number of goods you need to keep at any given time. Discuss this with your whole warehouse operations team, so you're sure to get the closest estimate possible.
Besides, the use of your warehouse will also shape which type of rack system and overall warehouse management system you should choose. For example, if you're going to store bulky items, you're better off with a drive-in pallet racking system. Meanwhile, if you need to store different products in small or medium quantities, you may want to opt for the selective pallet racking system.
Assess How You Can Maximize Space
An efficient pallet racking system will enable you to maximize your space. If there are instances when you'll have to store more products, the solution shouldn't be to expand horizontally as this would be too expensive. A more cost-effective option is to expand vertically and make the most of the height you have.
You must also determine what kind of pallet racking will allow you to increase your warehouse's operation. For instance, a cantilever racking would suit you best if you're storing longer products like pipes, metal, and wood. If you're short on storage space but want to maximize as much space as possible, drive-in racks, drive-thru racks, or push-back racks are good options.
Distribute The Loads Evenly
Even if the pallet components can withstand a heavy weight limit, this doesn't mean that the scales can tip unevenly. It's still best practice to distribute the weights evenly. While ideal, this practice may not be easy, especially for a new and inexperienced warehouse employee.
Henceforth, during the onboarding process, it's a must to get everyone on the same plate as to what your guidelines are to know the pallet racking system that fits your needs. Furthermore, safety training is also necessary because if not done the right way, even a little shift in weight may throw the whole pallet off balance.
Specify The Order Of Retrieval
You may retrieve inventory from a warehouse or stock room in two modes: first in, first out (FIFO) or last in, first out (LIFO). Whichever style you use is critical to determining the type of pallet rack solution to implement.
FIFO is used to store date-sensitive products, such as perishables. It's the other way around for LIFO, which is used for products that aren't date-sensitive; thus, you can optimize your warehouse space.
Conclusion
Warehouse management and using the perfect pallet racking system are complex tasks that require planning. If not done as they should, unfortunately, the storage capacity of your warehouse will be adversely affected. This could result in severe losses in your profits and may even hamper operations.
When a pallet racking system is supposed to work well to your advantage, you must ensure you're using the right one. It's not a one-time or overnight process, as this is one you'll have to study and implement after thorough research and planning.