In most cases, storms are characterized by heavy rains, strong winds, and hail. Once they all land on your roof, they can interfere with its integrity, resulting in severe roof damage and other property damage if water leaks into your home.
While it's essential to have a strong roof that can withstand different weather conditions, sometimes there might be nothing left to do other than allow nature to take its course. However, once the damage has occurred, there are immediate steps you need to take to bring your roof back to its functioning form.
This article provides information on what to do when dealing with roof storm damage. Read along to learn more.
Examine The Situation
The first step when dealing with roof storm damage is assessing the situation. An assessment will help you determine how severely damaged your roof is and what you might need from your homeowner's insurance provider when it comes to repairs.
It's, therefore, vital to assess them during the day to avoid skipping some damage. You can also consider seeking professional help from a reputable roofing company like Phoenix Roofing which is experienced in assessing and determining roof storm damage extent.
When assessing the damage, you should use binoculars to see even the tiniest detail. Ensure to estimate the damaged area and keep the record.
Check if there are missing shingles, stagnant water, or damaged gutters. Also, check for exposed material such as tar paper or plywood. You might also need to record the color of each exposed material and the closest shade to avoid replacing the material or shingles with different colored ones.
This step shouldn't end without you taking a picture of the damaged roof. Remember that the storm might have damaged many homes, and it might take time before your insurance company sends an adjuster to your place. In such a case, the damage might not seem severe when the adjuster visits your home.
However, with pictures taken immediately after the storm, the damage extent will look fresh, and the adjuster won't be able to dispute the fact that your roof was severely damaged.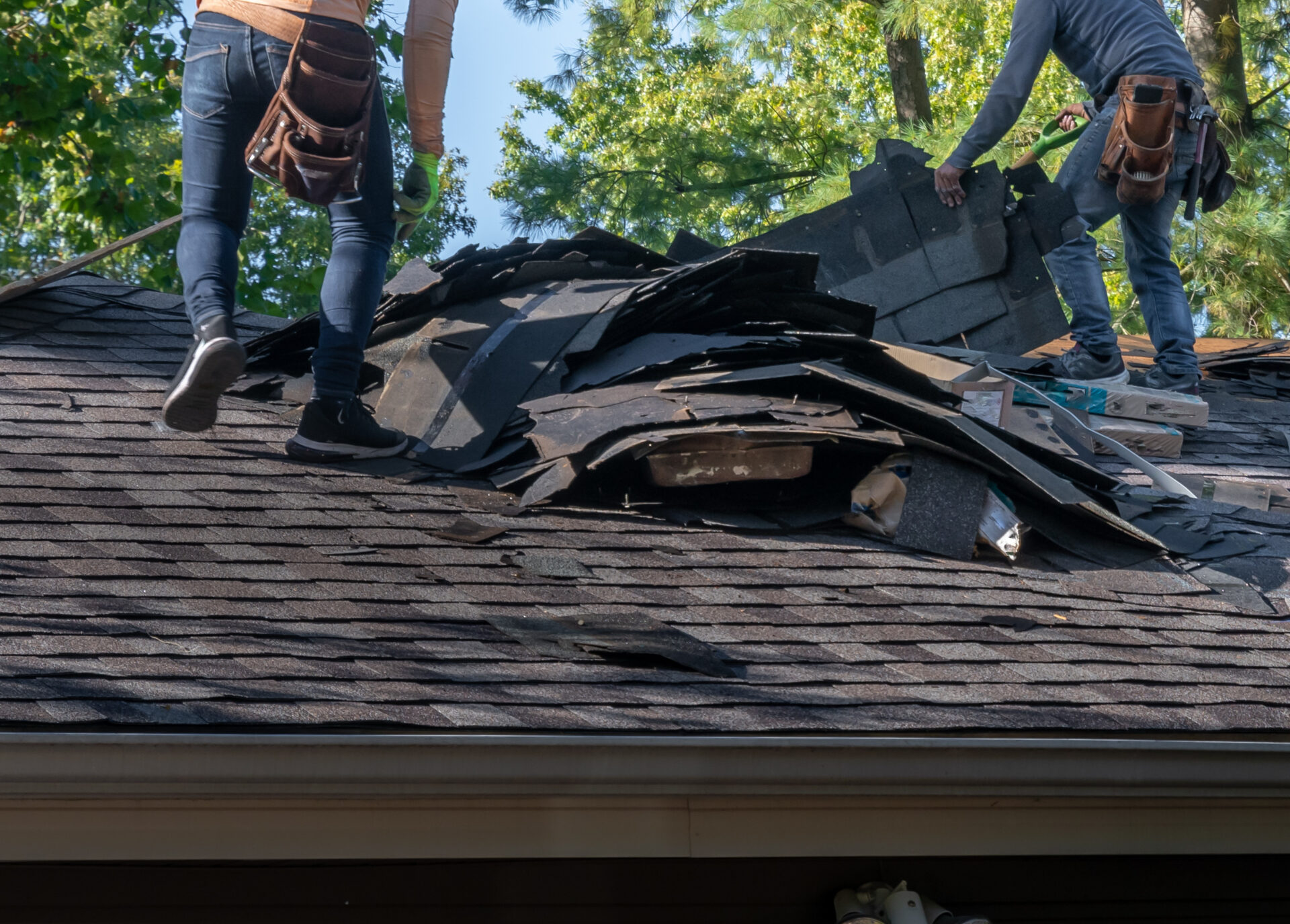 Handle Some Repairs To Minimize Damage
Rainwater is most likely to leak into your home if the storm causes tree branches to fall directly on your living area or if there are missing shingles. It can result in more property damage if you don't contain the situation. For starters, place buckets directly under the leaks to prevent further interior damage.
Secondly, look for a way to prevent water leakage in your home, even if it requires emergency roofing contractors to handle the issue. Once the leaks are contained, consider dehumidifying your home to prevent mold growth.
Research A Reputable Roofing Company
Researching and hiring a professional roofing company is essential when dealing with storm damage. These professionals are experienced in handling minor and major roof repairs and upgrades.
Additionally, as already stated, professional roofing contractors will be helpful if you don't know how to assess and estimate the damage extent. Once they come in sight, they'll inform you if you need to file for storm roof damage or not.
When interviewing roofing contractors, ensure to determine the following to choose the best.
Ensure they can assess and estimate the damage
Determine if they're licensed, insured and if they offer a warranty for their service
Check their reviews to determine if their services are of high quality
Call Your Homeowner Insurance Company
After determining the damage warrants a storm roof damage claim, the next step should be contacting your insurer. If the storm has affected many homes, it might take some days before the adjuster visits yours. However, if your case qualifies as an emergency, it might help to disclose why you need immediate help.
Once an adjuster visits your home and determines the damage extent, consider asking how much they might pay for it and if they work with their roof contractors or if you need to hire one.
But if they don't work with a particular roofing company, you can hire your preferred roofing company. Regarding why you should know the amount they might pay; it will help you prepare in case the amount won't fully pay for the repairs, and you need to pay some amount from your pocket.
Conclusion
Your roofing is the first defense against bad weather and anything else that can threaten the security of your property.
Since weather change is inevitable, it's vital to know what to do once it affects your roof's integrity. As far as dealing with storm roof damage is concerned, we hope that the above information helps you understand the steps you should take after a storm hits your roof to avoid further property damage.