Painting a stairwell can be challenging, especially with high walls, uneven floors, and awkward angles and spaces. With the right tools and proper procedures, you can easily paint your stairwell without making any mess. As stairwells play a significant role in the design of a home, it is essential to look good.
So, applying a fresh coat of paint can be an excellent way to spruce up the look of your stairwells. For that, you just have to just do a few simple tasks such as prep work, rolling, and cutting.
This way, you can give a charming look to your stairwell. If you're confused about how you can do this, keep reading this article. Here you will find a comprehensive guideline on how you can paint a stairwell.
What You'll Need to Paint a Stairwell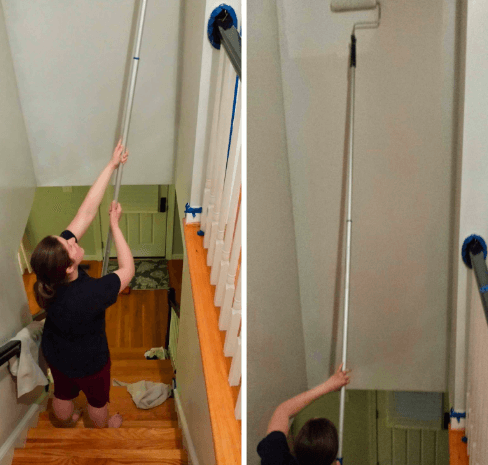 Here we have listed some equipment that will be required when you paint a stairwell. So it is good to collect these tools before you start the process.
Finish Floor Paint
Extendable ladder
Sander / Dust mask
Wood filler
Paintbrush
Cleaning solution / Cleaning cloth
Masking tape
Paint roller / Paint tray
Top Tips Before You Paint a Stairwell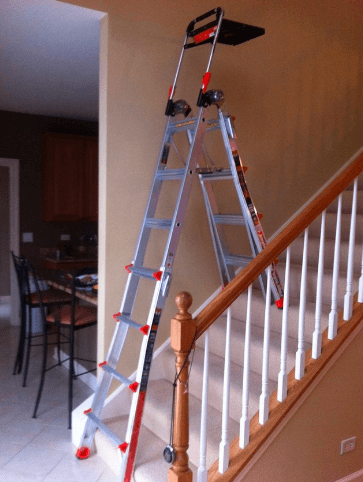 Before you start the painting on a stairwell, you should consider some things to print effortlessly. Below, we have pointed out some factors that you should follow while painting a stairwell.
Try to paint early or when the family members are busy with other work, not to access the stair for a while.
Have a durable, extendable ladder that can carry your load. You will find a heavy ladder for painting stairwells in the marketplace specially designed for such tasks.
Set the extendable ladder properly so that it doesn't slip. Otherwise, you will get poorly injured, as the stairs are an uneven surface.
If you have children, then start painting at night when the kids have gone to bed.
Ensure the paint dries properly before anyone touches it. If anyone touches on the moist paint, you will need to paint the ruined place again.
Paint in sequence, so start from the top and roll downwards depending on where you finish.
How to Paint a Stairwell
After collecting all the equipment, now it's time to start the painting process of your stairwell. Below, we have provided a complete step-by-step guideline on how you can paint a stairwell.
1) Prepare for Painting
First, you have to set the extension ladder on the stair to remove all types of broken parts from your stairwell. You have to make sure the stairwell is in good condition before you begin painting. If you see any loose or broken parts on the surface, repair these.
2) Sand your Stairwell
Fill all holes and any tough patches with filler or sand to prepare the floor for painting. Once you have done, vacuum up all dust and clean with a cleansing solution or cloth.
3) Tape Off your Baseboards
Taping is one of the significant steps to paint your stairwell. A weak tape can bleed paint over your baseboard and cause an uneven line between your baseboard and the walls.
4) Choose the Correct Paint
Choosing the right paint is one of the significant factors for achieving a good outlook for your house. You can use water-based paint that will help you to resist knocks and scratches. This print can be applied directly to the stairs; you can even use this paint directly on top of old paint or varnish without any topcoat.
5) Cutting in the Ceiling
It is one of the hardest parts of this painting, where you have to climb to the corners where the walls have joined the ceiling. Using the extendable ladder, you can reach the ceiling of the stairwell. Now cut the walls along with the ceiling through your new paint.
6) Rolling out the Walls
After cutting in the ceiling with your new paint, now you have to roll out the walls.
Paint the wall surface using a roller and apply as many layers as required. For higher parts of the wall, set the ladder on the floor according to your needs. After that, roll out the walls in order using the roller pad and frame.
7) Cleanup
Once you have finished painting, pull all the taps off your baseboard before the paint dries completely. If there is bleeding under your tape, you can easily scrape it off your baseboard.
Can I Print a Stairwell Without Using a Ladder
Some people may have trouble climbing stairs to print. That is why here we will reveal another way to paint a stairwell from the ground without using ladders. Although it's an easy way to paint, you won't get the perfect paint. But some people may find this method valuable.
Using a brush holder at the end of your extension pole, you can easily paint a high stairwell. These brush attachments will slow your painting when used to cut a high stairwell ceiling.
This method is quite tough to get a straight line that will be exhausting for your shoulders. When you're down-cutting in, simply remove the attachment of the brush and twist on your paint roller to roll up the walls.
Conclusion
It is very difficult to find a person who doesn't love a well-painted stairwell. Besides, a well-painted stairwell will make a good impact on the overall home design.
So it is very crucial to paint the stairwell properly. Although most people think painting a stairwell will be challenging for the uneven stairs, following the proper methods the painting could be easy.
Through this article, we have tried to let you know how you can paint a stairwell. By following the step-by-step process discussed above, you can easily paint your stairwell. Besides, if you have any problem climbing the ladder, follow the above discussion.