For any homeowners who are planning their bathroom renovation, tapware is always on the priority shopping list.
Especially for the renovation in a large scale or from the scratch, the wall mounted tapware should be purchased in advance because wall mounted mixers or taps are the first items to install by a plumber. Due to its importance, to avoid unnecessary mistakes, there are some useful tips before you go ahead with your purchase.
Type of Tapware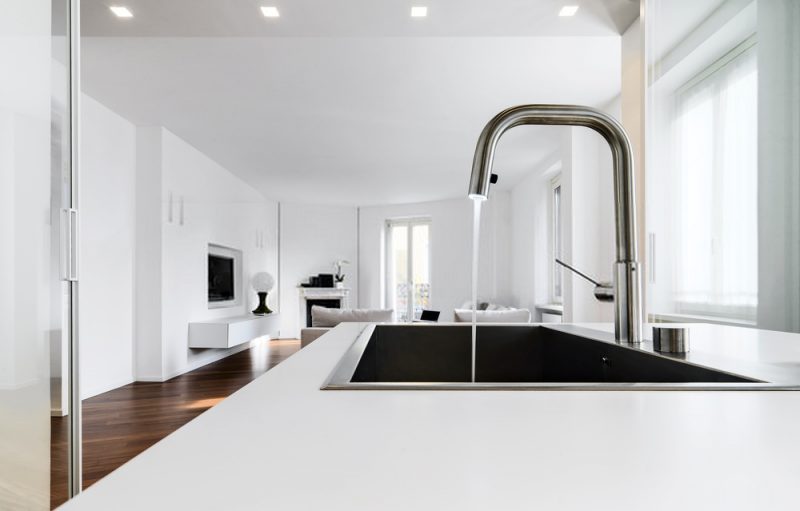 There are many types of tapware in the market, primarily including mixers which is normally used for single basin tap hole, two-piece tapware, and three-piece tapware. They are all commonly used in the families and have their advantages in functionalities and outlook. Now it is good time to choose a suitable type.
1. Mixers
For the simple design, mixers are the most popular ones which are all-in-one tapware. Mixers have one switch handle to control the hot or cold waterflow from the spout.
2. Two-piece tapware
This type is created by a bold idea to separate the spout and mixer switch. They are so popular now as they are easy to clean and repair individually. But it will take more space on the countertop.
3. Three-piece tapware
They are very common and traditional design tapware. However, the tapware designers start to infill more creativity and functionalities into it. It has three pieces that include the hot and cold switches, and separate waterspout with the feature of easy operation and replacement so that they are well welcomed for any group of customers.
Color or Finish of Tapware
At this stage, it really depends on personal taste. The color you are going to choose will determine overall appearance of your bathrooms and the selection of other important elements, such as vanity unit, bathroom accessories, and so on.
For example, if you choose matt black finish tapware, it will make your bathroom modern and present you a darker atmosphere. In the meanwhile, the same shade of accessories and matching vanity cabinet or top should be considered.
You have to be careful if you prefer to a special color finish, like brushed gold. This finish is so popular right now, but it is not easy to match other items' color. Many times, compromising must be made because it is not possible to get all the elements in the same color shade.
For example, it is not possible to get the same shade as the fittings of a shower enclosure which are normally made in different manufacturers.
Functionality of Tapware
Many times, due to the lack of experience and knowledge, the first-time renovators often made mistakes when purchasing the tapware. Sometimes, the wrong mixers or taps are purchased.
Basically, you have to buy wall-mounted mixers or taps which are most important as a switch to control the water including shower and bath taps.
These taps are the main concern from the plumber or builder who will install them before tiling or other trade people start their jobs. The number of tapware depends on how functional you want to turn your bathroom to be.
Every tapware needs a spout to be a complete set. The mixers are all-in-one type and that is why people prefer. However, it is not that complicated if you choose others. If you are still unsure, your plumber or any retailer can help you out.
Quality and Efficiency
Do big brands represent best quality?
It is not always right. In this volatile market, there are so many new brands popping up and present with great design and functions.
Personally, I prefer to some brands in a solid construction and design, not to any particular brands. If you are brand chaser and price is not your concern at all, the big brands, to some extent, represent the quality and good service.
From our experience, small brands are even better in many aspects because the manufacturers are more eager to offer better design and service to compete a market share. Why not take a look at other small or new brands? In the today's market, the tech to manufacture the goods is almost similar.
Therefore, if you find some brand in good quality and excellent warranty service, we encourage everyone to take a try.
Never buy the tapware without the water rating certificate
Water efficiency is another key consideration because it will be a great helper to save energy. Normally, the water rating will start from 3 stars with 8-9 liters per minute flow. The more stars it has, the more efficiently you will save on your bill. We do not recommend anyone purchase the water saving rate is below 3 stars or without it.
In Australia, for example, water mark must be presented to consumers when brand tapware is sold in public. Before you purchase the tapware, you need to ask the retailers if this certificate is not shown clearly where it states some manufacturing details and water saving rate.
Your Budget
We talk about this at the last stage because for many first-time buyers, the price is important, but not the final determinant. We often heard from people who said that as long as the quality and style meet their requests, the price is not what they care.
Finding a good quality tapware in cheap price is always what we recommend. If it is beyond your budget, you may let your plumber or professional buy for you who normally get a trading price from the local bathroom supply retailer.