Refreshing your home with a modern door does more than just catch the eye – it's a smart investment! In fact, Remodeling Magazine's 2023 data suggests that a new front door can pay for itself and more, offering a return on investment of 100.9%. But remember, not all doors are created equal.
To pick the perfect door, you need to keep up with the door trends of 2023. Look out for the latest in exterior and interior door trends, where practicality meets good looks. Keep an eye on the modern front door colors, favoring sleek, bold palettes, and the equally captivating interior door styles that boost the mood in any room.
Want to learn more? In this article, we'll provide detailed overviews of the latest door trends, including expert insights into popular interior door styles. So continue reading.
Popular Door Designs for 2023
In the approaching months, both interior and exterior doors will dominate with an enchanting blend of classic and contemporary styles that cater to various design tastes.
The Most Popular Door Styles and Designs for Exterior
Here are some of the exciting front door styles that'll enhance your home's curb appeal.
Bold Colors: From rich reds to electrifying yellows, homeowners are embracing vibrant trending front door colors to make a bold statement and create a welcoming and memorable entrance for guests.
Natural Wood: Whether you prefer classic mahogany or rustic cedar, a natural wood front door connects the inside and outside beautifully, adding timeless charm and elegance to your space.
More Glass: Want to let more light into your home? Consider full-length glass panels or add decorative glass inserts. This trend is all about maximizing natural light and creating a seamless transition between the outside and inside.
Steel and Fiberglass: Seeking a sleek look? Durable and low-maintenance steel and fiberglass styles offer endless design possibilities, from modern geometric patterns to sleek glass accents.
Smart Technology: Integrating smart technology is a significant trend for 2023 and beyond. Keyless entry systems and video ringers offer convenience and security, integrating seamlessly with your smart home devices.
When upgrading exterior entryways, consider your home's architectural style. Classic wood or bold colors suit traditional homes, while steel or fiberglass with glass accents complement contemporary residences. Choose a trend that speaks to you and enhances the overall look of your home.
Top Trendy Door Styles and Designs for Interior
When it comes to interior design, every detail matters, including your doors! Discover the top current home trends in 2023 that will turn your space from ordinary to extraordinary.
Scandinavian Doors: For a sleek and modern look, go with Scandinavian. Their smooth surfaces and straight lines add a light and airy feel to any room.
French Doors: One of the most popular interior door styles, French doors are perfect for creating a seamless transition between rooms or connecting interior and exterior spaces.
Timeless Classic Wood: Wood has always been synonymous with warmth and elegance, and it continues to be a popular choice for homeowners. This style effortlessly blends with any interior style, whether traditional, rustic, or contemporary.
Mirror Inserts: Doors with mirrors are an excellent choice for smaller spaces. They reflect light, brightening up the space, creating the illusion of a larger room.
Invisible Doors: With no visible frames or hinges, invisible panels blend into the surrounding walls, to create a modern and minimalist aesthetic that is sure to impress.
Space-Savers: Space-saving options like sliding, folding, or pivoting panels enable homeowners to maximize their living areas effectively. These styles are especially beneficial where traditional swing options may not be feasible.
Selecting interior doors is more than just a utilitarian choice; it is an opportunity to enhance the style and personality of your home. So, make sure to choose design ideas that not only complement the overall architectural style of your home but also the elements in your interior space.
Trendy Front Door Colors and Materials for 2023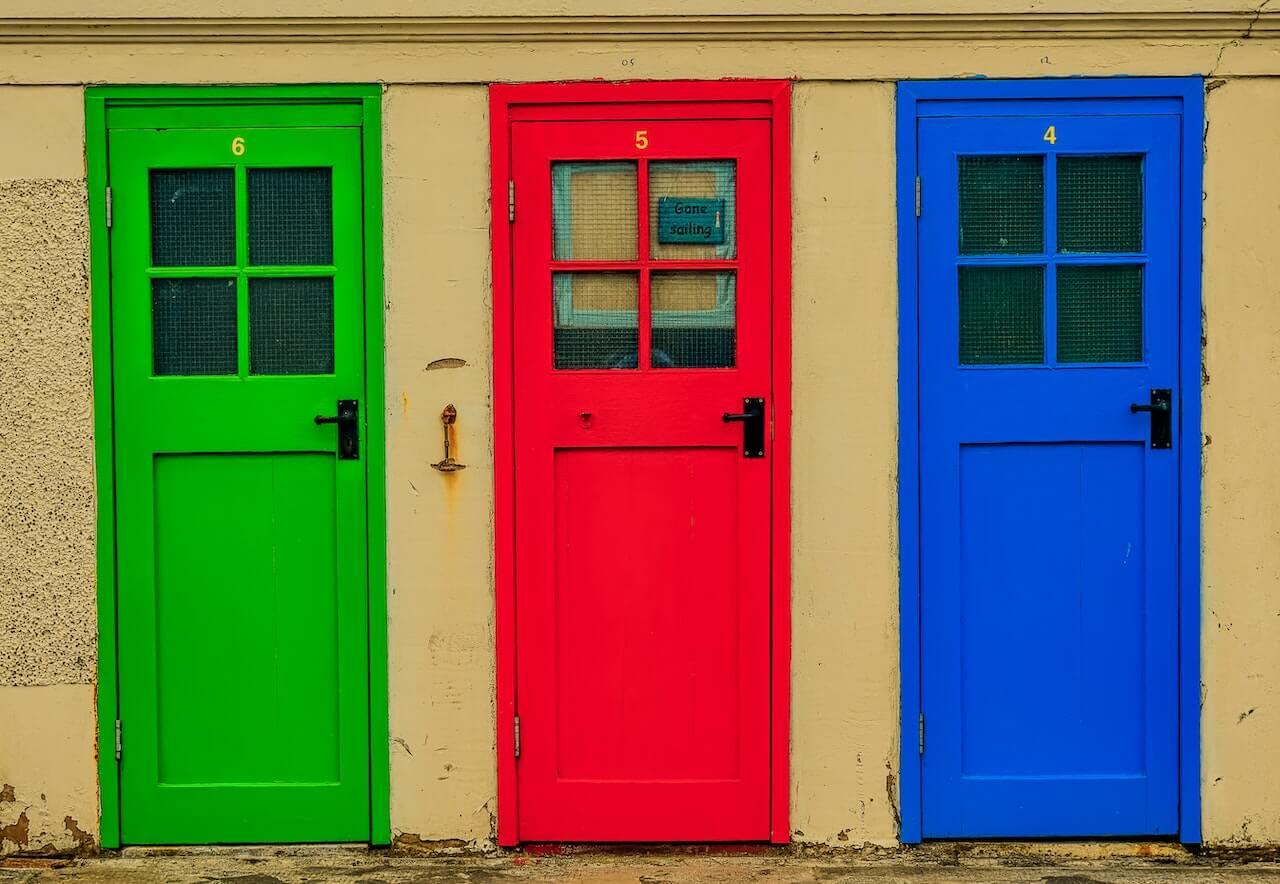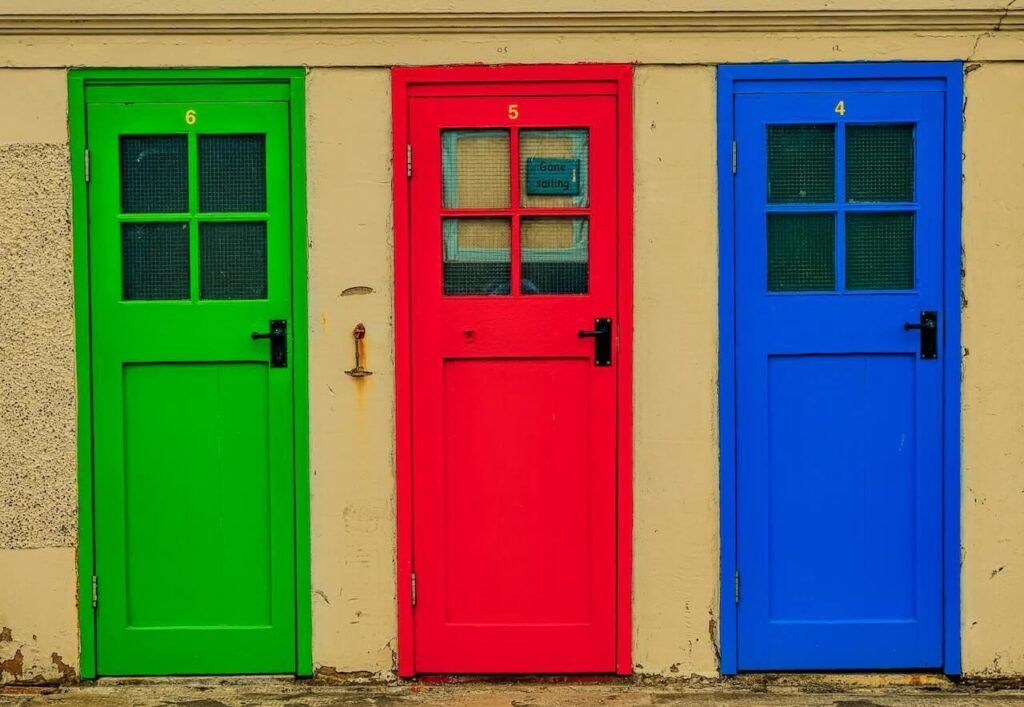 Whether it's the exterior or interior entrances, the color you choose can make a big difference in enhancing the overall look and feel of your home. Let's see the most popular front door and interior colors people are choosing these days.
For Interior Doors
Gone are the days of plain white colors. People are now embracing vibrant colors and unique finishes to add personality to their living spaces. Popular interior doors colors include:
Gray: Versatile and timeless, pairs with modern or traditional decor. Choose a soft and warm gray tone to create a calming ambiance in living areas or bedrooms.
Green: Bring nature inside with rich emerald or soothing sage green panels. Create a botanical-inspired theme by adding house plants or botanical wallpaper.
Beige: Classic and elegant, beige complement various color palettes. Pair warm beige with wooden furniture and textured fabrics for a cozy atmosphere.
Pastel Blue: Serene and calming, blue is perfect for bedrooms, bathrooms, or nurseries. Combine with white or light gray walls for an airy ambiance.
Soft Pink: Pink adds femininity and elegance. Choose blush pink or dusty rose shades for a romantic and sophisticated look. Combine with metallic accents or mirrored furniture for a glamorous vibe.
For Exterior Doors
The traditional choice of white or brown is still popular for residential doors, but if you want to make a statement, why not go for something bold and vibrant?
Red: Bold and attention-grabbing, deep red hues add sophistication and charm to homes. One of the most popular garage door trends for 2023, it pairs well with neutral exteriors for a striking contrast and enhanced curb appeal.
Blue: Trending door colors like navy, royal blue, and aqua create a fresh and coastal-inspired look. Pair with white exteriors or modern accents for a contemporary feel.
Green: Nature-inspired tones like forest green, sage, and moss create a tranquil connection with the landscape.
Yellow: Sunny and inviting, soft yellows add warmth to the exterior. Pair with light-colored exteriors for a cheerful house entrance door design. You can also go bold with a bright yellow color and sleek finishes for a modern twist.
Black: Timeless and chic, matte black trending doors offer sophistication and versatility. Contrast with light or neutral color exteriors to add depth and elegance.
Latest Doors Practical and Sustainable Ideas Review
Buying popular front door styles is not just about going for what is trending. In 2023 and beyond, it will mean space efficiency, sustainability, durability, and comfort. This is where the build material comes in. Wood has always been a classic choice, exuding warmth and elegance, while fiberglass offers a modern look and excellent weather resistance.
For noise reduction, go for solid core options with a dense interior. Steel styles are popular exterior doors, eco-friendly and durable, providing great insulation and security.
Apart from the materials, construction/ configuration type also plays a crucial role in their functionality and ergonomics. Single configurations are the most common option and are perfect for smaller spaces. On the other hand, double styles create a more dramatic and inviting ambiance.
Sliding styles are another popular choice, especially for rooms that require maximum space utilization. Not only are they aesthetically pleasing, but they also provide excellent energy efficiency.
How To Pick The Trendy Door That Will Be Still a Thing Over the Years?
2023 offers a variety of styles to elevate the look and feel of your home, and hopefully, we have covered the top designs, styles, and colors in this article.
If you still need help determining what is the most popular front door color for your home, go for timeless and popular choices like black, navy blue, red, and shades of grey. These colors tend to complement a wide range of architectural styles and home exteriors, providing a sophisticated and stylish look.
Remember, though, to also choose the material and configuration that will complement your space. French, sliding, and patio doors are some of the more popular trends in interior doors today and can suit almost any wide entryway. Finally, be sure to shop from reliable suppliers like United Porte to ensure quality and lasting satisfaction.