A bathroom is usually the most underrated place in a household. However, it is the most essential part of your home. Choosing between a modern or traditional style look for a bathroom solely depends on what you have in mind. Bathroom design will be better if you stick to one typeface to create a clear and consistent visual language. Yet, you can still find a good mix of classic and modern looks.
It might be challenging to choose a style for your bathroom. You might like a bathroom that is more current or one that is more old-fashioned. You have a choice. But what if you still need to decide which one to pick? We're here to help. Read the article below to be guided!
Why is it Essential to Choose the Right Style for Your Bathroom?
Try to look at these exciting trends and designs for bathrooms. Regarding bathroom remodeling, 52% of design experts say it's a mix of making the space look and work better. This is more important than making a helpful area or increasing the home's value.
This shows that people are ready to put money into their homes this year to make them look better and serve their needs better. Even though 48% of people think that improvements are made to raise the value of a home, there is a case for more people to consult the current trends.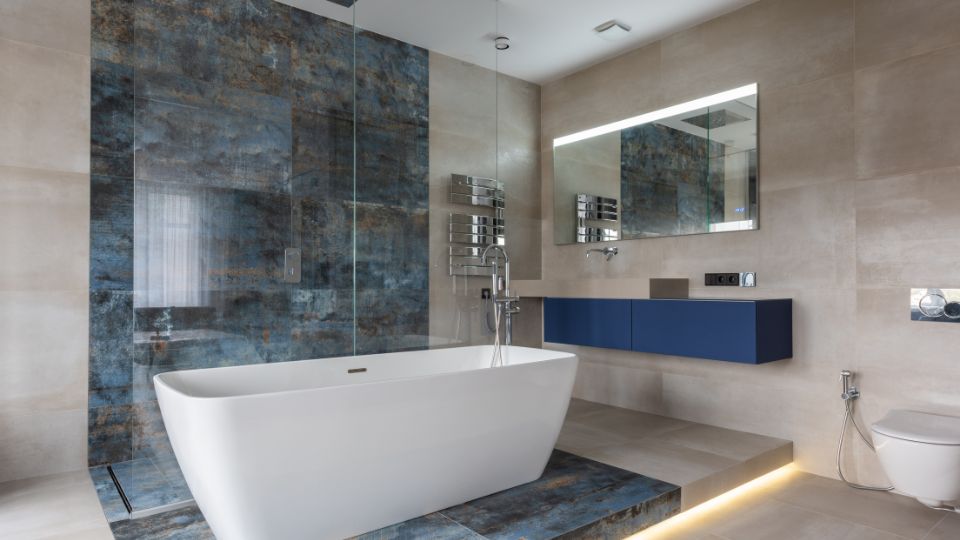 Since the bathroom is one of the most-used rooms in any house, ensuring it has everything you need is critical. It should be helpful, sensible, and a place where you enjoy spending time. Any style can work with a tub that stands alone.
Small freestanding tubs can come in all shapes and sizes, from the classic clawfoot tub to the egg-shaped relaxing tubs of today. You can place them creatively since they don't have to fit between walls or into tiles. Another good thing is, they don't require too much space and can fit into small bathroom designs.
Remember, a beautiful bathroom can make your home feel like a natural sanctuary. Here are the reasons why it's essential to have to right bathroom design:
It can Help You Calm down
The essential things in this book are that a relaxing bathroom should have soft colors, luxurious materials, and plenty of storage for all the necessities. Above all else, having a decluttered bathroom will make your mind feel at peace every time you enter the room.
Adding scented candles or a burner for essential oils can also help make the room feel like a spa. This will help the bathroom feel more peaceful and zen.
It can Make You Feel Better
A beautiful bathroom can make you feel better and change how you look at life. It can show who you are, like with earthy colors and natural materials, or it can have a more expensive look, like marble countertops and gold lights. And since it's usually the first room we enter when we start our day, overall, it sets our mood for the entire day too.
It can Raise the Value of your Home
Putting money into making a bathroom look nice can increase the value of a home. Adding high-end finishes and making small changes can turn a bathroom into a luxurious area that will make potential buyers drool.
Glass shelves and mirrors can also make a bathroom look more expensive and elegant. For example, hang a decorative mirror above the toilet or put a frameless mirror above the vanity.
It can Make a Small Bathroom Look Bigger
A small bathroom can look bigger through design. Some of these are painting the walls a light color, putting in a big window, and putting up big mirrors. Sunburst, round, and rectangular mirrors are all good shapes for a small bathroom. Gatsby glass has professional services and can help you find the right bathroom mirror.
It Shows What Kind of Person You are
Your bathroom should show who you are and what you like. Add things you love to make it a natural oasis, like a clawfoot bathtub or old-fashioned plumbing. Choose marble countertops and gold faucets for a high-end look if you want to look fancy. No matter your style, there are many ways to make your bathroom reflect that.
How are Modern and Traditional Bathroom Styles Different?
Traditional Bathrooms
Modern bathroom sets are very different from traditional ones. You'll need to know about these designs to make the right choices. People tend to think that conventional rooms are more elegant and comfortable.
Traditional bathrooms usually had a shower and a bathtub, with the showerhead over the tub and a screen to pull around it, or they just had a bath. The tubs in this style are beautiful and very comfy. Think of tubs with claw feet and smooth sides. In most of these designs, the bathtub stands alone, making it easy to clean behind it.
Taps: Most taps in traditional baths were made of bronze or chrome, but other kinds were also possible. Handles made of pewter, for example, are often used in these older forms and look very elegant.
Toilet: A high-level bathroom is usually the best choice for a more traditional place, and the toilet will stand away from the wall. Depending on what you like, the tank could be above or just behind.
Sink: Console bases are a good choice, but if you prefer, you can choose with a stand-alone column sink. For this kind of design, either one is a good pick.
Modern Bathrooms
Most modern toilets are as big as they can be. Many modern bathrooms are neutral but can also have a nice accent color like red or yellow. But usually, the colors are neutral, like white, cream, and gray.
When it comes to bathing, the bedroom will have a separate tub and shower if there is enough space, not just a shower. This bathtub style is often equipped with a steam, hydro massage, or power shower. Most tubs today are built-in instead of freestanding, and their shapes are more blocky than in the past.
Taps: Taps are as easy as in a modern bathroom. You can get two fixtures with a chrome finish or one tap that changes the water's hot or cold based on how you turn it.
Toilets: Modern toilets can have several options that make them easier to use, such as auto flush, dual flush, etc. Regarding small areas, wall-mounted toilets are better because they make the bathroom feel bigger.
Sink: Sinks hanging on the wall help make the room feel slightly more extensive. But what makes a sink modern or not is what it's made of. You'll see a lot of glass, stone, and even metal basins on top of tables. The materials and form of the sink are what make it look modern. Most sinks are curved and swooped to make them look nice.
Some Modern Bathroom Designs You Shouldn't Miss
1. Try Terrazzo
This bathroom has marble flooring, an old material that has returned to style. Designer Sarah Sherman Samuel made a geometric pattern on the floor that went well with the green tiles. The gold grout matches the other fixtures in the room.
2. Lighting a Statement
Choose a beautiful light fixture for the ceiling and work lighting with a shape that goes well with it. We like how the lampshades on the angular light fixture above the vanity match the lampshades on the vanity's task lighting. We also like how the gold-finished hardware adds a touch of glam to the whole bathroom.
3. Use Tiles That Stand Out
This bathroom makes a big statement with its mix of emerald green tiles in the shower and pink and red tiles on the floor. Also, there is enough storage for the room to be functional.
4. Large-Size Floor Tiles
Large-format tile is a good choice if you want a style with many effects that only require a little cleaning. They'll leave less grout, so you'll have to clean it less. Also, you can customize your look because you prefer many colors, textures, and finishes.
5. The Art Deco Style
With a second Downton Abbey movie coming out soon, people will again be interested in Art Deco interiors and Edwardian bathrooms. For an Art Deco bathroom, look for geometric shapes, faucets with black handles, period-style mirrors, and stepped tubs. This bathroom might be right up your alley if you look glitzy and glamorous, bringing to mind Hollywood's glory days.
6. The Color of Envy
Green is trendy for a bathroom. With a suite from the Winchester collection, this bathroom is simple and beautiful. What's not to like?
7. Old-school Cool
Our Vintage Chic bathroom takes design elements from the past and puts them in a more dramatic, theatrical setting. When it comes to basic bathroom ideas, this one stands out.
You want traditional bathroom ideas with a modern twist. Deep green polished metro tiles add much color, and their slightly worn surfaces make them look more old-fashioned. It can be done in a smaller area as well.
8. France's Flowers
Why not try the French floral for a genuinely "Magnifique" bathroom? It's all about making a glamorous escape in the middle of your home with light, bright colors, and flower patterns.
There are many ways to see the flowery part of this style. The most obvious way is to use real flowers in your space, but you can also get the look by decorating with floral designs. Mosaics, flowery patterns, and flock wallpaper are all great ways to show this theme.
One Last Thought
Your bathroom should be a peaceful place to chill with a hot bath or shower. Try to find a place with good lighting and put your things there.
Each trend can give the bathroom style, comfort, luxury, and individuality. Before choosing, consider the overall look you're going for, the bathroom size, and the installation's cost and difficulty. By thinking about these things and picking the right trends, homeowners can make a bathroom that works well, looks good, and shows off their style and taste.