Are you planning to buy a newly constructed home in Boston? We suggest equipping yourself with the necessary knowledge before that. The temptation of a brand-new property, customized finishes, and modern amenities can be incredibly enticing. However, before diving into this exciting leap, you need to know a few ins and outs. This knowledge will empower you on the journey of buying a newly constructed home in Boston.
In this comprehensive guide, we unveil the 8 essential insights you need to know before buying a newly constructed home in Boston. We will also equip you with real-life anecdotes and expert advice. So, let's get started…
8 Things to Know Before Buying a Newly Constructed Home in Boston
The real estate market in Boston is thriving, with a mix of historical properties and new developments. Covering key considerations, we are going to break down the ins and outs of buying a newly constructed home in Boston.    
Research and Planning
This phase can be divided into 3 segments, which are determining your budget, location preferences, and builder reputation. First, you must understand your financial capabilities. Based on that, establish a budget that includes the cost of the home, closing costs, and any additional expenses.
In addition, consider the locations (particularly the neighborhoods) in Boston that align with your lifestyle. Finally, you should look for reputable builders in the area. Track their records and quality of construction. You can also get insights by analyzing reviews, testimonials, and previous projects. 
Engage a Real Estate Agent
Hire an experienced real estate agent with experience in new construction. If you are a  first-time homebuyer in Boston, you should definitely work with an experienced real estate agent specializing in new construction. He can provide valuable guidance throughout the process.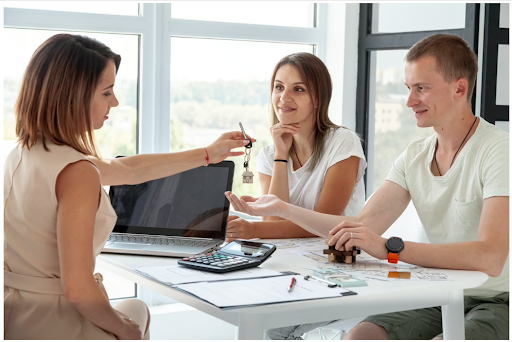 The agent can also help you navigate the complexities of purchasing a new home.  He can clearly explain the contract terms, negotiate upgrades, and recommend reputable builders. This support will result in a smooth and successful transaction.
Home Selection
Be selective when buying homes in Boston according to price and location. Property prices can heavily fluctuate based on the location. The following chart from Zumper provides an overview of housing rents in Boston's boroughs, ranked from largest to smallest.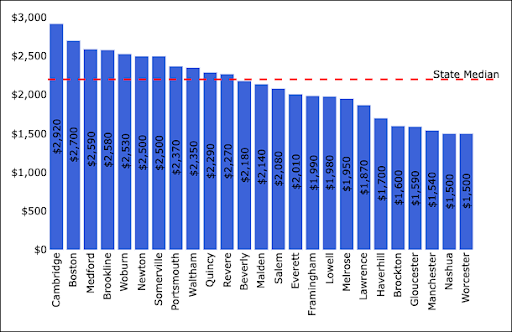 Here, we would like to mention that these cities in Boston are ranked based on the rent of a one-bedroom apartment. So you can assume, renting an apartment in any of these cities can be expensive. 
Instead, it is better to buy a home in the oceanside suburbs, where house prices are relatively lower. Currently, you can purchase a decent home in Winthrop for a price range of $300,000 to $350,000 (check here). Even if you can't afford this price, you can apply for home loans. It is still better than paying a significant amount of rent and living in the Boston metropolitan area.
Financing
Contact lenders to get pre-approval for a mortgage loan. This way, you can estimate your budget and make a smooth purchase. We suggest first researching the different loan programs available for new construction. Then, evaluate their terms, interest rates, and requirements.
However, you should apply for pre-approval to get a mortgage loan before you start searching. Getting pre-approval will give you a competitive edge when multiple offers are presented. Therefore, you should be financially prepared to secure the property quickly before other interested buyers do.
Contract and Negotiation
Carefully review the contract and ensure you understand the terms, payment schedule, and any contingencies. Consider consulting with a real estate attorney to ensure all legal aspects of the contract are in order. With his assistance, negotiate the price, upgrades, and any other contractual elements.
Let the real estate attorney review the purchase agreement. There are chances that the attorney will identify some clauses that are unfavorable to you, such as ambiguous timelines for construction completion. Then you will have a chance to negotiate after revising the terms. This will ensure more clarity and protection.  
Home Inspections and Walkthroughs
Conduct a thorough inspection of the property to identify any construction issues or defects. A wise move would be to schedule a home inspection, especially if it is newly constructed. Who knows? You may discover several plumbing and electrical issues that were not apparent during the initial walkthrough. 
If that is the case, then you should negotiate with the builder to rectify the problems before closing. Prior to closing, do a final walkthrough to ensure all agreed-upon items and repairs have been completed. This can save you from potential future expenses and headaches.
Closing
An in-depth report by the GBAR (Greater Boston Association of Realtors) defined that the increased buyer activity in March 2023 pushed sales of condominiums and single-family homes to the highest levels in three months. This also reversed the median sales of the last three-month for single-family homes. As a result, be prepared for closing and relevant costs.
The closing cost may typically include fees for the loan, appraisal, inspections, and legal services. Work with the builder, lender, and closing agent to prepare all necessary paperwork and funds for closing. Make sure there are no liens or other encumbrances on the property by conducting a title search. Last but not least, obtain title insurance for protection.
Post-Closing
Even after closing, there are tasks to be done. These include setting up utilities, forwarding mail, and updating your address. Plus, you need to manage the warranty to ensure a smooth transition into the new home. That is why you should try to understand the terms of the builder's warranty and resolve any issues immediately.
Consider yourself lucky if your house comes with a builder's warranty. This can fix any problem at no additional cost. We also recommend attending any builder orientation or walkthrough sessions to familiarize yourself with the home's systems and operations. 
In the End
Congratulations! You are now equipped with the essential knowledge and insights to embark on your journey to buy a newly constructed home in Boston. Remember, a beautiful, brand-new home can reflect your vision and enhance your Boston lifestyle. Therefore, stay diligent, seek professional guidance when needed, and keep your eyes on the ultimate prize. Happy house hunting!