Today, most homeowners want to remodel their kitchen space. After all, it is a space in their house where they cook their food, demanding ample attention.
Having a better-looking kitchen often changes the entire outlook that one has towards this room. It is evident that when you are all set to remodel the kitchen, you will take a holistic approach to it. But there's one factor you need to consider when making the changes. And that is choosing the correct kitchen faucet.
Today, you can have access to a posh kitchen faucet design that will add to more style to your kitchen sink, with single and double handle faucets spray heads along with a pull-down kitchen faucet for easy washing and enhanced water flow.
You will also get faucets in various finishes, like stainless steel. The new-age faucets get designed with several functional features and can create a beautiful kitchen space.
Currently, there are so many choices for all things that you can use and consume. Hence, it would help if you had assistance with navigation. So, when it comes to kitchen faucets, you have access to several types that can make your kitchen sink look classy.
Some of the popular types of kitchen faucets include the following:
1- Pull-down faucet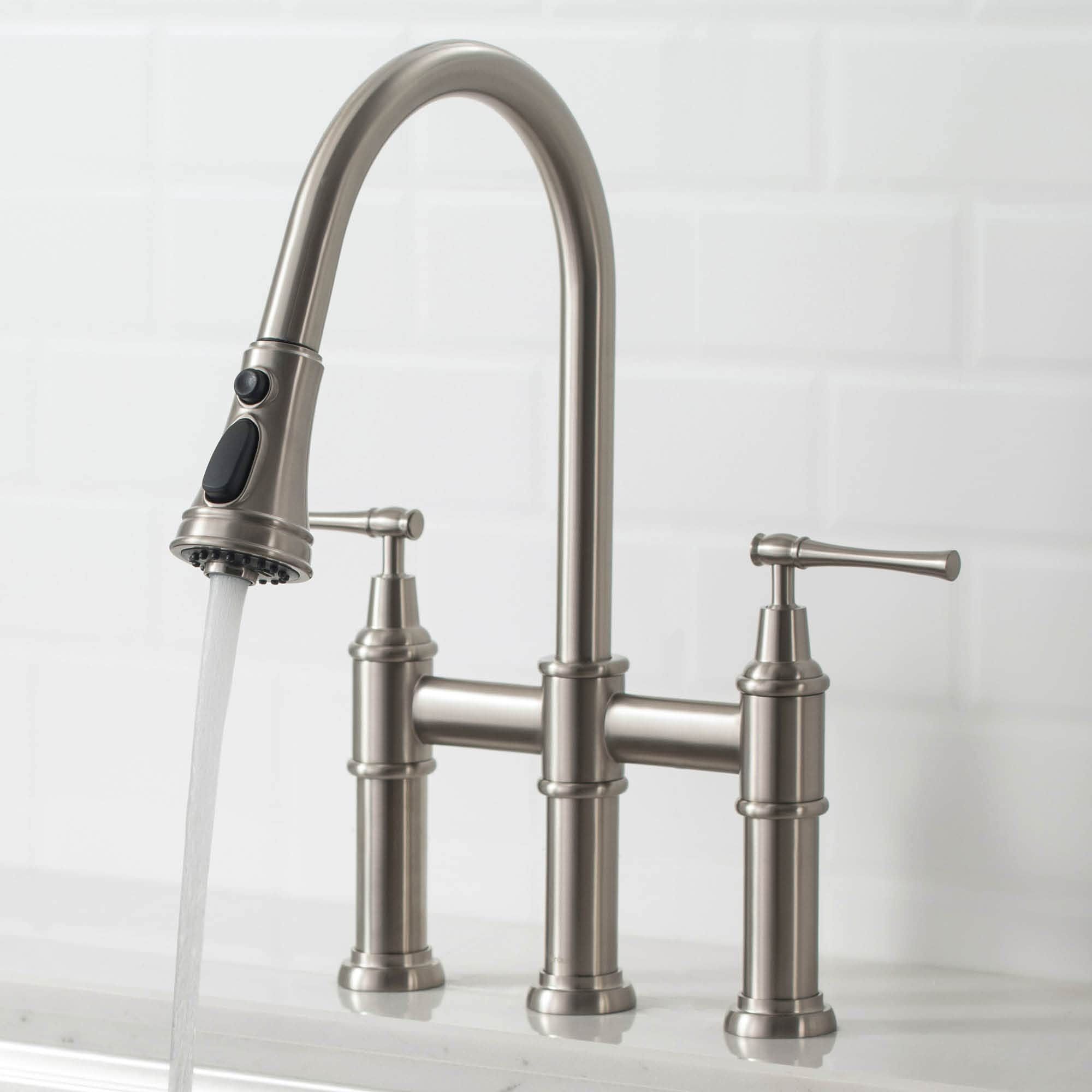 This type of faucet makes use of a spray wand that can pull down straight inside the sink. It helps clean products and dishes.
You can even wash your new puppy here. It is one of the common types of faucets that is available for you to buy. And its pull-down feature makes for superior cleaning of the messy sink. You can also use this as a great tool when your roommate is not acting a little annoying and requires a stable hose down.
2-Pull-out faucet
The prominent difference in a pull-out faucet is that it comprises a body that can operate in one line. On the other hand, a pull-down faucet carries a curve that you can pull downward. This choice enables for a potential to spray at 360-degree. You should ensure that it's out of reach for children.
3-Dual-handle faucet
This faucet comes with different levers for the cool and warm water. Also, you can attack the two handles to the uniform central piece. However, you can place it a couple of inches other than each other in other situations. And in both ways, it would be on the side of the primary tap.
It might need separate connections for the cold and hot water, similar to the bathroom. The right handle directs the hot water, and the left one directs cold water. And when you want to manage the water pressure, you can bring the handle on the outer edges or at the center.
4- Single-handle faucet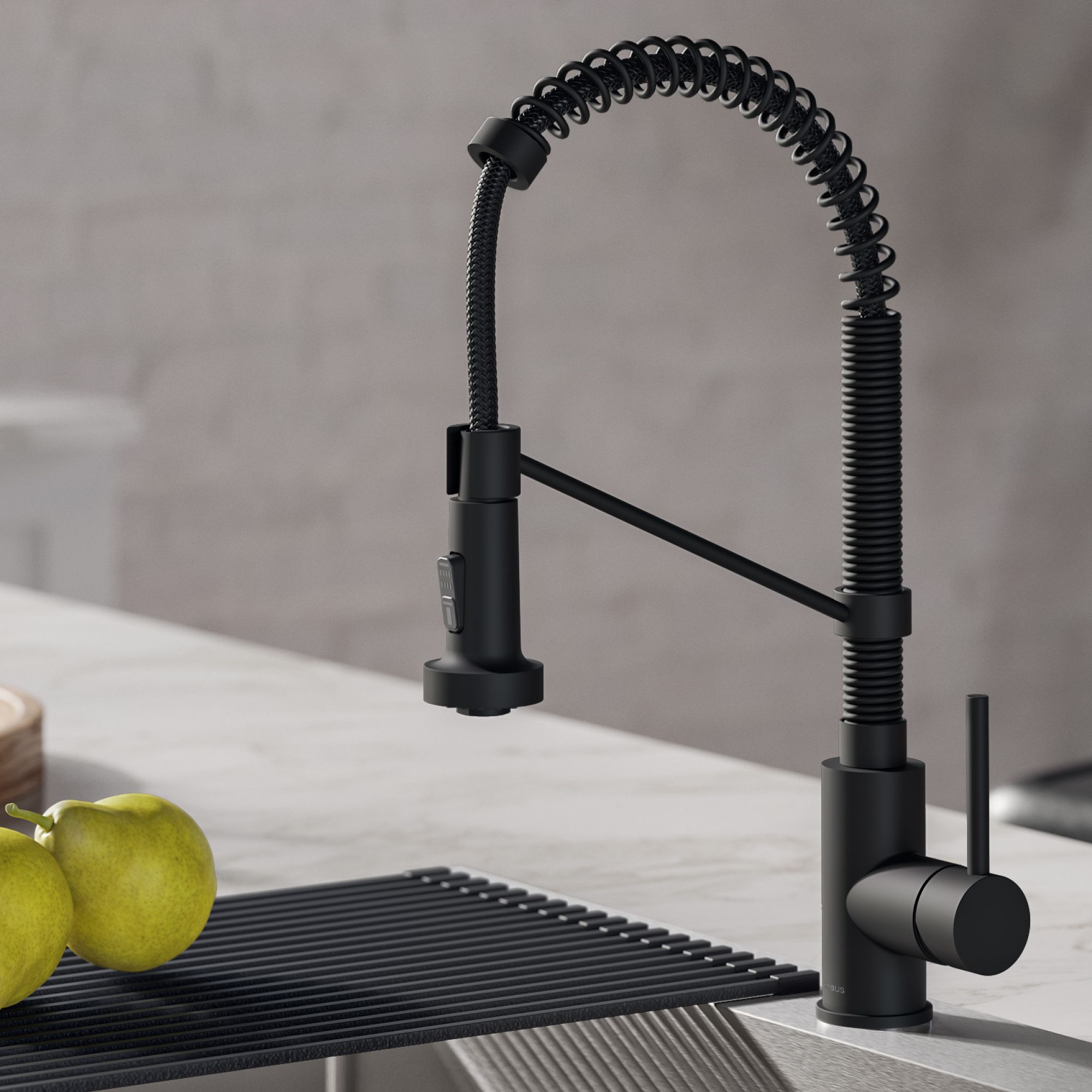 The single-handle faucet uses one lever that you can place from left to the right for managing the cool or warm water.
When you pull the lever down or up, it will manage the water pressure. It might take some time to ensure that the water is at the desired temperature. It can be slightly less correct when you are opting in for a hellfire swamp or an arctic bath.
5- Commercial faucet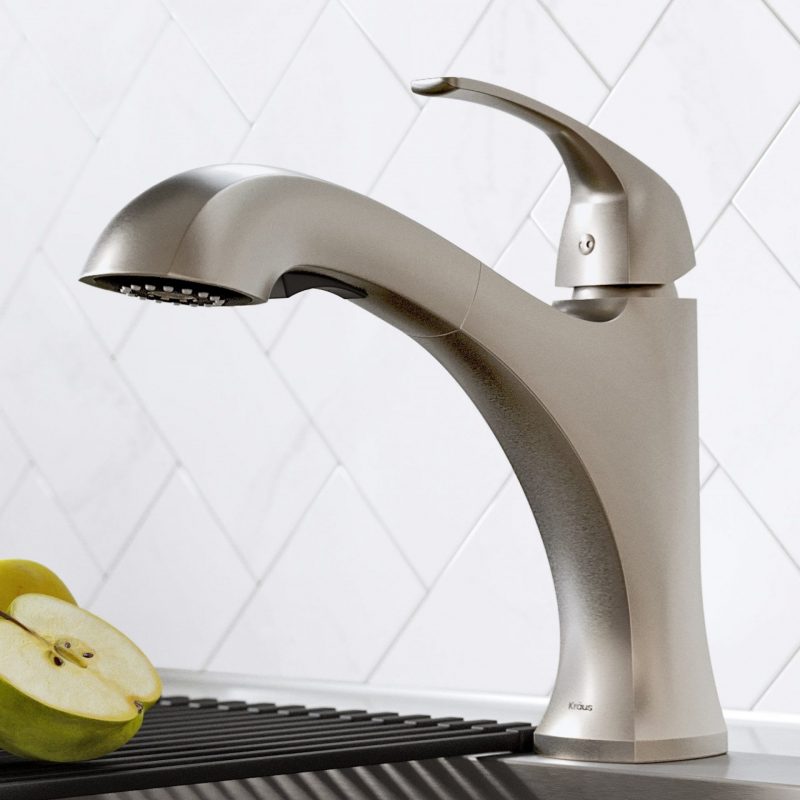 This faucet makes use of longer flexible ease. It gets designed to have a new-age appearance in the kitchen, and you will find it in most of the professional kitchens. Based on the model that you select, you can come across the different taps depending on your varied needs. The faucet is sturdy, and any guest will consider you like a professional chef.
6- Pot filler faucet
Usually, the pot-filler faucet gets made with a specialized arm extension that extends outwards. It can effectively swivel and then move over a pot and any big items present in the sink. What you get here you might locate in the commercial sink as well.
A few of the models similar to this get made so that it fits on the wall and can connect to the plumbing system as well. This faucet will be your favorite if you are an avid soup maker.
7- Separate spray faucet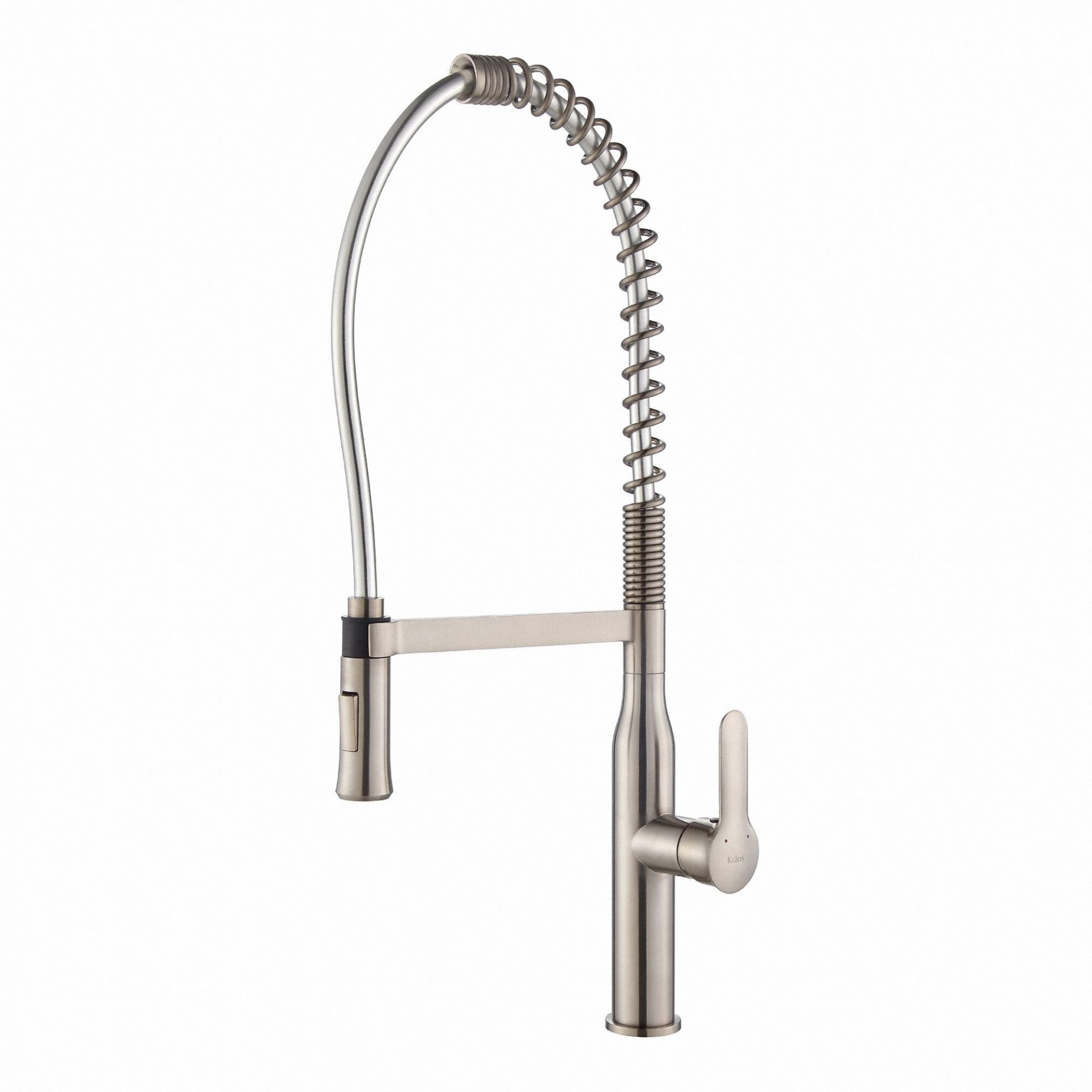 Are you searching for a flexible faucet? If yes, the separate spray faucet is all you need. It makes use of a completely separate handle along with a trigger that will avoid the water flow from the main faucet to its spray nozzle. Also, the handle gets associated with the water supply, which arrives from a basic tap.
And as you switch on a normal tap, its spray nozzle will get active as the water can get rerouted to the tap as fast as possible without any issues. It is one of the great options for homeowners who wants to add something exclusive to their kitchen.
8- Motion detection faucet
It is the final type of faucet that is available. And the faucet will work when you place your hand on the sensor for activating the water flow.
It is also possible that you place the pot or any other utensil beneath the tap. You will have to assess how correctly the sensor on this unit will work to make it efficient. Additionally, it is also possible to manage the temperature by using a lever right at the base.
Here are 10 tips to consider while Remodeling Your Kitchen
1. Look for inspiration
It is possible to look at the kitchen remodeling ideas available on the internet. Doing this will help you out in coming up with an innovative plan. There are even websites where you can choose your own design, and it will be prepared for you. All you need to do here is send them a picture of your existing kitchen.
2. Measure the space first
You need to have an idea of the remodeling that you want to perform on your kitchen first. Then you can measure all the available space, and it will help you out in deciding what materials are needed for this process. This also helps you in making better decisions about where to place new appliances and furniture.
3. Seek the help of a contractor
If you are remodeling your kitchen on your own, it can be difficult to get things done in an organized manner. That is when you will require the help of a professional contractor like ICS Kitchen and Bath Remodelers.
The professionals here can help you out in making better decisions about the layout of your kitchen. They can even help you in making a better decision about the appliances and cabinets that you wish to purchase for this project.
4. Plan accordingly
You need to make sure that you create a list of all the items that will be required for this process, and include everything from the tile to small screws. The contractor will also help you in determining which appliances will work well along with the new layout that you have created for your kitchen.
The final decision is always yours as a homeowner as to what design and style you want to go for as per your needs and budget, based on this brief guide it should be easier now to choose the Ideal Kitchen Faucets for your future Kitchen.
You can email us at ICS Kitchen and Bath Remodelers with any questions or to get a free quote for remodeling your kitchen
5. Improve the look of your kitchen
It is possible to make significant changes in the appearance of your kitchen by spending a relatively small amount.
Some people are even willing to spend more money for improving their kitchens significantly. You can always check out different remodeling ideas available online, and decide what will work best for you. That way you should be able to come up with a kitchen that is convenient and aesthetically appealing at the same time.
6. Don't forget about appliances
You need to make sure that you consider everything related to your appliances as well before you actually start this process of remodeling your kitchen. It is possible to find elegant appliances right online, but it is important to check out reviews before you actually finalize the deal.
You can visit ICS Kitchen and Bath Remodelers for any form of assistance in this regard, they will help you in narrowing down your options, and make a decision based on your budget.
Some people are also able to remodel their entire kitchens by themselves if they have sufficient knowledge about DIY methods for this process. This is the ideal way to save money, but you should keep in mind that it can be dangerous as well if not done properly.
7. Look for inspiration
You should always look for some kitchen remodeling ideas on the internet. There are a lot of websites that provide you with general information, and guidelines about how to go about doing this process successfully.
You can also check out different home improvement stores in your area, they will offer you an extensive collection of options that you can choose from.
8. Make a plan before you start this process
It is recommended that you make a very detailed and comprehensive plan for your kitchen remodeling project, before you actually set out on this journey.
You need to figure out the steps that will be required in this process, and how long it will take for completing all of them. The plan will help you in staying on track, and ensuring that everything goes according to your requirements.
9. Evaluate your kitchen properly
It is recommended that you check out your present kitchen well before you actually start this process of remodeling it. You need to be well aware of the condition of your appliances, cabinets, and countertops. This can give you an idea about what measures should be taken in this process of remodeling the kitchen.
10. Think about the design
The design is one of the most important components for this entire process since it will help you in determining which layout will work best for your kitchen.
You need to create a balance between the different elements that will be present in your kitchen. This is because, if you manage to create a perfect balance then it will become easier for you to remodel the entire area properly and make sure that everything works as per your specifications.
11. Evaluate costs
It is possible to spend a lot of money on getting your kitchen remodeled. However, there are a lot of ways to save money as well if you know how to go about this process properly.
You can always try out different ideas for saving money on the overall cost of the project before you finally settle down on one option. This will also give you an idea about what measures need to be taken in this process so that you can try and save as much money as possible.
12. Start with small tasks
Before you can actually start the process of remodeling your kitchen, it is important to do a lot of little tasks in preparation for the big steps. This will help in getting rid of all the clutter from your kitchen, and make it easier for you to get started on this process.
13. Proper market research
It is always better to do proper market research before you actually start with the renovation of your kitchen. This will help you in making an informed decision about everything that involves spending money on remodeling your kitchen.
You should look for resources such as sample kitchen remodels, or take a look at the different options that are available for you before you decide on which one to go with.
14.Perform extensive cleaning
This is another important task that should be carried out before starting this entire process of remodeling your kitchen.
You should clean and de-clutter all the counters, appliances, and cabinets before you actually start with the reconstruction process of this space. This will help in making sure that all your decisions are based on a clean and clutter free environment.
15. Get rid of everything
The first step for remodeling a kitchen is getting rid of everything from it including the old countertops and cabinets. You can always repurpose these items of furniture, and make sure that you do not throw them away completely.
This will be a lot easier for you to get started on this process of remodeling if everything is removed from the area before you begin with the new construction plan.
16. Work on "before" pictures
Before you actually start with the remodeling process, it is important to take at least one "before picture." This will help you in making comparisons throughout this process of kitchen renovation. It will also allow you to see how far your project goes, and where you need to concentrate more on based on the different pieces.
17. Make a list of task
It is always better to make a list of different tasks that need to be completed during the whole process of remodeling your kitchen. This will ensure that you have everything planned out properly, and it will become much easier for you to get started with this entire process.
18. Go about this process in a logical manner
The best way to remodel your kitchen is by going about this project in a logical manner.
You should always make sure that the most important tasks are completed first, and you can do the less important ones later on in the planning stage of this entire plan. If you need help with your kitchen renovation then it is always better to consult a professional.
19. Contact a professional
There are a lot of professionals out there who will be willing to help you restore your kitchen. This is important if you need some expert advice regarding the different aspects of this process, and it will also save you from all the hassle that goes with remodeling your kitchen.
20. Get your kitchen design ready
After you have completed the process of removing all the clutter from your kitchen, it is important to get your kitchen design ready for this entire project. You should choose the appliances that you are going to use in this space, and make sure that everything is in keeping with the new design that you have decided upon.
Conclusion
Generally, the sensor gets placed at the middle of your motion detection faucet close to the base. It needs to be visible easily, even though the dark spot. It should get used in a way that you ensure this specialized faucet works correctly for you. And you will mostly find this in public bathrooms to prevent any spread of harmful germs.
Remodeling your kitchen needs time and careful planning. Hence, when it comes to selecting the best kitchen faucet, you will have to devote ample time to it.
You need to assess your kitchen space, its layout, and the sink pattern and decide the type of faucet that complements your kitchen space. If you are unable to decide, you can get in touch with a kitchen faucet service provider to get the correct guidance.