For most people, the kitchen is their go-to place after a tiring day at school or work, looking for something to eat or quench their thirst. Imagine coming home to that welcoming smell of freshly-baked bread.
Or that dinner for today is your favorite dish. It's in the kitchen that family members spend a lot of time, so it's just fitting to strive to make it look pleasant and inviting.
However, over time, it's expected that your kitchen will succumb to wear and tear between the cooking and washing dishes. It's not just destroyed in many facets but also dysfunctional.
After so long of trying to make do with the kitchen that you have, perhaps now you're itching for that renovation it so badly needs.
Given how kitchen remodels are a costly project, it's best to go through them as carefully as possible with your team from Modern Valley Construction, among other reputable kitchen builders. Your kitchen can be perfect if you observe the following dos and don'ts.
The Dos
Do Create A Multifunctional Island
Kitchen islands are now one of the top must-have features of a modern kitchen, especially for homes with space. The reason behind this is that kitchen islands add functional space. It can house your sink or any other item, depending on the style. Or, it can be that space where you're not constricted when meal prepping or hosting parties.
If you have a kitchen island, make the most of the square footage it's eating up. Don't just have an island for the added surface to do some work on. Instead, use as much of the space underneath for drawers and cabinets for more storage.
Do Install Cabinets To Conceal Appliances
Install cabinets for appliances in your kitchen, such as a built-in microwave and oven, a custom-fit range, a specific place where your fridge goes in, and even more cabinets for smaller items like kettles and whatnots. These are only a few of the many features your kitchen should have if you want to have a sleek and minimal kitchen.
Your kitchen will look more visually appealing when the appliances are hidden, especially when not in use. Those cabinets enable you to clear your kitchen counter. This way, you don't have a lot of clutter sitting around your countertops.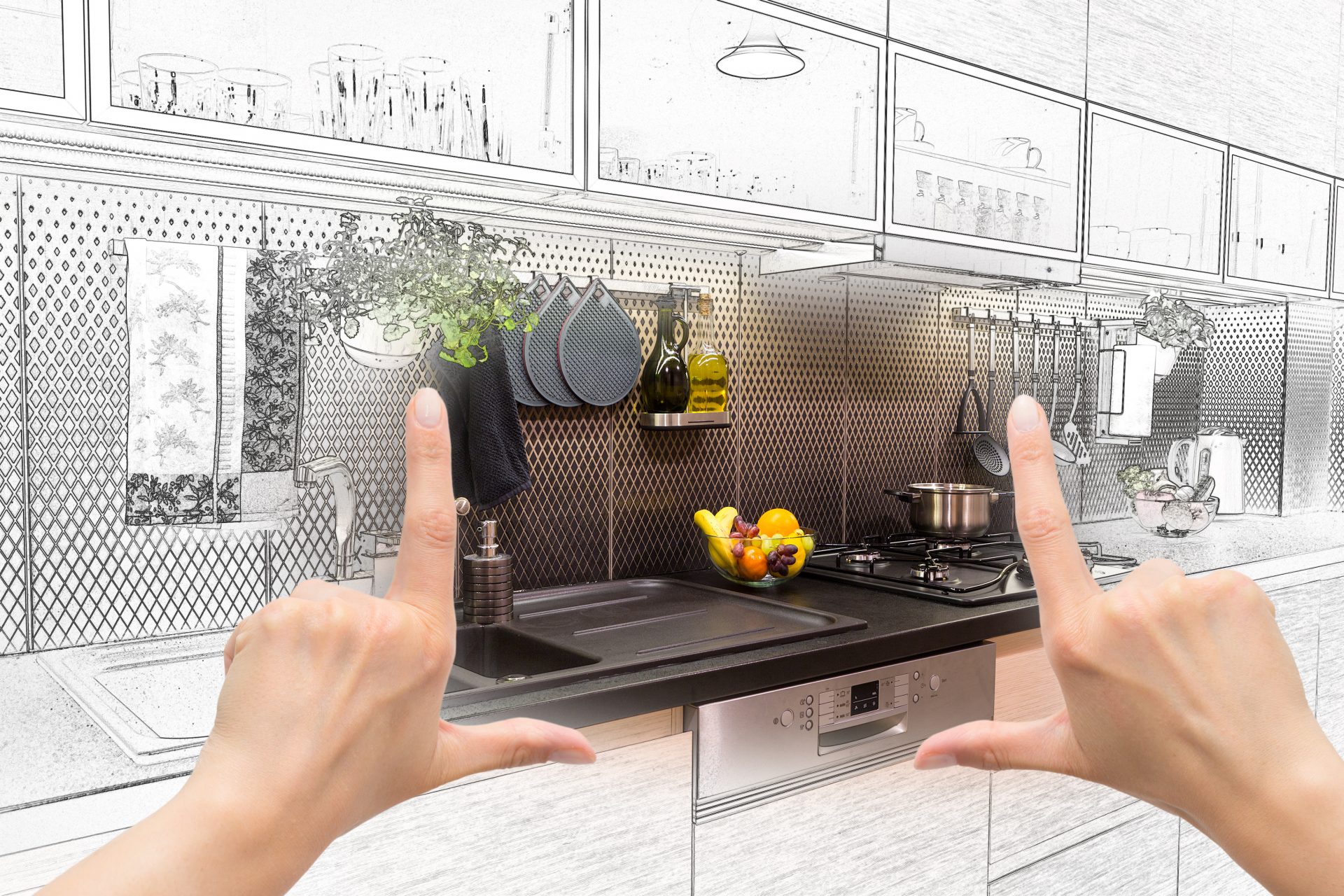 Do Factor In Your Personal Wants
After browsing through a hundred kitchen photos for inspiration on Pinterest, are you now sure about what you want for your kitchen? Remember that for the kitchen to be perfect, it's not enough that it's modern, new, and beautiful. It also has to work for your household's needs.
So, if this kitchen remodel project is for a family home, sit down with the entire family and list all your must-haves. After that list, write down the nice-to-haves and those you don't mind not having.
With this priority system, your builder also knows how to style your kitchen so that your must-haves are incorporated. The nice-to-haves can be a major plus if the space, design, and budget permit it.
Do Have Lots Of Ceiling Lights
The kitchen has to be a brightly-lit space, given how it's the food you're dealing with. You need ample light when meal prepping. Moreover, in those few instances when you're hosting parties, you also need to have good lighting, especially if you will have the food placed on your kitchen island.
Don't be stingy with your lights. Having enough ceiling lights also minimizes the need for floor and desk lights around the kitchen when you find your kitchen so dark. In the kitchen, you'll want to reduce the number of exposed wires as much as possible, given how those can be a safety hazard.
Do Choose Your Appliances First
One of the common mistakes made during a kitchen remodel happens when homeowners opt to choose the appliances towards the end of the project. If you're planning to buy new ones, choose those replacement appliances first.
For your kitchen remodel to look nice, your builders will need the exact measurements for custom fit-outs. With that, there aren't any awkward spaces or gaps where appliances are either too small for the space they're supposed to be placed in or, worse, they don't fit.
Do Factor In Your Walking Space
You've probably been in that situation before. It's the busy day of a get-together you're hosting, and a lot is happening in your kitchen. You have enough working space, and you have enough storage space, too. But, it's challenging to walk around as the gap from the work station to the island is quite narrow.
When measuring and drawing your kitchen layout, factor in the walking space. Make it as wide as possible to allow at least two people to move around freely. If the kitchen is too small, remember, that island may be nice to have, but it's not going to work. Maybe a narrower kitchen bar will do.
The Don'ts
Don't Go Through It Alone
Even if you're the king and queen of DIY, it's still best to consult experts to have that perfect kitchen. For example, you may want to have experts for the cabinets and the installation of quartz or granite if that's what your kitchen surface is made of.
A professional will help you fine-tune your ideas. This kitchen contractor is that one person who can make the difference between a so-so remodel and a perfect one, where you're slated to be impressed with your kitchen even for many years.
Don't Go Over Budget
A good kitchen contractor can help you build that perfect kitchen without exceeding your budget. So, once you've set a budget, be keen to stick to it. It's not practical to go into debt to have that perfect kitchen. The more practical you are about it, the better. You may even have enough budget to start working on another problem area in your home.
Don't Choose Fragile Materials
No matter how aesthetically pleasing a particular material may be, skip it for your kitchen if it's known to be quite a fragile material. Don't be deceived by its looks. You need more durable construction materials like those that can help the kitchen withstand all its functions as the workhorse of the household.
For instance, you saw a material you wanted to have for your kitchen. If it's fragile, ask your kitchen contractor if any alternatives are just as beautiful but more durable. There are tons of construction materials out there; you have to find the right one that works for your needs.
Don't Be Skimpy With Storage Space
Alongside the must-do item regarding having storage space below your kitchen island, make it a point that you also have enough storage elsewhere in your kitchen. Don't be skimpy with this. Use vertical space on the walls, below your sink, and in other areas.
You may not think you need all that extra space now, but it's always good to prepare. Family homes, in particular, will need more dishes and serving items, for instance, for use during parties. The same holds with pots, pans, and casseroles.
One of the main reasons why homeowners are disgruntled with their kitchen is that it's too small and cluttered. There isn't enough space to store their belongings. If that's also how you're feeling with your kitchen right now, then that need for ample storage space is even more pressing.
Don't Be Too Trendy
Surely you wouldn't want to have a kitchen remodel every so often simply because your current one is no longer in style. While you want your kitchen to be updated with the latest design trends, this also doesn't mean being too trendy to the point that your kitchen is filled with fads.
This situation is why having a designer and a builder is still good. They can help you achieve that perfect balance of a modern and updated kitchen and one that's also classic and stands the test of time.
With this, be careful not to make your kitchen too simple, boring, or monochromatic. You want your kitchen to be like all the other living spaces in your home. It should make an impact and be inviting to your guests. Style matters in a modern household, so be cautious to make your kitchen's style tie up well with the rest of your home's interiors.
Don't Be In A Rush
Good things take time, and this holds true for your kitchen. You may be itching to have that new kitchen ready, but don't be in a rush. Don't pressure the tradesmen every single day to do their work faster. If you do, then that's when the risk of taking shortcuts may happen only to meet your deadline.
For as long as you know there's still daily progress and your timelines are met, leave the tradesmen to do their job. Extra time is needed to guarantee the kitchen they turn over is well-polished with craftsmanship that's to the nines.
Conclusion
Kitchen designers and contractors now understand that homeowners love being in the kitchen so much that they often dream of a better one. That's why, when it's time to start thinking about that kitchen remodel, you don't make the slightest mistake that may lead you to regret your kitchen again a few years later.
Think of this as an investment for a better and more functional home. By observing some basic principles and rules like those discussed above, your dream kitchen will soon become a reality.