If you've ever driven through your neighborhood and just had to stop in awe of a beautiful landscape or home design, this is what's known as curb appeal. And this is a coveted element when it comes to real estate investment.
Curb appeal is what gets a property noticed. And when you're able to grab the attention of potential buyers or renters, the chances of making a profit from your real estate investment become much greater.
Reports from a variety of sources have shown that well-maintained properties with aesthetically appealing designs are twice as likely to be shown or seen. Basically, curb appeal is what sells a property. As such, this is what you'll want to develop if you hope to turn a quick profit.
If you're looking to gain more profit from your real estate investments in 2022, the following will provide a few tips for creating curb appeal.
Hire a Professional Landscaper
Perhaps one of the easiest ways for creating curb appeal is to have your landscape professionally designed. And this is because professional landscaping companies know how to tie the right design to a property.
For example, you could add a bit of grass seed to make your lawn greener, but wouldn't your yard look much better with planters, floral gardens, well-groomed trees, lighting, pathways, and other aesthetic elements included?
A property is much more than the lawn that it sits on. And a professional landscaper who knows the types of designs that are in popular demand will be better equipped to create a property design that makes a potential customer stop and look.
If you're after the ultimate curb appeal, you'll have to start with your landscape. And once this is fine-tuned, it's time to focus on the home itself.
Exterior Paint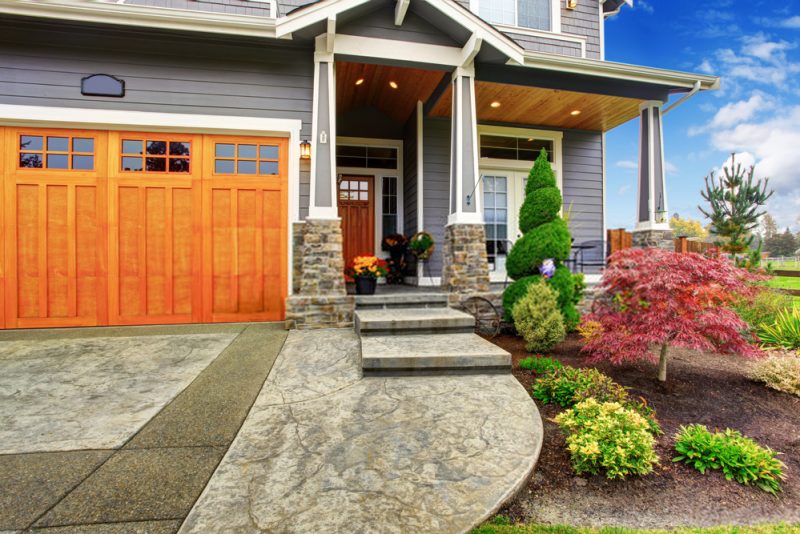 One of the biggest deterrents when it comes to renting or selling a property is a home that has chipped, faded, peeling, or missing paint. And this is actually the simplest and cheapest part of the home to keep maintained.
When you obtain and use borrowed capital, you're investing your money into a property that you're hoping will bring you a return on your investment. As such, you're probably not likely to invest your money into a property that doesn't look like it's worth it.
Using this same logic, most renters don't want to invest their money each month into a property that looks run down either. And a prospective home buyer is sure to pass on an unsightly property as well.
The key takeaway here is to ensure that your home's exterior is blemish-free and that it looks inviting. This way, you're more likely to see inquiries for your rental.
Security Features
Since the onset of the COVID-9 pandemic, people have come to rely on their homes much more than ever. And as many people had to undergo quarantine or lockdowns, home security became much more important in 2020.
The trend for optimized home security is something that has been forecast to become increasingly popular heading into 2022, and for the foreseeable future. As such, having visible security features installed is a great way to add even more curb appeal to your property.
For example, such features that you may want to incorporate include doorbell cameras, exterior surveillance cameras, front-facing security lighting, floodlights, pathway lighting, or monitored security options.
Additionally, market research has shown that homes with up-to-date security features are much more attractive to renters and buyers. And many potential renters are more willing to pay extra for added security features today.
Creating curb appeal has been called both an art and a science. But no matter which methods you choose, you'll find that you'll be far more successful with your investment rental if you take the time and the money to make your property as attractive as possible. All you have to do then is sit back, and watch the money begin flowing in.