Embracing an industrial aesthetic in your home can be an exciting way to modernize your property and showcase your personal style. This design style is all about incorporating raw materials, unfinished elements, and utilitarian objects into your living space. 
While it may seem daunting to completely overhaul your home's decor, there are plenty of tips and tricks to follow to help you update your place with this modern vibe.
Embrace Minimalism
Creating an industrial style at home requires embracing minimalism. Keep the design simple and uncluttered. Industrial style celebrates minimalism and clean lines, so avoid excessive ornamentation, unnecessary decorative elements, or any other clutter.
To achieve minimalism, remove anything that's not essential. This includes furniture, decor, and accessories that aren't adding value to the space.
Choose furniture and decor with clean lines and simple designs, too. Avoid anything too ornate or fussy. Pieces should be functional and serve a purpose. Plus, add a little texture to the space with natural materials such as wood, metal, and concrete. Doing so will add interest and depth to your minimalistic design.
Exposed Structural Elements
Another key industrial factor is the use of exposed structural elements. This style is all about showcasing the raw, unfinished look of a building's architecture.
Exposed brick walls are a classic feature of the industrial style since they add texture, warmth, and a sense of history to any space. The bricks' rough, unfinished look makes them appealing for this design type. They can be left in their natural state or painted to match the room's color scheme.
Other structural elements that can be used to create an industrial look include exposed pipes, ductwork, and beams. A few well-chosen pieces can go a long way in creating a cohesive look.
Raw and Industrial Materials
Also, it's essential to use raw and industrial materials where possible. These materials add a unique touch to your interior design and create a rustic, edgy, unconventional atmosphere. Incorporate materials commonly associated with industrial design, such as metal, concrete, reclaimed wood, brick, glass, and stone.
Use such materials for flooring, accent walls, countertops, fixtures and fittings, or furniture pieces. For example, metal is often used for light fixtures, furniture, and accessories, while concrete is used for walls, floors, and countertops. Wood is used for furniture and flooring, and brick typically comes through in walls, fireplaces, or other architectural features.
When using raw materials, keep in mind that they should look authentic and not overly polished or refined. For example, a rough concrete wall or a distressed metal table will add character and help create an industrial feel.
Mixing and matching different materials to create a layered and textured look is also important. For example, a glass coffee table paired with a leather sofa and a wooden accent wall can create a cohesive yet diverse industrial style. You can then buy industrial ceiling fans to complete the room, such as those made from metal or reclaimed wood. 
Neutral Color Palette
Choosing the right color palette is also crucial for an industrial-look property. In particular, neutral tones are a staple in industrial style.
Opt for shades of gray, black, beige, brown, and white as the foundation. These colors provide a clean and minimalist backdrop that complements industrial elements and can be used as a base for the room and paired with other hues to develop a cohesive look.
When choosing neutral tones, always consider the undertones of the colors, too. Cool undertones, such as blue or green, can give a more modern industrial look, while warm undertones, such as red or yellow, can give a more rustic and vintage look.
Plus, consider using different shades of the same color to add depth and texture to a neutral color palette. For example, light gray walls can be paired with dark gray furniture and accessories to create a layered design.
Utilitarian Furniture
Utilitarian furniture is another hallmark of the industrial style and is all about functionality and practicality. Designed to serve a purpose, such pieces are often made from raw and natural materials such as wood, metal, distressed leather, or concrete.
One of the most popular pieces of utilitarian furniture is the industrial-style coffee table for the living room, while another is a metal and wood bookshelf. Sturdy and practical, it provides ample storage space for books and other items, and you can use it in any room of the house, from the living room to the home office.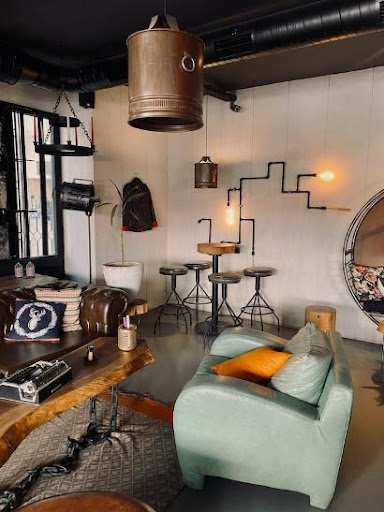 Also, consider pieces inspired by factory or laboratory furniture, such as metal stools, industrial-style shelving units, reclaimed wood dining tables, or vintage storage cabinets.
Other ways to embrace an industrial aesthetic in your place are to keep an open floor plan to create a loft-like vibe and utilize vintage and salvaged items where possible to add character and nostalgia to different areas.
For instance, look for old factory equipment, antique signage, or repurposed industrial pieces like old pulleys or gears to use as decorative elements. 
Creating an industrial style at home can seem daunting, but it can be achieved easily with the right tips and tricks. By following the advice outlined in this article, anyone can transform their living space into an industrial haven.