TYPES OF BOLTS AND NUTS
A nut is a type of fastener with a threaded hole. Nuts are almost always used in conjunction with a mating bolt to fasten multiple parts together. The two partners are kept together by a combination of their threads' friction (with slight elastic deformation), a slight stretching of the bolt, and compression of the parts to be held together.
CLASSIFICATION OF NUTS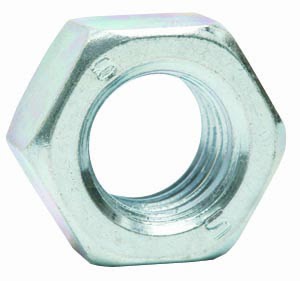 HEX NUT – The most common hexagonal fastener with internal threads that screws on to the shank of a bolt or a hex cap screw.
MACHINE SCREW NUT – Machine screw nuts are designed to mate machine with screws, screws commonly used in metal fastening.
Nylon Insert Lock – A nut with a nylon insertto prevent backing off.
Also referred to as a Nylock

JAM – a hex nut with reduced height

Nylon Insert Jam Lock – A nylock nut with a reduced height

Wing – A nut with 'wings' for hand tightening.
Cap – A nut with a domed top over the end of the fastener.
SQUARE – A four sided nut.
A bolt is a form of threaded fastener with an external male thread. Bolts are thus closely related to, and often confused with, screws.
CLASSIFICATION OF BOLTS

FLANGE BOLTS Flange bolts have a flange on the bottom of the head that distributes the load like a washer.

SOCKET SCREWS – Socket screws, also known as Allen head are fastened with a hex Allen wrench

EYE BOLTS – A bolt with a circular ring on the head end. Used for attaching rope or chain.

HEX BOLTS – Bolts with a hexagonal head with threads for use with a nut or tapped hole.

CARRIAGE BOLTS – Bolts with a smooth rounded head that has a small square section underneath.

LAG BOLTS – Bolts with a wood threadand pointed tip. Abbreviated Lag.
SHOULDER BOLTS – Shoulder bolts (also known as stripper bolts) are used to create a pivot point.

ELEVATOR BOLTS – Elevator bolts are often used in conveyor systems. They have a large, flat head.

HANGER BOLTS – Hanger bolts have wood thread on one end and machine thread on the other end.