Your home's first impression starts at the entrance. The front door isn't just the entry point to your abode; it's a statement piece that reflects your style and taste. However, selecting the perfect front door involves more than just aesthetics. From security to energy efficiency, there are many factors at play. This comprehensive guide walks you through everything you need to know when choosing a new front door.
1. Understanding the Importance of a Front Door
Your front door plays a crucial role in setting the tone for the rest of your home. It's the first and last thing your guests see and feel. Moreover, a well-chosen front door enhances your home's curb appeal, increases its value, and can even reduce your energy bill. An energy-efficient door can save you up to 10% on your energy bill, and on average, you'll recoup nearly 100% of the cost upon resale.
2. Choosing the Right Material
The three primary materials used for front doors are wood, steel, and fiberglass, each with its unique set of advantages and disadvantages.
Wooden Doors are classic, offering a high-end look along with excellent resistance to dents. However, they require periodic maintenance to keep up their appearance.
Steel Doors are versatile, cost-effective, and offer excellent weather resistance and security.
Fiberglass Doors are resistant to wear and tear, can be painted or stained, and require little maintenance.
Glass is increasingly popular for modern exterior doors. While it may seem like a "less secure" material, modern safety glass doors include all necessary security measures.
Composite Doors are another material growing in popularity. Solidcoredoors.co.uk are a UK manufacturer of high-quality composite doors that come with a solid wooden core wrapped in two PVC-u skins.
3. Exploring Different Front Door Styles
Choosing a front door style that complements your home's architectural design is essential for the overall aesthetics. From traditional panel doors to multi-light doors, there's a wide variety of front door designs to choose from.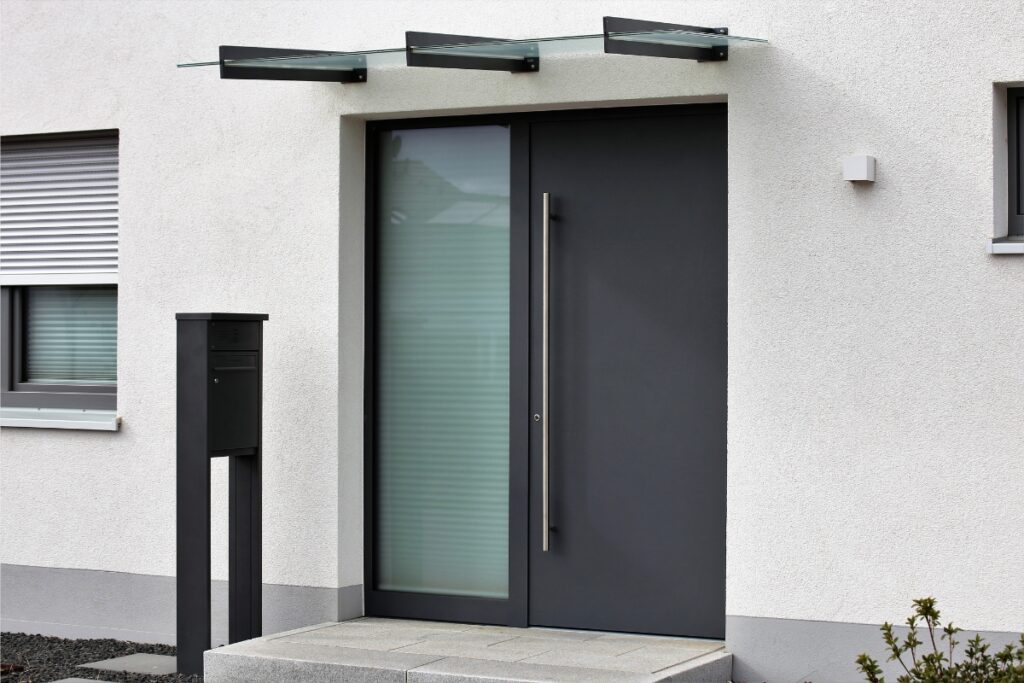 Flat, Solid Doors are minimalistic, offering a clean and modern look.
Panelled Doors, either wood or contemporary, add detail to your front door, available in various designs, including vertical and horizontal panels.
Glass Doors and Part Glazed Doors are ideal for modern houses, introducing natural light into the entrance hall while maintaining privacy.
Wrought Iron Doors offer a unique design, often seen in Spanish or Tuscan-style homes.
Double Front Doors are imposing and practical due to their width, ideal for larger homes.
4. Ensuring Proper Insulation and Energy Efficiency
Choosing an energy-efficient front door is crucial in maintaining a comfortable home temperature while keeping your energy bills in check. Doors with a thermal break – a heat-resistant material placed between the inside and outside skins – prevent heat and cold from being conducted through the door, reducing the risk of frost forming on the interior surface.
5. Prioritising Security
When it comes to security, consider a door with a deadbolt that's at least one inch long and a reinforced metal strike plate. Look for features like keyless entry, keypad entry, or RFID entry for added security.
6. Making a Statement with Colour
The colour of your front door can have a significant impact on your home's curb appeal. Bold colours like orange, red, blue, green, high-gloss black, and stainless steel have been popular in recent years. However, it's crucial to consider your local climate, community style, and your home's design when choosing a colour.
7. Incorporating Glass in Your Front Door Design
Including glass in your front door design can enhance your home's curb appeal. Whether you opt for plain, bevelled, or frosted glass panels, ensure that it provides sufficient privacy and security.
8. Deciding on the Door Installation
While many avid DIYers can manage to install a standard pre-hung front door, if you've never installed a front door before, it's best to work with a professional installer. This becomes even more important if your project requires modifications to the size of the opening.
9. Understanding Warranties for Front Doors
Finally, it's essential to consider the warranty offered by the manufacturer. Warranties can cover a variety of issues and last anywhere from a few years to the lifetime of the house.
In conclusion, selecting the perfect front door for your home is a delicate balance between aesthetics, functionality, security, and cost. With due consideration to the points mentioned above, you can find the ideal front door that enhances your home's curb appeal while offering you the security and energy efficiency you need.