We've all re-evaluated our relationship with free time in recent years, and there may be a few of you joining us for the first time, with a vague interest in woodworking and not much else. Let this guide be your starting block, from which you can pick up the basics and the first steps to becoming a woodworking hobbyist at home.
First Steps
The first thing you should think to do when preparing to start out on a woodworking hobby is to clear out a suitable space for you to work in. This could be space in your garage or shed, or even just your back patio – though you might struggle a bit in the rain!
An interior space would be the best for you to develop your craft in the long run, but for the time being you can simply make do with finding dry spaces to store your projects and tools.
Speaking of tools, your next step should be to equip yourself with at least the basics, in terms of tools you'll need to get cracking.
Screwdrivers and wrenches are handy to have around, but you'll need to invest a little further; try starting out with a cordless drill and a jigsaw for power tools, and a hand saw, coping saw, set of chisels and a set of files for hand tools.
An adjustable wood-plane will also come in handy for evening out surfaces, a tape measure will be invaluable for measuring lengths, and don't forget to buy various grits of sandpaper for finishing purposes.
Getting to Grips with Your Tools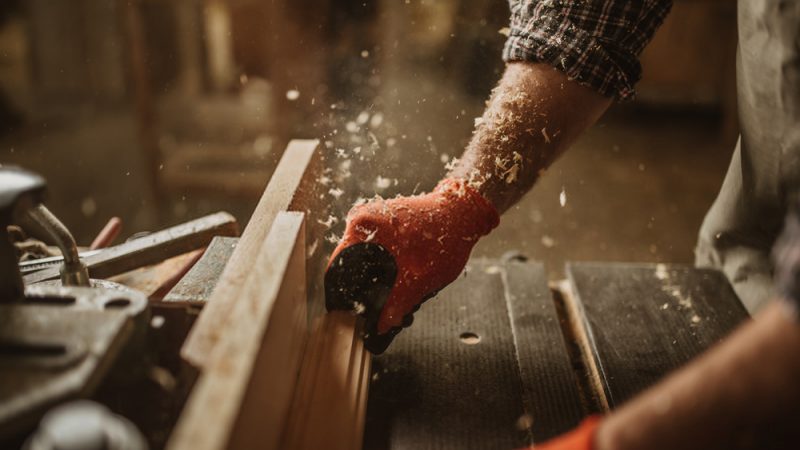 Before you start out on a project proper, you should get used to handling the tools you have bought – mishandling them can easily result in injury, and some tools – especially the coping saw – are much more delicate than they first appear. Invest in some scrap wood, and try your hand at each tool.
Follow some online guides for best practice when using tools; for example, when using a woodsaw, pointing the index finger of your sawing arm along the direction you intend to cut can keep you true to the line, and prevent "banana"-ing your cut.
Make sure not to pick up any bad habits off the block, as they can be much harder to unlearn later.
Projects to Try
Start out with a simple project at first – this way, you can get used to methods of fixing and fitting, and you won't be too upset if it doesn't quite work out first time. A bird box is a very common first project for burgeoning woodworkers, due to its simplicity in design and ease of construction.
The first time you build one, you might find there are gaps between the joints – you can use wood sealant to close these gaps ahead of varnishing or painting. Next time around you'll find yourself being a lot more careful with your measurements!
Another larger project you could try is building some outdoor furniture out of pallets, such as a table or chairs. Pallets are inexpensive and easy to come by, meaning you won't feel too precious about making mistakes – and the size can get you used to working with larger pieces, and making stronger fittings.
The more confident you get with your practice, the harder projects you can pick up – and before you know it, you'll be wood- staining a hand-made chest of drawers with your name on it.