Check out tips to negotiate well when buying your first apartment and make the price that seemed far from reality fit in your pocket!
The purchase of the first apartment is a great achievement! However, imagine the following situation: after a lot of searching, you finally find the property of your dreams, where every little detail seems to have been tailor-made for you, minus the price. But, with a good negotiation in the purchase of the apartment, all is not lost!
Check out some tips presented by Sky Marketing to negotiate well when buying your first home and make that price that seemed far from your reality fit more and more in your pocket. Good reading!
Keep Calm and Cool When Negotiating the Purchase of the Apartment
Before starting any negotiation, you need to know that you will not be participating in a war. It is obvious that the seller will try to find ways for you to close the deal as quickly as possible; however, in order to get a good discount, you need to remain calm and not let emotions arise.
The most important thing is to have the peace of mind to logically expose your point of view in order to achieve better conditions. Another important tip is to avoid showing too much interest in the property because if the seller perceives your enthusiasm, he will hardly lower the price.
Ask for a Discount
When you sit in front of the salesperson, know: that bargaining is key! It is not uncommon for homeowners or developers to set the price of a property slightly higher than the market value, considering the buyer's discount requests.
Therefore, do not hesitate to start the negotiation by asking about the possibility of a discount, because, in addition to having the chance to receive an answer that you are very pleased with, you will also already demonstrate that you expect some advantages to close the deal. Capital Smart city offers good discounts to its customers.
Use Emotional Arguments
Good negotiators try to create connections with their interlocutors. In this way, in addition to improving empathy between the parties, there is an increase in their power of persuasion. After all, a person is more likely to say "yes" to someone they like.
Therefore, whenever possible, explore the main reasons that influenced you to decide to buy your first property. Some situations are classic and always create a certain sympathy, such as a pregnancy or the imminence of marriage.
Use the Down Payment to Increase Your Bargaining Power
Perhaps this is one of the key points to getting a good discount when buying your first apartment. Your bargaining power to achieve great advantages such as lower interest rates or reducing the number of property installments, for example, is directly proportional to the down payment you offer.
Therefore, it is essential to plan financially to be able to offer a good entry. This, for sure, will make all the difference to you and your pocket at the end of the day.
However, it is useless to offer a down payment that will compromise your income and make you to have problems with the payment of the installments and with your other day-to-day expenses.
Trade, ask what you get with 20% down, 30% and so on. Do your case-specific cost-benefit analysis for each question before hitting the hammer.
If You can, Pay for the Property in Cash
Undoubtedly, the best weapon anyone can have to bargain good discounts on the purchase of their first apartment is to be able to pay for it in cash. However, for most Pakistanis this is not possible.
In this way, the buyer is able to provide the seller with greater security in the negotiation, which allows him to offer greater discounts. Because you do not need to hire a mortgage, the transaction takes place faster and with much less bureaucracy.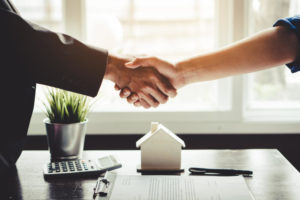 Search for Similar Properties by Region
Knowing the real market value of the apartment you are interested in is extremely important to get a good deal. In this way, you will see if what you are being charged is fair.
To do this, use similar properties in the region as a parameter and compare it with what was chosen by you. If the price you've been told is too high, present this survey to the owner or broker, using it to your advantage to achieve the best value.
Do not Compare Different Units
It is essential to take some care when comparing one property with another. Since although some residences have similar characteristics and are located on the same avenue, it is possible that they have different market values.
This happens due to the surroundings of the property and the structure of the condominium. Therefore, a person who does not have much knowledge about the real estate market can make a wrong comparison and create a distortion.
The ideal is to enlist the help of a specialist, such as a broker or a real estate agent. Thus, in addition to having a better idea of ​​what the fair value will be for a given property, a professional will provide more security to the negotiation, allowing you to make the purchase of the first apartment more quickly.
Know Well Every Detail of the Apartment and the Region
Carry out a thorough inspection of the property. Small defects or problems found, in addition to saving you a headache in the future, will also serve as an excellent ace up your sleeve to negotiate some discounts. If necessary, call a construction specialist. He will be able to help check that the maintenance is up to date.
Also, don't hesitate to mention everything you don't like about the property, such as a noisy bar, lack of commercial establishments or excessive traffic, for example. Everything—absolutely everything—can and should be used to your advantage to earn discounts.
Always Offer a Counterproposal
In recent years, there has been a market standard of 5% off. However, the current moment is quite different, and there is a considerable chance of getting a bigger discount. Despite this, you also need to be careful and know when to stop bargaining.
If the apartment you want doesn't have many replacements available in the area, it's very likely that negotiations need to be faster. So, trying to haggle too much can make you lose the purchase.
Find out About the Seller's Situation
There is a consensus that the greater the urgency to resolve something, the more easily one of the parties to the negotiation is willing to reduce its demands. So, if you know the reasons for selling the property, it can help you a lot.
Perhaps the seller needs to capitalize the money to make some investment, in which case, as time is money (literally), he may be more willing to negotiate values, conditions and discounts. It is also possible to find good opportunities in families who wish to negotiate the apartment to carry out the sharing of an inheritance.
Record the Negotiation in Writing
In order to have greater security in the negotiation, and avoiding possible doubts in the future, it is essential to record everything that is relevant, and that has been agreed. In this way, it allows for greater agility in the production of the purchase and sale contract, in addition to being a means of proving all the negotiated conditions.
Another advantage of registering the negotiation is that it creates a greater commitment between the parties, allowing the deal to be concluded more quickly.