Did you know that the metal fabrication industry has a value of over $20 billion and employs about 12 million people? The high demand for these services is due to the increase in the number of construction projects.
When considering getting metal fabrication services for real estate, industrial, or other uses, you may wonder how to identify the best services. Besides, it may be hard to understand some of the terms used by experts in the field.
Here, we discuss four commonly asked questions about metal fabrication. This information can help you understand how the industry works and guide you when seeking these services.
1. What Is Metal Fabrication?
Fabrication is a process that involves shaping sheet metal into various shapes to create a desired final product. The first steps are usually designing and preparing separate structural parts.
The most common materials used for metal fabrication are steel and aluminum. Still, some projects may require the use of copper, brass, chrome, and titanium.
Once individual portions are ready, fabricators then shape them through cutting and bending. They may also use the extrusion process to convert metal billets into tubes.
The following stage involves creating the custom design by joining the separate parts. But aside from these processes, many metal fabrication companies like Alroys Sheet Metal & Fabrication provide other essential fabrication procedures. These can include casting, punching, milling, drilling, tensile tension, turning, and even welding.
However, among these processes, welding can be considered one of the difficult skills metal fabricators should have. Generally, sheet metal welding refers to a procedure of utilizing heat to form two metals.
It has three different types, such as metal inert gas welding, plasma arc welding, and tungsten inert gas welding. It also has several industrial applications, especially in the automotive industry.
Indeed, fabrication companies provide a wide range of fabrication procedures and other services based on their client's needs. For example, depending on the agreement with a client, fabricators can also offer other finishing services like painting and coating to give the product an appealing look.
2. What Is the Difference Between Milling and Drilling?
Milling and drilling are some of the common terms you will find when researching fabrication and metal stamping. Both of these processes are similar because they involve using a rotary tool to make holes.
However, drilling requires one or more bits to make circular holes of a specific depth. On the other hand, milling is for creating non-circular perforations for fitting irregular-shaped parts. This process involves using a multi-headed tool and approaching the metal from different sides.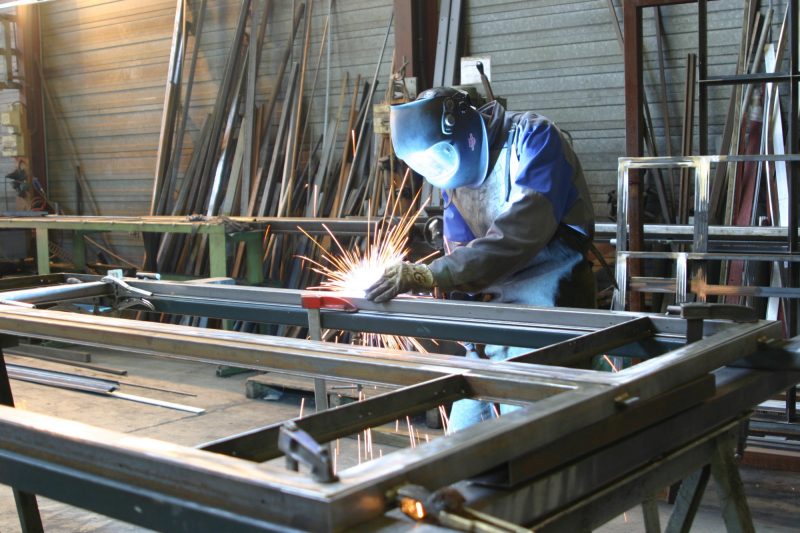 3. Do I Need Custom Metal Fabrication Services?
The metal sheets used in fabrication are highly flexible, which allows the creation of many designs. One question most people ask is whether they need to get customized services. While buying ready products or using common styles may appear easier, it may not match your project.
Customized fabrication services allow you to get a final product that suits your style and intended purpose. Also, you can combine different sizes and shapes to create a unique aesthetic.
Moreover, partnering with a custom metal fabrication provider allows you to receive efficient and fast custom metal work and utilize less costly materials, making the services more cost-efficient.
Lastly, you can guarantee a high-quality output since most custom metal fabricators follow a high level of design standards which enable them to develop an extraordinarily fabricated metal that's compatible with your needs.
So, if you are looking for customized sheet metal work, consider Frontier Welding & Fabrication LLC for quality and reliable services.
On the other hand, if you're looking for other options, make sure to factor in your prospects' years of experience, reputation, pricing, and essential characteristics. That way, you can find the right one for your fabrication needs.
4. What Should I Consider When Getting Metal Ducts?
Ductwork is a major reason why most people seek fabrication services. To improve energy efficiency and air circulation, you should get these services from specialized personnel.
Additionally, opt for aluminum and galvanized steel sheets since they are easier to clean. You can also pick rigid ductwork metal for improved safety, reliability, and durability.
Another aspect to consider when getting metal ducts is ensuring that the installer fabricates them with a wrap. This measure will increase insulation and help regulate noise in your property.
Learn More About Metal Fabrication
Undeniably, fabricated metals have several benefits, such as adaptability, durability, pliability, and cost-effectiveness. Hence, many companies offering metal fabrication services are highly in demand in industries like automotive, construction, manufacturing, mining, aerospace, and other similar relevant sectors.
That said, metal fabrication is indeed an interesting topic with many things to learn. Getting this knowledge allows you to determine what the process involves and how you can get quality services.
For more articles on such construction processes, browse this page now.