Charleston, South Carolina is a beautiful city offering tons of interesting things to do and see. The city is home to many wonderful museums, historical sites, a gorgeous harbor, and a bustling downtown area.
If you're spending time in Charleston, you'll have numerous options for activities to enjoy and attractions to visit, and there's no reason you need to spend a bunch of money to have some fun. Here, we'll cover a few of the many ways you can enjoy yourself in Charleston without needing to break the bank!
1. Explore the Downtown Area
While you're in the city, you should spend a day exploring historic downtown Charleston, SC. Although there are plenty of lovely shops, top-notch restaurants, and unique attractions in the downtown area, you don't need to spend any money to enjoy the experience.
If you'd prefer to keep your wallet in your pocket, you can simply stroll around the beautiful area, navigating the old narrow streets and rows of historical buildings.
The downtown Charleston area is the perfect blend of modern commerce and unique history. This part of the city offers picturesque parks to explore eye-catching antebellum architecture and admire plenty of bustling activity. If you want, you'll even have the opportunity to take an affordable horse-drawn carriage ride along the city's cobblestone streets.
However you choose to spend your time in Charleston, the downtown area is worth checking out. Once you're finished downtown, you'll also have the opportunity to explore the nearby Mount Pleasant neighborhood, which boasts many fantastic eateries, shopping destinations, and scenic views.
2. Spend a Day at the Beach
One of the nicest things about Charleston is its lovely location. The city lies right on the shores of the Atlantic Ocean. In addition to the stunning waterfront views, Charleston offers several excellent beaches.
If you're looking to have a fun day without spending money, heading to one of these wonderful beaches is a great option. You really can't go wrong with any of the beaches in Charleston, but one of the most popular is Folly Beach.
Folly Beach is not only a beautiful, peaceful place to relax, but it also provides opportunities for quite a few activities. For one thing, the beach is known for some of the best surfing on the entire East Coast. You could also spend the day fishing, swimming, crabbing, water skiing or simply working on your tan.
If you want, build a few sandcastles or explore some of the beach's tidepools. You'll be able to hang out at Folly Beach for as long as you want, and you won't need to spend a dime to have a great time.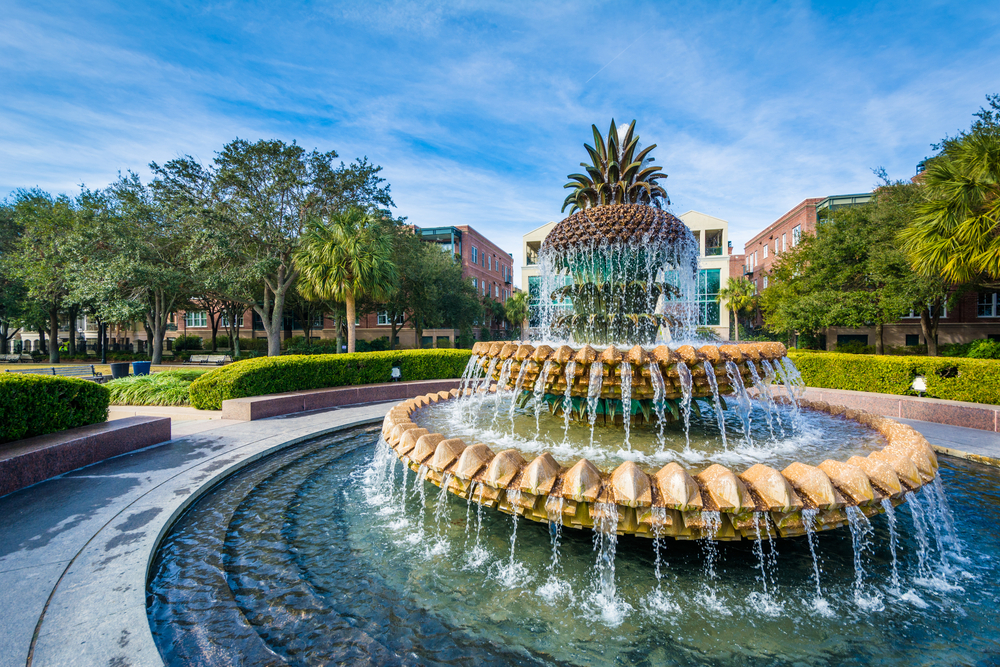 3. Have a Picnic in the Park
Another thing that Charleston is known for is its amazing selection of parks and outdoor areas. There are over 120 parks around Charleston, and just about all of them offer serene settings to enjoy a relaxing picnic. If you want a peaceful picnic experience, you can try to select a park that isn't as busy or well-known.
Choosing a park located beside the water is always a great idea as well; there's nothing quite like eating lunch while looking out over the water. A few of the many great options are Joe Riley Waterfront Park, Hampton Park, and Melton Peter Demetre Park.
One of the great things about picnics is that they cost very little money to set up. In fact, if you bring your own food, there's really no reason. You can either choose a place with picnic tables or bring along a blanket, and once you're finished eating, enjoy a pleasant nature walk around the park.
4. Visit the Angel Oak
When someone asks, "Is Charleston, SC a good place to live?" the answer is always an easy yes! Wonderful attractions like the Angel Oak are a big part of the reason why. Located within Angel Oak Park, the Angel Oak is a 65-foot-tall oak tree that is considered to be the largest living oak tree east of the Mississippi River.
The incredible tree is estimated to be between 300 and 400 years old, and roughly 400,000 people take the time to visit the site every year. The breathtaking oak has a circumference of 25.5 feet and provides shade to a 17,000-square-foot area.
Admission to the park is free, but donations are accepted and go toward the ancient tree's preservation. During your visit, you can take a picture in front of the stunning tree, relax in its pleasant shade, and take some time to explore the on-site gift shop, where you can pick up a souvenir to commemorate the experience.
5. Visit the Charleston City Market
When you're looking for free things to do in Charleston, another excellent option is to spend an afternoon exploring the Charleston City Market. The lively market has been a staple in Charleston since back in 1807 and continues to be a popular destination for visitors and residents alike.
There's the day market, which operates daily throughout the year, and there's the night market, which is open from April through December on Thursdays, Fridays, and Saturdays. The wonderful market is home to more than 300 entrepreneurs, including lots of talented artists and craftspeople offering authentic Charleston souvenirs, various collectibles, and much more.
You may be tempted to buy a few things while exploring the market, but you can also have an awesome time simply walking around and browsing the booths and shops.
Give Charleston a Chance
As you can see, Charleston has a lot to offer, and these free activities are only a tiny sample of what you can do and see. Charleston is a lovely place to live or visit while on a budget, so you don't have to worry about breaking the bank when you want to see the sights!