According to the Pew Research Center, 71% of employed adults are working from home. More than 50% of working adults would like to continue working from home even after the end of the pandemic.
You might be one of the millions of adults who've had to work from a home office in the last year. If you are, you might be looking to do a home office renovation to create a better working space.
This guide will offer great tips to help you do that. Keep reading to learn more.
1. Make a Plan First
Before putting together your new office or reorganizing one you already have, it's important to make a plan. Make a list of ideas you have for the design of your space.
This could include anything from where you want to put your desk and chair to how you want to organize important documents. If you're worried about home office renovation costs, coming up with a plan will help keep spending within your budget.
2. Add New Lighting
If you're looking for small home office renovation ideas you can make small changes like adding new lights. The right lighting can make your office space look bigger and brighter.
LED light bulbs can make your space look more modern. They also provide better light, something vital for the area where you'll be working. Also, small adjustments to your workspace sometimes would impact the greatest like placing a personalized desk mat to your desk. Switching to an ergonomic chair, for example, can help you be more comfortable with your seating position and help avoid straining your spine in the long run. 
3. Paint the Walls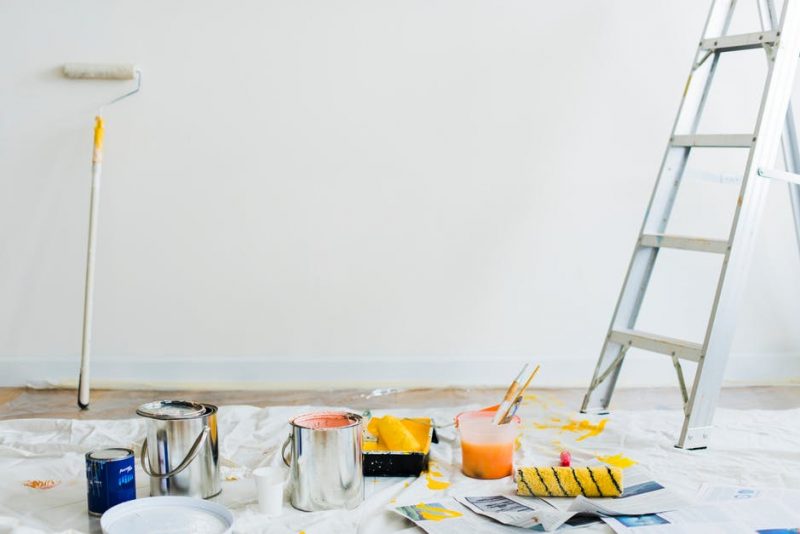 Other home office renovation ideas include adding a new coat of paint. Even if your home office is a temporary workspace, it's important to create a good atmosphere to help you be more productive.
A fresh coat of paint will make the room look brand new. A few cans of paint are affordable and you can finish painting your office in a day. Choose a warm color to make the room as comfortable as possible.
4. You'll Need New Storage Space
Another important thing to remember when you're renovating your home office is that you don't want to have a cluttered workspace. This will make it hard to stay on task.
Keeping things organized and being able to access them easily is an important way to maintain an efficient workflow. Filing cabinets will help you keep your documents organized.
File furniture cabinets come in various materials and design options. For instance, modern home offices look great with metal filing cabinets. Wooden filing cabinets are perfect organizers if you desire a classic, traditional home office theme. It's important to consider the number of drawers or compartments that'll suit your filing needs and one that won't consume too much space and crowd your work area.
You should also consider looking into some storage units. You can use these to keep belongings you won't need from day to day in a safe place if you don't have space in your office.
5. New Furniture Is Necessary
While you might want to skip out on buying new furniture for your home office, it's one of the most important parts of setting up your space. A quality desk and chair will make it a comfortable place to work.
When choosing a home office desk, ensure the size and design suit your work needs. You might want a compact and portable desk or a more spacious and fixed one.
Consider the space for your desktop computer or laptop, file organizer, and other office equipment you need. In addition, it's also crucial to choose a desk that's suitable for the intended space, ensuring proper flow of movement without being too constrained.
You can choose ergonomically designed chairs, such as Herman Miller chairs, to boost your productivity and the aesthetic appeal of your home office.
Choose a home office chair you can use as a stool, side chair, or work chair, supporting different kinds of office work with ease and comfort. Moreover, choose a home office chair that can adapt naturally to your body type. High-quality chairs for a home office are available online or in brick-and-mortar stores.
Home Office Renovation Tips You Should Follow
If you're looking to set up a workspace at home, the home office renovation tips in this guide can help you. Storage space, the right desk, and chair are vital.
Check out some of the other home-related blogs on our site if you found this one helpful.