Outdoor furniture for your patio may already be weather-resistant in some ways, but it wouldn't hurt to still take the time to maintain and take care of them in each passing year.
Over time, despite their durability and sturdiness, their quality and luster can diminish. And as the owner, you'd naturally want your investment to last longer so you can make the most of it in any season.
Shopping for pieces of outdoor furniture can prove to be a fun activity, but caring for them might just be tricky. Nonetheless, you should still take the time to learn how you can protect them better from the scorching heat of the sun, elevated temperatures, and water damage.
Weather-Proofing Your Patio Furniture
The challenge lies in knowing that since patio furniture is meant to be outside of the home, it's forever faced with the plight of braving ever-changing and unpredictable weather. You can do something about it by weather-proofing these accent pieces that you meticulously selected to create the most perfect outdoor space.
Below are some tips you may find useful in protecting your patio furniture from the weather.
1) Contact The Manufacturer Or Seller Of The Furniture
Different furniture brands and materials require certain maintenance and care, so it's important that you're aware of them before you go ahead and try other methods. For example, if you bought your patio furniture from the Porch Swing Store, ask them first if they have any recommendations on how to clean and maintain the pieces.
The information that the seller or manufacturer would provide will help you know what to do with the furniture and how to do it.
2) Clean Them Regularly
One of the best ways to keep your furniture in top-notch condition is by cleaning it on a regular basis. Doing so will allow you to prevent dirt and dust from accumulating on it over time.
The method of cleaning will depend on the type of materials used to make the furniture. For wrought-iron ones, it'll take special care to prevent them from rusting aside from the usual mild soap and water solution.
For wooden pieces, light cleaning with a moist cloth is highly recommended. At every start and end of each season, deeper cleaning should be done or when you notice tougher molds or stains starting to form on the furniture.
3) Cover Them Using Outdoor Furniture Covers
Furniture covers are extremely useful when weather-proofing your outdoor sanctuary. Even when it's raining or snowing hard outside, you can rest easy knowing that your beautiful patio furniture is safe from harsh elements.
To ensure maximum protection and full coverage, opt for furniture covers that are made from durable materials such as Oxford polyester, canvas, or vinyl.
Aside from being waterproof, these covers are UV-resistant, thus protecting the furniture from too much sun exposure.
Choose a style that comfortably fits your furniture. If you don't have the budget to buy enough covers for every piece you have, you can use vinyl tarps with cinder blocks, rope, or bungee cords so the covers will stay in place.
4) Store Them Indoors During Off-Season
Patios and other outdoor spaces are typically useful during summer months. But beyond that period, you're most likely to stay indoors because of rain or snow. During that off-season when you don't have any plans of using your patio, it's a good idea to store your furniture indoors to protect them better.
Smaller pieces like throw pillows and cushions should be stored when not in use, particularly if the materials aren't weather-proof, such as delicate fabrics. If you can, invest in furniture pieces with built-in storage so you can use them as containers for cushions and pillows.
5) Give Them Some Shade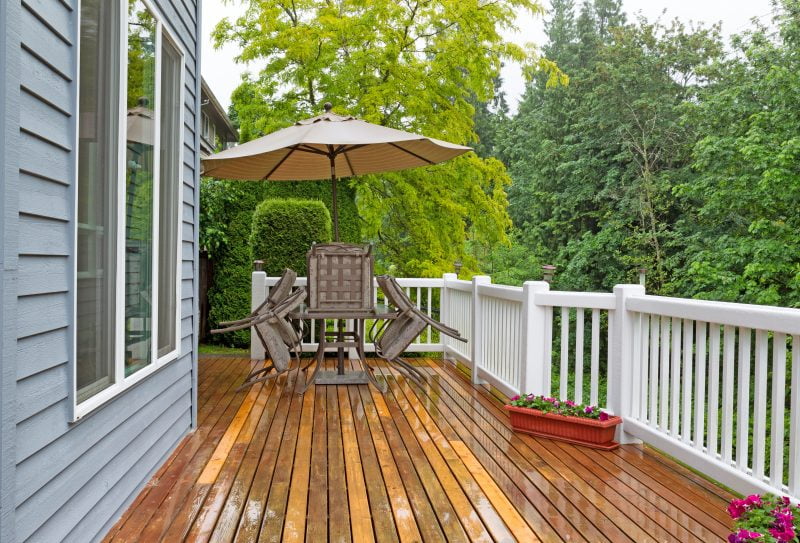 Exposing your furniture to excessive sunlight can affect its quality and longevity. Direct sunlight can fade the color of your furniture, and before you know it, it looks a lot older than its actual age. What you can do to prevent that is to use a retractable awning that's perfect for both commercial and residential spaces.
Another economical way is to build your patio near large trees so your furniture pieces can be provided with ample shade. That is, of course, if you've yet to have a patio constructed.
Takeaways
Your patio furniture deserves the utmost love and care in exchange for the pleasure and comfort it provides when you need it. Fortunately, there are several ways to protect these lovely pieces from harmful elements due to the weather. Take note of the tips above so you can easily and more effectively weather-proof your patio furniture.