Hardwood flooring and standing water don't mix. If you live in a flood or hurricane-prone area or have a historic home, this isn't the first time you hear this.
If a lot of water – flood-related or not – comes in contact with your wood floor, the results may be devastating. While this is true, there are steps you can take to help save your flooring and prevent having to invest in something completely new.
Knowing what to do when wood floor water damage occurs is essential. Keep reading to know what to do and what steps you can take to salvage your flooring.
When you know what to do, you can avoid (in some situations) having to replace your wood flooring. However, this isn't always the case.
Stop the Cause of the Water
Before you can do anything about your wood flooring, you have to stop what has caused the water. Flooding in your home can be caused by many issues, from burst pipes and faulty appliances to ice dams and more.
Finding and fixing the source of the water is essential.
If you need help finding the source of the water in your home, you can rely on the pros, like the team from 1-800 Water Damage.
Removing Water from Your Wood Flooring
It's essential that you start treating your wood, wet flooring as soon as you can. The cellulose fibers in wood soak up water quickly but release it slowly.
You need to remove as much water as you can right away. Usually, a shop vac can handle this job. Even if you think the finish on your wood flooring will minimize penetration, this isn't the case.
Wood flooring has many infiltration points beyond the top layer. It can get in between the seams, through breaks present in the coating, under your baseboards, through the heating registers, and more.
If you want to prevent mold and mildew, you need to take the same steps for your wood flooring that you would with carpet. Handle the dirt. It isn't just water that will cause mildew and mold to form; it combines dirt and water.
Dry Everything
One of the hardest parts of dealing with water-damaged flooring is waiting for hours for the floor to dry. If the flooring has become cupped, it may wind up flattening as time passes. If this happens, you can avoid replacing them.
After about a week of drying water-damaged wood floors, it is a good idea to get in touch with a flooring contractor. This professional can conduct a moisture test to determine what needs to be done next.
After the moisture content of the damaged boards stabilize, and the moisture readings become consistent in the room, you can continue the repair or refinishing process. If you try to sand the flooring before it is dry, it will cause issues down the road.
In fact, this may cause the reverse of cupping, which is crowning.
In more serious cases of water damage to your wood flooring, you may see boards that are four to five inches off the floor. In some situations, this will mean the flooring needs to be replaced.
If too much water has to infiltrate the area, the damaged flooring should be removed, and the area dried completely before installing new flooring.
Scrubbing the Flooring
After everything is dry, mix a mild detergent and disinfectant with water in a bucket. Be sure to scrub your entire floor and the attached woodwork using a stiff brush. Rinse the brush often in the bucket.
Never pour water on the floor – you don't want to add even more water to the issue. Scrub the surface well to remove organic material, silt, mud, and dirt. All of these things can cause mold growth.
Treating the Molded Areas
Clean the areas on your wood flooring that show any signs of mold using trisodium phosphate or TSP. You can also use a TSP substitute that is mixed with water.
Be sure to scrub the affected areas using this solution until all the mold and discoloration caused by the mold are gone. After that, rinse using clear water and dry off the surface well using a soft, absorbent cloth.
Mold on Wood Under Paint
If there is mold under paint or on your painted flooring, it is a more challenging issue. The only recourse at this point is to remove the finish. That's because the paint will create a seal over your floor that will trap the water in the wood under it.
After you have scraped off the paint, be sure to scrub the wood using an abrasive cleaner. You can also use a TSP-water solution combined with laundry bleach.
Once applied, dry the flooring well.
Sanding and Refinishing Your Flooring
Water-damaged boards that are mildly cupped or that just have surface staining may be able to be sanded down, re-stained, and then re-coated. Even though this sounds simple, it isn't for a few reasons.
One is because wood flooring will change color as time passes. Also, sunlight can lighten or darken the wood, depending on the species.
If you sand the floor, the original wood color is often seen, and if the exact same stain is applied, it may still be a slightly different color.
It is also challenging to completely hide the cut and lap lines created when applying a new finish over an area that has been repaired. Even though most polyurethane coatings are considered self-leveling when applied, there will be noticeable differences in the strokes used for applying this coating.
Because of this, even in small repair areas, the entire floor will have to be refinished to ensure the colors blend together.
Weave In New Planks to Fix Your Wood Floor
If your wood floor has been water damaged, the best option for repairing the damage is to remove and replace the impacted boards. Once replaced, you can refinish your entire floor.
The right way to replace plans on your wood floor requires time and experience from someone who knows what they are doing. The professionals will find replacement planks that match the species and color of your existing wood flooring.
Also, with sanding and refinishing, the newly installed wood may have a different hue when compared to the sun-soaked wood. If you are making spot repairs, you need to match the stain carefully.
When you try to weave in the new planks with your existing flooring, you must ensure that each board is the proper size. This will ensure a seamless repair.
Preventing Damage to Your Wood Flooring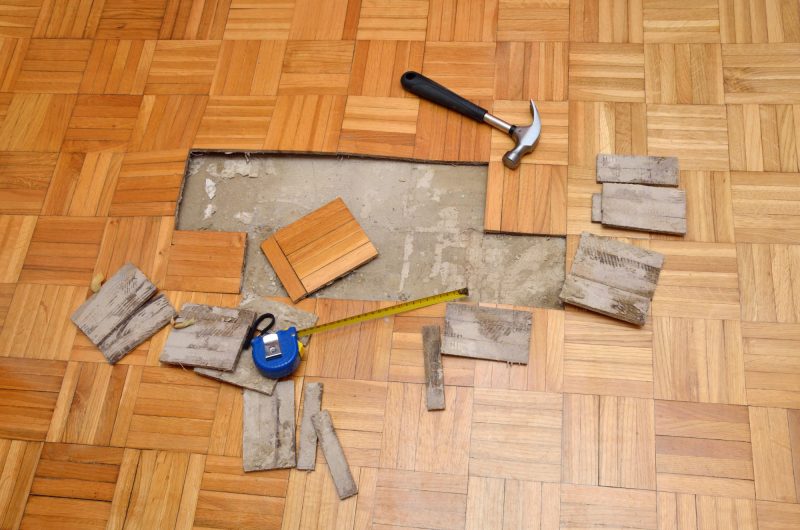 In some situations, what causes water damage is out of your control. While this is true, you can take simple steps to prevent accidental cases of water damage.
Be sure to quickly clean up any pooling water or spills on your floor. If you see signs of moisture, be sure to clean it up right away. Acting fast is going to help eliminate or minimize the impact on your flooring.
You should also keep your flooring in good repair. Once floors lose their protective coating, which is usually a layer of polyurethane, they will be susceptible to damage. It is best to learn as much as you can about the maintenance coating to know what you can do to protect it.
When you are cleaning the flooring after water damage, make sure you don't use too much cleaning solution or water. A string mop is not recommended because these hold excessive liquid.
Be careful when you clean wood floors since any extra water will lead to even more damage.
Make sure you check all your fixtures and plumbing too. If you think they could cause a problem, call a professional for help. They will be able to find the underlying issue and ensure no other problems arise.
Now You Know How to Handle Wood Floor Water Damage
When it comes to wood floor water damage, you must act fast. The longer you wait, the more damage that can occur.
If you aren't sure what to do, it is best to hire professionals to help, even with the tips above. They can evaluate the problem and ensure your wood flooring is restored or replaced based on the damage that has occurred.
When it comes to finding helpful and beneficial information, we have you covered. We have an array of blogs on everything from business and travel to technology and more. Check with us often to see the new posts available.