Featuring an environmentally sustainable design, green homes are all the rage now because they allow you to reduce your carbon footprint by using renewable energy sources, such as solar power. Furthermore, they involve construction techniques and processes that are good for the environment.
One example of sustainable building method that's used for green homes is applying synthetic roof underlayment. This material can withstand harsh natural elements and utilizes polymer originated from recycled scrap items.
In fact, the US market for green buildings is anticipated to reach USD$99.8 billion by 2023. As a result, the potential to reduce energy use will be at least 50% by the year 2050.
What's also great about green buildings is that they help conserve water. Unlike traditional buildings that waste natural rainwater, green buildings are designed to make harvesting of rainwater and grey-water possible.
This installation can apply the water saved for gardening, irrigation, and flushing toilets. Plus, when stormwater is harvested, localized flooding is reduced.
There are important green technology and trends to watch out for in 2023, and if you're looking into building a green home, check out the list below.
Structural Insulated Panels (SIPs)
Structural insulated panels are an excellent green alternative in the construction processes. In most cases, SIPs consist of OSB panels sandwiched around a foam core made of polyurethane foam (RPU), expanded polystyrene (EPS), or extruded polystyrene (XPS).
SIPs are a natural green product and are some of the best airtight and insulated construction solutions. Unlike plywood and particle boards, they don't emit harmful gases into the atmosphere.
They aren't hard to source. If you're in Idaho, for instance, you can visit reliable websites like Raycore.com to find a company that supplies good-quality SIPs.
Aside from reducing costs, SIPs minimize the waste generated on construction sites—reducing the number of materials that eventually end up in landfills.
In an airtight SIP structure, the energy needed to heat or cool a room can be cut by 50%. The future of construction is to use SIPs, enabling a home structure to achieve the ideal zero-energy dwellings.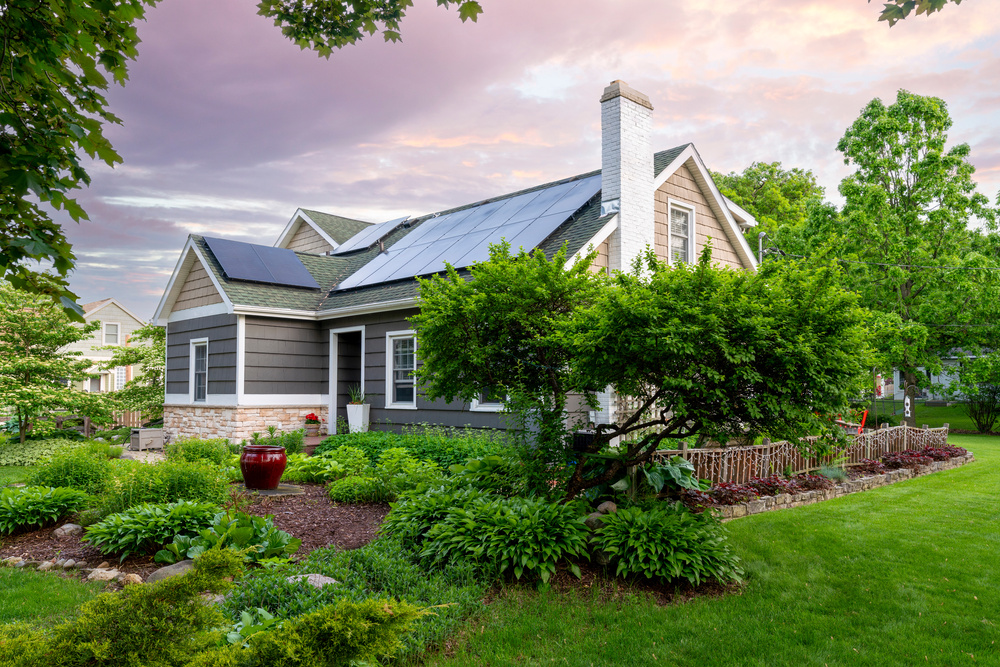 Solar Panels
In the past years, there has been an explosion of solar energy across the globe. Many property owners use it to reduce their electricity costs, increase the value of their buildings, and occasionally earn a small profit from the utility company.
Solar power systems harness the sun's energy purely. Using solar panels at home reduces your collective dependency on fossil fuels and combats greenhouse gas emissions.
In 2023, solar power will continue to rise in popularity and be a staple in new homes. The more efficient solar energy becomes, the more it will help offset the cost of electricity and make the planet a better place for everyone.
Emphasis On Green Design
The emphasis on having a green design for a home is a trend that will continue to rise in 2023, as green design lasts for a long time and focuses on energy efficiency, as well as healthy, comfortable, and flexible spaces.
Green design incorporates sound-cancelling design techniques and air purification technologies to create healthy living environments. Additionally, designing green buildings considers the following:
Ventilation system for heating and cooling
Lighting
Plumbing fixtures
Landscape plan
Impact on the environment
Provisions for solar power or wind power
Indoor and outdoor use of non-synthetic, non-toxic materials
Usage of sustainable materials
Harvesting process of rainwater
Recycling of architectural salvage
Having a green home not only helps reduce the cost of utility bills, conserve materials and resources, lessen negative environmental impact, but it also helps improve the overall quality of life of the people in it.
Smart Homes
A smart home is simply a home that uses technology to remotely control lighting, heating and other components, including security.
It may not seem like it, but having a smart home is actually a green home. Green technology can help smart homes use less energy and fossil fuels. Green technology not only makes homes more user-friendly but encourages eco-awareness as well.
Smart home works to save energy more efficiently and intelligently by having home automation.
With the integration of information and communication technologies (ICT) that have renewable energy systems, homes can decide autonomously whether to use energy to power an appliance or store it, contributing to a positive impact on the environment and lowering consumer electricity bills.
2023 will be the year when smart homes become more popular. Many homeowners today are already bringing smart thermostats, appliances, and other devices into their homes, but in the future, all these features will be standard in all new homes.
Tiny Homes
There's now a 'tiny-house movement' that's both architectural and social. This advocacy is to downsize living spaces, simply living with less. And this movement is actually a green one.
The downside to building a green home is that materials and labor can be costly. Add in the cost of real estate in the US, and creating a regular-sized green home may be challenging.
That's why there's an increase in demand for tiny homes, as they're more affordable to construct. In addition to being more sustainable, tiny houses take fewer resources to build and maintain.
Tiny homes are popular among younger generations looking for ways to help the environment by reducing their carbon footprint and, at the same time, living financially smart.
As the conversation about building affordability, green homes, access to materials, and community development becomes more prevalent in 2023, you'll see these tiny homes more often.
Indoor Plants
Another rising trend that will continue to flourish in 2023 is creating a space in your home to put live plants—having a green home literally filled with green plants.
Indoor plants beautify a space, boost moods, increase creativity, reduce stress, and eliminate air pollutants, making you feel healthier and happier. It's not just about looks; plants can improve your mood too.
Moreover, having plants indoors helps prevent dependence on toxic coils and sprays from mosquitoes and insect repellents, as some of these plants shoo away and act as natural mosquito repellents. So, you can say goodbye to those oxygen-generating sprays, which can't be helpful for those suffering from asthma or lung conditions.
Conclusion
2023 may still be months away, but it's never too early to prepare your place, be it old or new, to be a green home. Let these building trends guide you as you make that worthwhile decision to turn your lovely abode into a green space.