When you ask professionals, most will tell you that you need to repaint your home's exterior every 4 to 6 years. Some might even say 15 years if your property's in good condition!
The fact of the matter is, your house will need fresh coats of paint throughout the years, both on the outside and the inside. While it might be possible and tempting to DIY the job, it's a much better idea to go with professional painters instead.
If you're thinking about DIYing the job, think again. Here are 7 reasons why you need to hire a professional!
1. They Can Help You Pick Good Colors
Thinking about changing things up by picking a new color for a room or even your home's entire exterior? That shade of blue might sound good in theory, but you never know if it'll turn out horrendous. And you don't want to go through the trouble of putting on a new coat of paint just to find out it's not what you envisioned!
Professional painters have years of experience, which means they know what hues look good and bad on homes. You can run your thoughts by them and they can confirm whether or not you're making a good choice. If not, they can then give you some suggestions to put you on the right path.
2. They Know What Products to Use
Painting a house doesn't just entail picking a color, buying a bucket of paint, and just slathering it all over your walls. There's a whole process to putting a fresh coat of paint on, and you can trust that the pros know what to do!
Not only that, but they know what products to use as well. With their knowledge and expertise, they can pick high-quality products that'll ensure your home will look pristine in the end!
Click here to see what extensive knowledge and skills pro painters have!
3. They Know How to Use the Products Too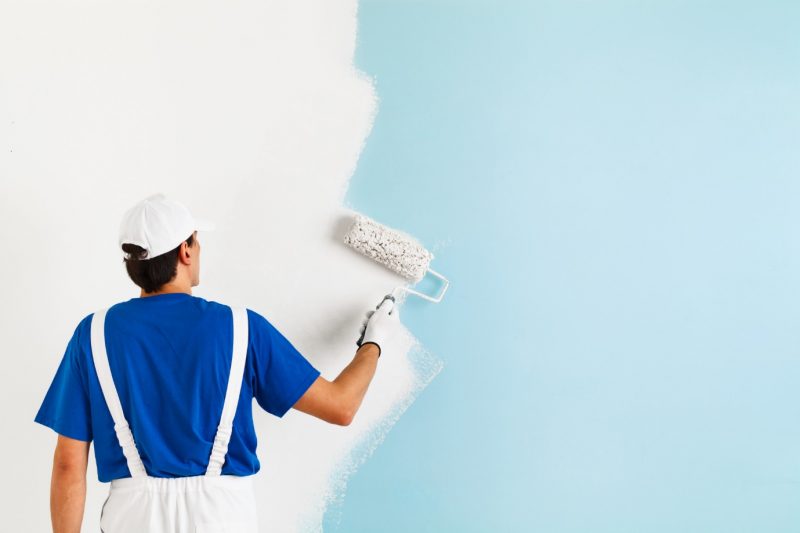 You might've done your research and found out what products you need to use for a DIY paint job. But are you familiar with how to use them and when?
As an amateur, it can be difficult to figure out how to paint your house right. Sure, there are YouTube videos out there that explain these products to you, but the fact is, you don't have any formal training or experience. And do you really want to be testing out your competence on a job this big?
Using these things wrongly can mean you'll need to call the pros anyway to fix your mistakes!
4. It'll Save You Time
When you watch those tutorials online, it might seem easy to paint your house. But what these YouTubers fail to show you is the amount of time and effort it takes to get everything set up!
Also, they have the advantage of using time-lapse to show you the whole process, so it doesn't seem like a paint job takes very long. But the truth is, once you get everything prepped, you'll put a layer of paint on, and then you'll have to wait hours, if not a whole 24-hour day before you can put the next layer on!
Do you honestly have that much time to dedicate to painting your house? Probably not!
When you hire professionals, you can leave everything up to them and use your time how you see fit.
5. It'll Save You Money
Not only does doing a paint job on your own take up lots of time, but it'll also eat up a significant amount of money. So if you were thinking of DIYing it to save some cash, that's a bad idea.
For one, you'll have to buy all the equipment. This doesn't just mean buckets of paint, paintbrushes, and rollers. You might have to go get some traps, a ladder, painter's tape, wall cleaner, etc. All of this equipment can quickly add up.
And because a paint job takes so much time, you probably won't be able to do it just over the weekend. So you might have to take time off of work, which will be lost income.
Add up all of the above, and it'll cost you a pretty penny to DIY it. In the end, you'd actually save money just by spending a little to hire the pros! If you are living in the Cypress area, Houston Texas Painters, cypress tx delivers the most reliable painting services in the place
6. The Results Look Much Better
Unless you're a professional painter yourself, the quality of your paint job just won't compare to an expert's.
Again, they've gone through training and have years of experience behind them, which means the end results will be flawless. Whereas with an amateur's work, it'll be painfully obvious if you mess up or just can't get even coats of paint on.
Do you really want to risk being the laughingstock of the neighborhood?
7. You'll Be Less Stressed Out
There's no doubt that paint jobs are big projects. If you've already got enough on your plate, why add unnecessary stress? Pro painters can take everything off your shoulders so you can breathe easy.
They can ensure the project gets done on time as well. That way, you're not stressing about having to take another day off work just to finish the job up.
Leave It to Professional Painters to Get the Job Done Right
As you can see, professional painters offer a wide array of benefits. The only logical choice is to hire painting contractors for the job, especially if you've never painted a house before and don't know anything about it.
While it's true that you have to spend some money on painting services, it'll be worth it in the end, as you'll get excellent results Plus, for most homeowners, you'll actually be saving money in the long run since you won't have to waste time or money to get things done yourself!
To learn more about home improvement, make sure you take a look at our blog page now!