As you may know, construction services are quite messy. Once the contractors are done with their job, there's usually lots of debris, trash, and other elements left at the scene. Not only is a filthy construction site an eyesore, but it's also a hazard.
However, did you know you can hire a post-construction cleaning service to take care of it for you? That's right, there's actually a cleaning crew designated for post-construction work.
If you're curious to learn more about the advantages of post-construction cleaning, check out these reasons why you should hire a construction cleaning service.
1. Health
One of the main reasons why you should hire a post-construction cleaning service is for your health. There is a lot of dust, chemicals, and other toxic substances associated with construction. You don't want to expose yourself or anyone else to those elements.
A professional construction cleaning service will know exactly how to dispose of certain items and properly protect themselves while cleaning. Inhaling things like dust could lead to health problems that could trigger respiratory issues such as asthma, sinusitis, and rhinitis. In this particular situation, it's best to leave the cleaning to the experts.
2. Safety
Speaking of health, safety is also an important reason to get post-construction cleaning. When there are certain particles left behind, it could create a hazard. There might be glass or other elements that could cause a safety issue.
However, by hiring a post-construction cleaning service, you'll feel confident knowing that you're safe. They'll be able to properly clean the area and prevent you and others from potentially hurting yourselves.
3. Saving Time
Let's say you've done construction cleaning in the past and you know what you're doing. That's fine, but depending on the size of the job site, you could spend a lot of time cleaning up after the construction crew. Why do that when you can hire someone to do it for you?
If you are a busy business owner or if you're just a busy person in general, taking the time off to clean up a construction site is a hassle. But if you outsource the job to someone else, you'll feel a lot better. Everything will get cleaned up and you won't have to worry about doing it yourself.
4. Professional Cleaning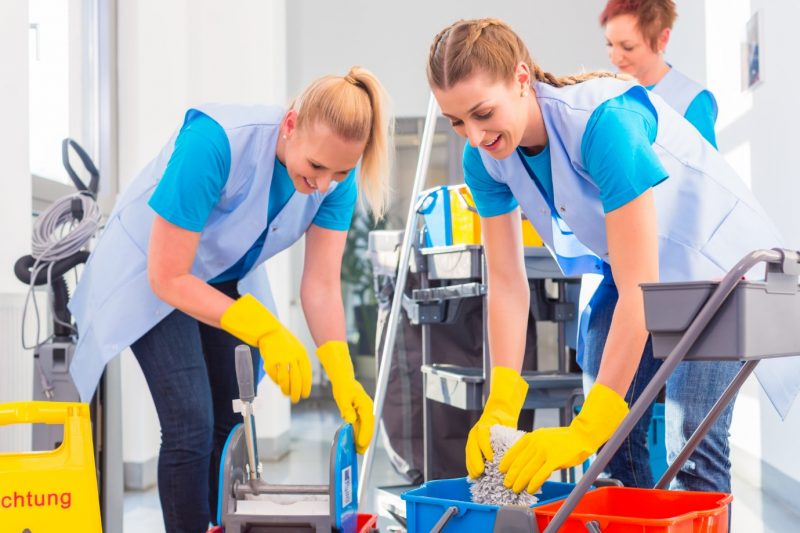 One of the other important reasons to hire a post-construction cleaning crew is efficiency and professionalism. The thing is, construction cleaning crews understand precisely how to get the job done. They're organized and efficient and can do an in-depth cleanup job.
Not only that, but they'll have the proper tools to get the job done. For the most part, construction clean-up services will provide trash removal, dust the walls, vacuum, clean the bathrooms, remove dust from sinks and cabinets, and wax tile floors.
You probably won't get the precise clean that you're looking for if you try to clean up yourself.
5. Proper Waste Disposal
When it comes to cleaning up after a construction job, you have to consider the disposal methods. If you're dealing with certain chemicals and equipment, tossing it into the trash so that it goes to a landfill isn't a good option. However, an expert post-construction cleaning service will know exactly how to dispose of the items left at the site.
Even if you were to clean the site yourself, there are certain items that'll get left behind that require specific disposal methods. Tossing them in the trash isn't an option, and you'll have to call a pickup service. But thankfully, if you were to hire a post-construction cleaning service, disposal is a part of the package.
6. No Supervision
If you were to use the same construction workers who did the construction job to also clean up, you'll have to manage them during the cleanup. Plus, it'll take time away from other construction jobs that need to be worked on.
If you hire an outside construction cleaning service, you can fully trust them to get the job done. There's no managing to see how well they do, and you won't have to feel like you're overworking your current staff.
For construction crew members, they may only understand how to do the contracting job. If you enlist your construction workers to do post-cleanup, they may not do things in the proper manner.
7. Productivity
When it's time for your construction workers to move on to the next task, they should be open and available to do so. However, if your crew members are stuck on a site cleaning up, it'll definitely slow down production.
The last thing you'd want to do is to put your business on hold for a new client because you have to spend additional time cleaning up the construction site.
If you hire a third party post-construction cleaning crew, you can trust them to make everything spic and span while your contractors move on to the next job
Are you convinced that a post construction cleaning service is right for you? If so, you've made the right decision. Follow the highlighted link to learn more about hiring a cleaning crew.
Take Advantage of a Post-Construction Cleaning Service
If you got a lot of construction work done and now there's a mess, call a post-construction cleaning service. You'll be happy that you did!
Did you learn anything from this article? If so, feel free to browse more of our website. We post other content related to real estate, home, and construction topics.