Kitchen is the most heartwarming room in a household. You hold family meals, quick breakfast, and perhaps is one of the most used space in the house. So what's the problem here? The cabinets. One of the most prominent features of any kitchen is the cabinets. If worn, broken, hanging or lose or in dire need of a makeover, they make kitchen look dull. The best thing at a short notice is to paint kitchen cabinets – and in a limited budget too!
Painting kitchen cabinets is one of the many aspects of kitchen renovation and the most important one too besides plumbing. If you are interested in the inexpensive approach to renovate the kitchen this guide will help you to renovate cabinets by painting.
Importance of Kitchen Cabinet Painting
Low cost and high impact are two most prominent aspects that best describes the kitchen cabinet painting. You can revitalize the entire look just by applying a fresh coat of color. Besides, the it is considered important because of the following reasons.
Enhanced Aesthetics
Talk about the appeal when thinking of kitchen cabinets. For very small galley kitchen ideas,. painting is quite a good option to improve the overall look. Tired of the same old boring cabinet look? Paint them! You can choose to accent the wall along with the cabinet color. Mix and match the color paint for the lower base cabinets and the hanging cabinets. It will enhance the boring white into a trendy color. 
Budget-Friendly Remodelling
The low cost factor is highly appealing for homeowners. Hence it goes without questioning that painting kitchen cabinets for small galley kitchen or a larger one is a pretty good option. You can revamp the kitchen space without spending a lot.
Durability and Protection
Painting is not only about the looks. It also adds durability to the cabinet material. It provides a protective layer over the cabinet door exterior which prevents heat, moisture, and grease.
Increase Home Value
A well-maintained home kitchen is the first thing any potential home buyer looks at. If you are painting all cabinets before an open house, this is the best chance to increase the value of your property. You can enhance the aesthetics of the kitchen pretty easily with a fresh coat.
Sustainability Promoting Option
A home should offer sustainability and a less carbon footprint as well. Instead of installing new cabinets, painting the old ones is most likely recycling. You can also use zero or low-VOC type of paints that have a lesser impact on the surroundings.
Design Flexibility
If you have built a kitchen island, you can paint the base cabinets under the counter top. Even with painting the cabinets, you have options to choose a different type of finishing look. You can go for a grainy or textured look that reflects your personal interests in this matter. 
5 Steps to Paint Kitchen Cabinets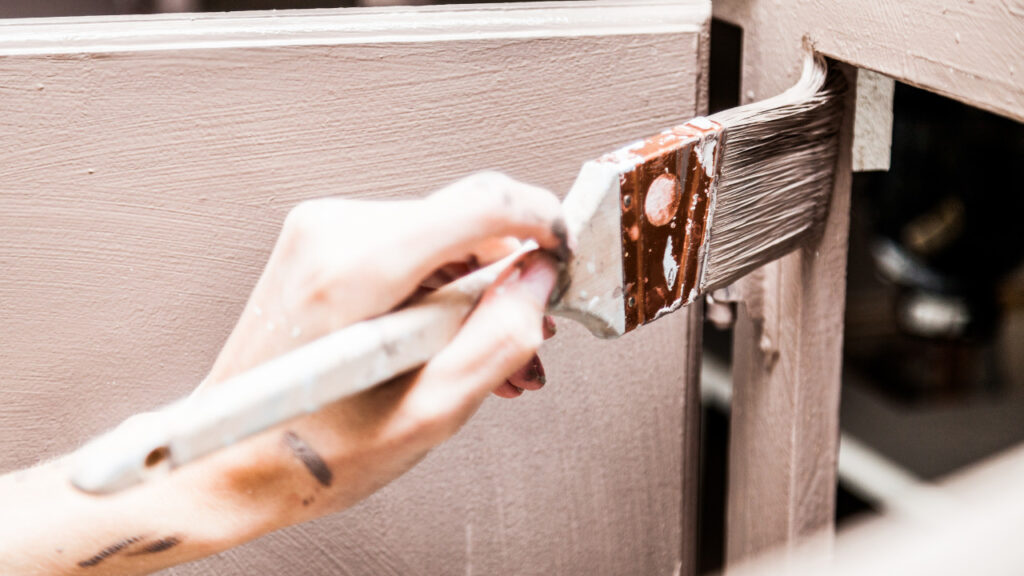 Before starting the paint, here are some important steps you need to follow.
1. Examine the State of Cabinets
First of all, inspect the cabinets to see if they are paintable or not. Take a look at the surface to identify any damage like cracks or peeling paint. Also mention the type of cabinet material to the contractor.
2. Degrease and Clean
Cleaning kitchen cabinets is one the main things to make sure paint lasts longer. You will need vinegar water based solution to remove the grease or grime from the cabinet doors. After that, pat a dry cloth all over to ensure surface is dry.
3. Take Out Cabinet Hardware and Doors
If you have traditional cabinets with hardware, it is recommended to remove them to avoid any paint splashed.
4. Surface Preparation
To make paint long-lasting, you have to prepare the surface for sanding by using sand paper first. It removes any existing glossy finish on the cabinet surface. This way you can paint properly without the paint slipping off.
5. Fill Imperfections
After sanding, if you find any dents or scratches on the cabinet door, use a wood filler to take care fo these issues. Then again sand over them lightly.
3 Steps to Finalize Best Paint and Color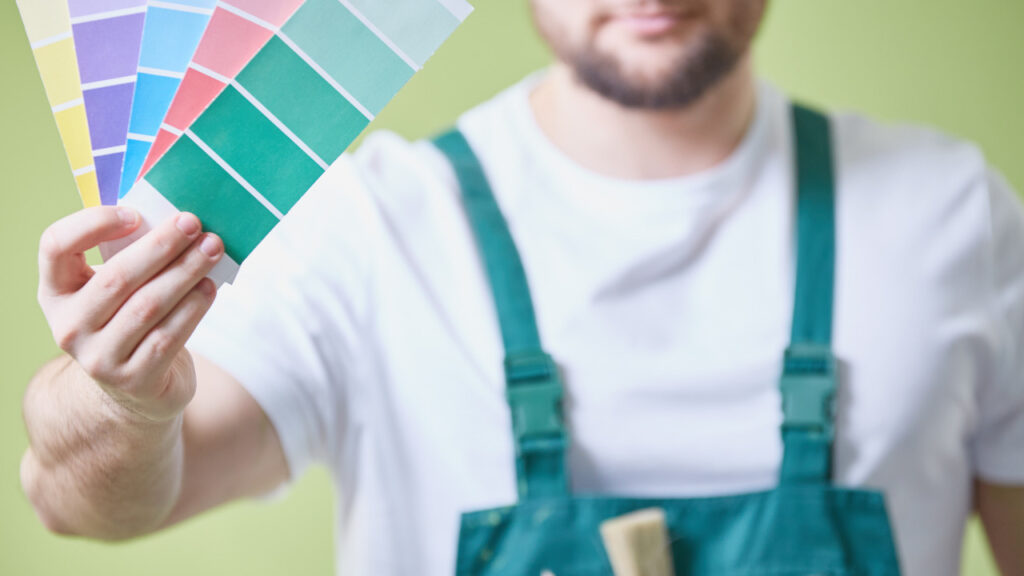 Although professional kitchen cabinet painting is an ideal choice for many, some prefer to have an alternative choice. You can reduce the cost to paint kitchen cabinets by making it a DIY project following these steps. 
Step 1: Select the Best Paint Type
From water-based latex to oil-based paint you have various options for paint types to choose from. Both are high quality paints and high in adhesion. However oil-based paints last longer as compared to other option.
Step 2: Choose the Best Colour
You can choose to go with neutral color as peach, cream, eggshell or brighten up the levy with the forest green, cobalt blue or perky yellow. You can choose sample paint cards to see which color best complements the entire kitchen layout.
Step 3: Required Tools
If making it a DIY project, you will need to invest in quality paintbrushes and especially rollers. Also you will need covering sheets for the floor. Cover the rest of the furniture as well. For tight corners you will need two different types of brushes for a smoother coating.
The 6-Step Painting Method
Follow these steps to learn the best way to paint kitchen cabinets:
1. Prime Before Painting
Priming is required when painting over stained or dark-colored cabinetry. A primer establishes a strong foundation for the paint and prevents the prior color from revealing through. The paint coat will be more durable and won't chip off that quickly.
Just like when you do your makeup you apply a primer. Priming is also required before painting the kitchen cabinets. it's it sets the foundation of the paint which prevents the paint from revealing the actual surface of the kitchen cabinet. therefore it makes the paint mode durable and it won't ship of that easily either.
2. Perfect Finish
 For a perfect finish you need to use larger brochures or rollers for smoother strokes while painting. For a perfect kitchen cabinet finish ends it's best to use thin coat of paint and let them dry. This will be the first year of painting once done you can apply another fresh coat of paint for a way smoother process. 
3. Cabinet Door Painting
You can start painting the corners or the borders of the kitchen cabinets. this way you will be able to avoid any dripping over the place.
4. Cabinet Frame Painting
Once the borders of the cabinet dry proceed with the rest of the cabinet frame. Make sure that all services are covered properly with the fresh paint coat.
5. Applying a Second Coat of Paint
In this step start with the second coat of paint. You need to see if the first paint code is absolutely dry otherwise you will be able to see strokes on the wall of the cabinet.
6. Putting Your Kitchen Cabinets Back Together
After paint is all dry on the cabinets, you can reassemble the hardware you took off earlier. And check if everything fits perfectly.
Revamp Your Kitchen with Stunningly Painted Cabinets
The quickest and smartest way of upgrading kitchen cabinets is to opt for painting. With the steps discussed above not you only you can choose better paint type for the cabinet but also choose textures. Painting kitchen cabinets is a great DIY project for beginners so do not hesitate to revamp your kitchen cabinets!