Installing kitchen cabinets, regardless of the type of home remodeling or upgrading you desire for your kitchen, will effectively enhance its overall appearance. Cost becomes the foremost consideration when contemplating cabinet installation, even if you opt for a DIY approach.
While estimating the budget or cost to install new cabinets, several things can affect overall installation cost. Moreover, kitchen layout matters while calculating the average cost to install a kitchen cabinet.
Keep in mind that the cost to install custom cabinets in the kitchen will always cost more than an average cabinet installation project. Let's discuss a few factors and overall cabinet installation cost parameters in this article.
6 Factors That Affect Cabinet Installation Cost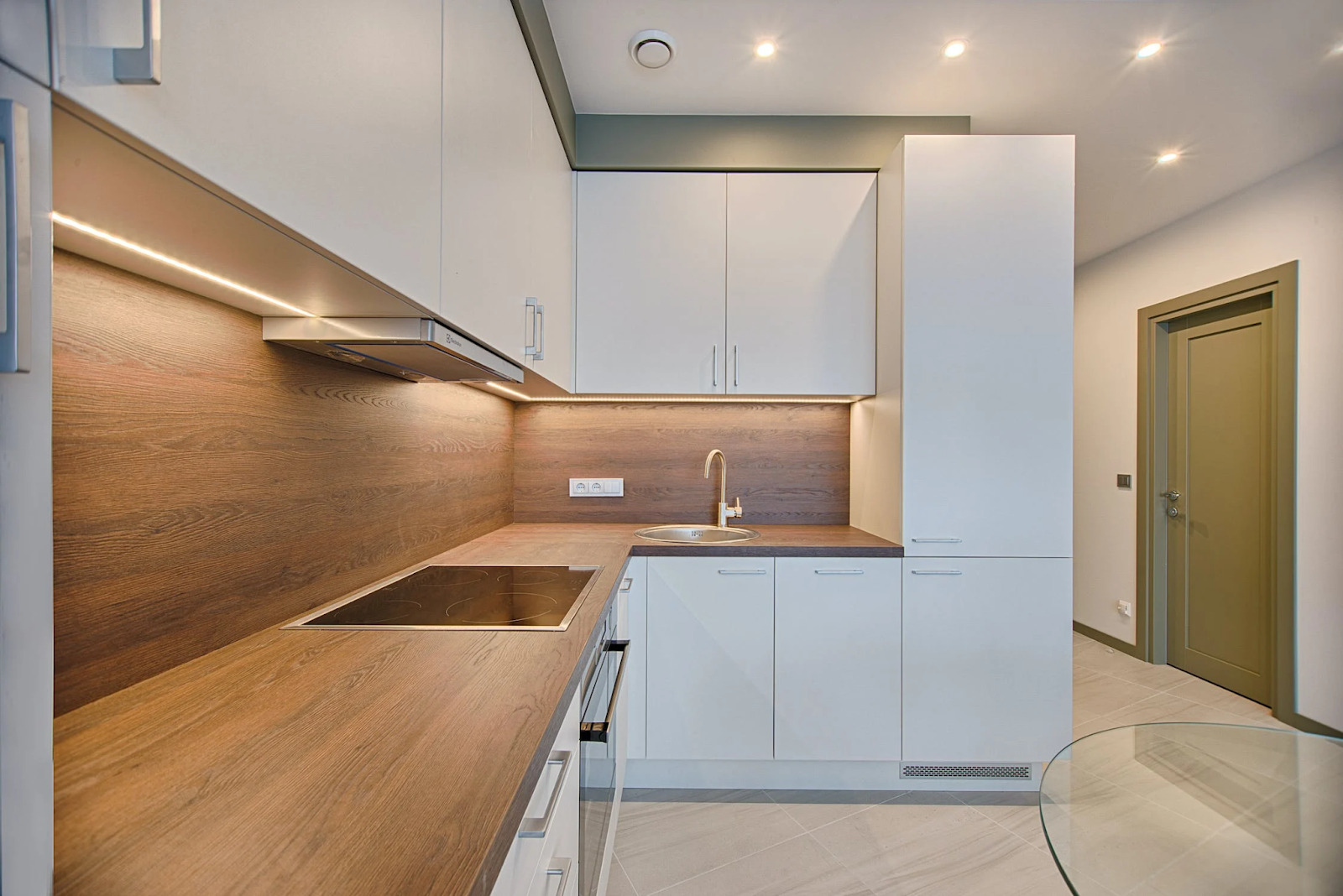 There are several things and factors that can affect the overall cost to install kitchen cabinets.
1. Cabinets Numbers
The cost of cabinet installation varies according to the number of cabinets placed. More cabinets will necessitate more labor, raising the whole cost.
Cost: Depending on the intricacy of the design and materials used, the cost of cabinet installation might range from $2000-$24,000.
2. Cabinet Replacement or Dismantling
If existing cabinets must be replaced or disassembled before new ones can be installed, the cost of this process will be included. The cost will be determined by the amount of effort required to remove the existing cabinets as well as any associated repairs.
Cost: Depending on the amount of work, the cost of replacing or disassembling old cabinets might range from $100–$500.
3. Kitchen Dimensions and Layout
The size and arrangement of the kitchen are important factors in deciding cabinet installation costs. Larger kitchens and more intricate layouts require more cabinets, customisation, and extra effort.
Cost: Cabinet installation costs can range from $4000–$25,000+ for a large modern kitchen, while it can range from $2,000–$15,000 for a medium-sized kitchen.
4. Decorative Molding and Trim
If you want to add decorative trim or molding to your cabinets, the installation cost will cover these modifications. The cost is determined by the design and complexity of the trim or molding.
Cost: Decorative trim or molding installation costs might range from $1000–$5,000, depending on the design and materials utilized.
5. Local Building Codes and Location
Cabinet installation costs vary depending on your region as well as local construction standards and restrictions. Different regions may have different criteria that must be satisfied, which might have an impact on the installation process and cost.
Cost: To determine permit costs and local code compliance, it is the best to visit your near by cabinet installation company.
6. Kitchen Remodeling Cabinet Layout
The cost of installing a new cabinet layout depends on what kind of alterations are made. Plumbing, electrical, and other aspects will need to be adjusted to fit the new cabinet design.
Cost: Depending on the intricacy of the alterations and adjustments required, the cost of installing a new cabinet layout during kitchen renovation can range from $1000–$10,000.
The cost figures mentioned are solely for illustration reasons to give you an ETA about the expected costs. However, they may vary greatly depending on factors such as location, contractor rates, materials selected, and individual project needs.
For precise cost estimates, it is best to receive specific bids from competent contractors. However, you can keep the cost-effective by doing some cabinet installation work as DIY project. For example, removing old kitchen cabinets beforehand will save time for contractors and some cost for yourself.
What is the Cost of Replacing Cabinets
The cost of replacing different kitchen cabinets types varies and can be higher than installing new cabinets. Because contractors will need to remove or dismantle old cabinets first before installing the new one.
If you need to replace installed cabinets with RTA or semi-custom cabinets, the cost of replacing kitchen cabinets will be in between $15-$170 per linear foot. Keep in mind that it is only the cost of replacement.
You may also need to include the additional cost of materials and installation of molding or decorative trims. The average cost to install custom kitchen cabinets will be in between $400-$13,00 per linear foot.
What is the Cost to Install New Cabinets
While estimating the cost to install new cabinets in the kitchen, you will need to consider different factors including overall cabinet installation cost. However, this price matrix will definitely vary based on your kitchen size, cabinet layout and kitchen remodel design. On the other hand, it will also depend on the style of kitchen cabinets that you are going to install in your cooking space.
Stock Cabinet Installation Cost
For stock cabinets installation cost will be around $250-$400 per cabinet.
Semi-Custom Cabinet Installation Cost
For the semi-custom cabinets, the cabinet installation cost will be $350-$650 per cabinet. The reason for the high installation cost is that you may also need to add charge details for extra molding or decorative trims.
Custom Cabinet Installation Cost
The custom kitchen cabinet installation cost will completely depend on the type of your project. Because of customization, you have endless options to install or decorate your kitchen cabinets. According to a rough estimation, the cost to install new custom cabinets will be starting from $500 per cabinet.
No doubt, custom kitchen cabinets are an excellent choice if you want to give your kitchen a fully distinctive design.
Cabinet Materials Cost
The cost varies depending on the material type. Generally, common materials like particleboard or MDF can range from $50-$100 per linear foot, while hardwood materials such as oak or cherry can range from $150-$300 per linear foot. These are the estimated prices and can vary based on specific requirements and location.
Old Cabinet Disposal Cost
Cost of disposing of old cabinets varies based on size, weight, and local fees. Average range is $100-$500.
Labor Cost
Labor costs for a project can vary depending on factors such as the complexity of the task, skill level required, and regional rates. It is advised to consult with local professionals to obtain accurate labor cost estimates.
What is the Cost to Install Base Cabinets
There are several costs associated with installing base cabinets.
Cost of Local Material
The cost of base cabinets varies depending on criteria like quality, size, and material utilized. Base cabinets typically cost between $50–$300 per linear foot.
Cost of Worksite Preparation
There may be additional costs for worksite preparation prior to installation. This can include removing outdated cabinets, repairing or leveling the floor, and making any necessary plumbing or electrical connection modifications. These expenses can vary depending on the site's condition and individual requirements.
Cost of Labor Setup
The time and effort required to move the cabinets to the site, set up the appropriate tools and equipment, and prepare the location for installation can all be included in the labor setup expenses. These expenses may vary depending on the project's complexity and the experience of the contractors involved.
It is important to remember that these are merely estimates and that actual costs may vary depending on geography, project details, and individual contractor rates. To receive realistic cost estimates for installing base cabinets in your area, speak with local professionals.
What is the Average Cost to Hang Cabinets
The average cost to hang cabinets varies depending on factors such as project size and complexity, type of cabinets being installed, and location.
Professional installation will often cost homeowners between $100 and $200 per cabinet. Labour, tools, and any necessary hardware are normally included in this pricing. To receive precise cost estimates for hanging cabinets based on your individual project requirements, speak with local contractors or professionals.
Does Cabinet Installation Cost Vary by Size
Your kitchen size will directly impact on the average kitchen cabinet installation cost. So the budget estimation will vary for all  kitchen cabinet sizes and types. For example, the average cost to install base cabinets in a small kitchen will be $1500-$12,000.
For a standard size or normal size kitchen, cabinet installation cost will be $2,000-$15,000. It will vary based on the cabinet's depth, size and number of cabinets installed. For a large-size or commercial kitchen, the installation cost will be $4,000-$25,000+.
The average cabinet installation cost for a large kitchen will also vary based on your commercial kitchen layout. If you are going for a completely new layout, you will definitely need to choose and install kitchen cabinets there according to the new layout.
Why Does DIY Cabinet Installation Cost Low
In a DIY cabinet installation process, you will work according to your creativity, imagination or a plan. You can work freely in whatever way or pattern you want. For sure, when you work on your cabinet installation yourself, you can save the cabinet installation cost to hire professional contractors.
Moreover, you will also perform cabinet dismantling, cleaning and re-attaching steps yourself. In this way, you can also save the cost to remove or replace cabinets charged by professionals. However, DIY cabinet installation is a daunting and time-taking task.
But you can cover it up if you have the right tools and equipment. If you really want to install kitchen cabinets yourself to keep your budget low, create a plan firstly, collect all needed tools and prototype your kitchen design before starting the installation job.
For DIY kitchen cabinet installation, it is always best to go for RTA or semi-custom cabinets. So, you can install the cabinets without any difficulty!
Calculate Your Cabinet Installation Cost
Calculating the cost of cabinet installation entails taking into account a number of variables that might have an impact on the final costs. The cost calculation is influenced by factors such as the number of cabinets, cabinet replacement, kitchen layout, molding and trim, and kitchen remodeling cabinet layout. Consider these factors in mind and make better informed decisions about cabinet installation and its associated costs!