Kitchen cabinets not only serve as storage solutions but also have a significant influence on the overall design and ambiance. Understanding the different types of kitchen cabinets available will assist you in selecting the best match for your space and lifestyle.
There are various common options for kitchen cabinet types to consider. Custom kitchen cabinets provide a fully customized and unique design, made to match the precise dimensions of your kitchen and personalized with a variety of materials, finishes, and storage options.
Semi-customized cabinets provide a combination of customization and affordability by coming in conventional sizes but offering options for finishes, materials, and accessories, allowing you to create a semi-personalized design.
Stock-style kitchen cabinets are the best options if cost-effectiveness and quick availability is your top priority. These are easily accessible in home improvement stores.
Moreover, ready-to-assemble kitchen cabinets provide flat-pack convenience for DIY enthusiasts or those with restricted space. Lastly, wall-mounted kitchen cabinets can be fastened to the wall, providing a contemporary touch to the kitchen design for those looking for a modern, space-saving solution.
Read on to learn more about kitchen cabinet types and styles in detail.
6 Common Types of Kitchen Cabinets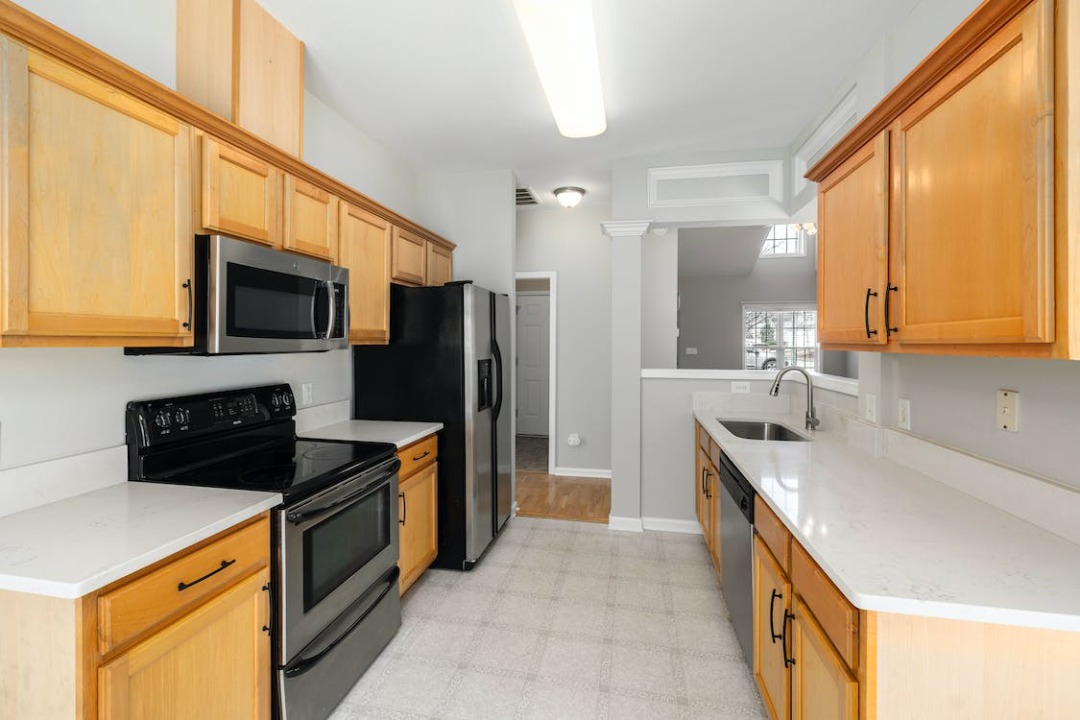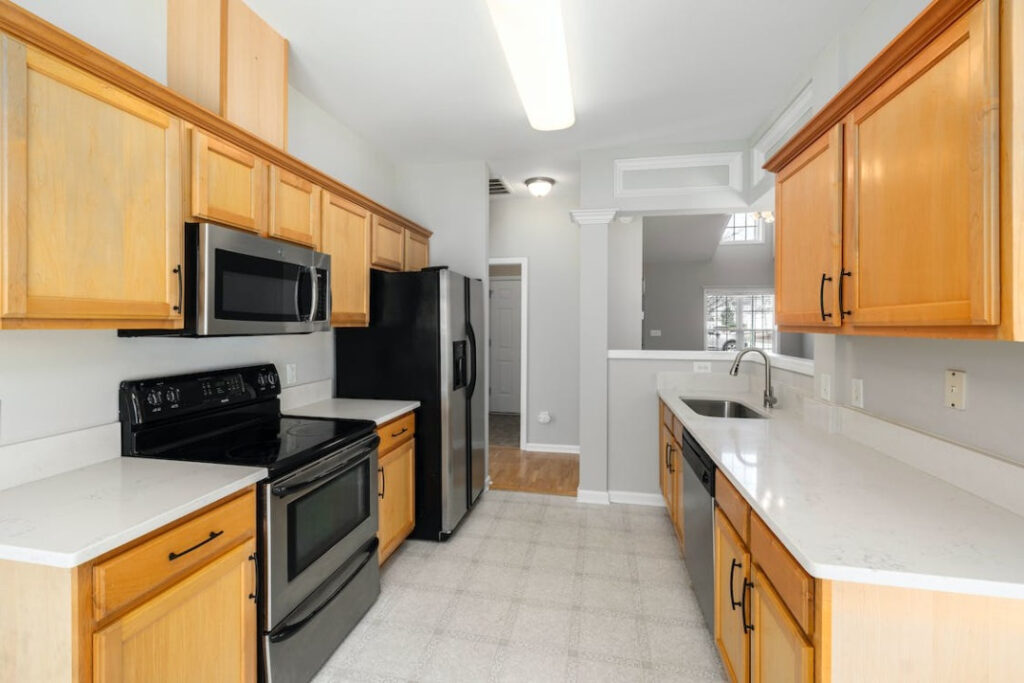 Kitchen cabinets are an important part of kitchen design since they provide both usefulness and beauty. There are various typical styles of kitchen cabinets to pick from, each catering to a distinct set of requirements and preferences.
Each type of cabinet has its own benefits and drawbacks. Homeowners also need to clean kitchen cabinets irrespective of its size. It's up to you to make a choice based on the required size of kitchen cabinets. Additionally, you can also go for different cabinet finishes to experiment with different styles and your creativity.
Following are the 6 common types of kitchen cabinets.
1) Custom Kitchen Cabinets
Custom kitchen cabinets are meticulously created to meet the exact requirements and layout of a particular kitchen. With these cabinets, every feature, from the materials to finishes and storage solutions, can be adapted to individual preferences and lifestyles.
There are various advantages to choosing custom kitchen cabinets. First, they maximize storage capacity and organization by optimal usage of available space. Second, the opportunity to select from a diverse choice of high-quality materials ensures a long-lasting investment. Lastly, custom cabinets give an unrivaled degree of refinement and elegance to the kitchen, making it into a really outstanding space personalized to the homeowner's concept.
2) Semi-Customized Cabinets
With these cabinets,there are limited chances for customization.
However, semi-customized cabinets come with endless decorative options and different finishes to apply. Even though with limited customization you can still add more drawers or shelves to these cabinets if needed.
Homeowners find the cost of semi-customized kitchen cabinets less than custom cabinets, which is why it is an attractive option within a limited budget. But it will still require a handsome amount for your kitchen upgrading and remodeling.
3) Stock-Style Kitchen Cabinets
These types of kitchen cabinets are the most reliable option if you are looking for affordable kitchen cabinets. Two different finishes are available for stock-style kitchen cabinets including ready-to-assemble cabinets and pre-assembled cabinets.
Both of these cabinet types are reliable and high-end options for small kitchens (let's say for a small galley kitchen).
4) Ready-to-Assemble Kitchen Cabinets
Ready-to-assemble kitchen cabinets are a great option if you are low on budget. The low price doesn't mean that you have to compromise on quality or functionality. The basic use of these cabinets is to increase your kitchen's functionality.
Additionally, ready-to-assemble cabinets are a good option for DIYers. All they need to do is simply assemble the pre-assembled parts of these cabinets according to their kitchen layout. The only drawback is that you have limited design and styling options when you opt for RTA cabinets.
On the other hand, RTA cabinets are not a long-lasting option especially for commercial or restaurant kitchens. But they are a great option for domestic households.
5) Wall-Mounted Kitchen Cabinets
Wall-mounted cabinets are a space-saving and modern kitchen storage option. These cabinets are attached to the wall, freeing up important floor space and giving the kitchen a clean and spacious appearance.
The advantages of wall-mounted cabinets include their potential to make a small kitchen appear more spacious and open, as well as their ease of access, which eliminates the need to bend or reach into lower cabinets. Furthermore, their sleek and elegant appearance lends a sense of elegance to any kitchen, making them a popular choice for those wishing to create a sleek environment.
6) Base Cabinets
Base cabinets are an important part of kitchen design since they provide storage and support for worktops and appliances. These cabinets are positioned at the floor level and come in a variety of sizes to accommodate sinks, cooktops, and other important kitchen features.
The advantages of kitchen base cabinets are numerous. They provide enough storage space for pots, pans, and bigger kitchen utensils, assisting in the organization and decluttering of the kitchen. You can install base cabinets in simple steps as they also serve as a robust and practical basis for counters, offering a stable and functional workstation.
4 Trendy Kitchen Cabinets Styles to Try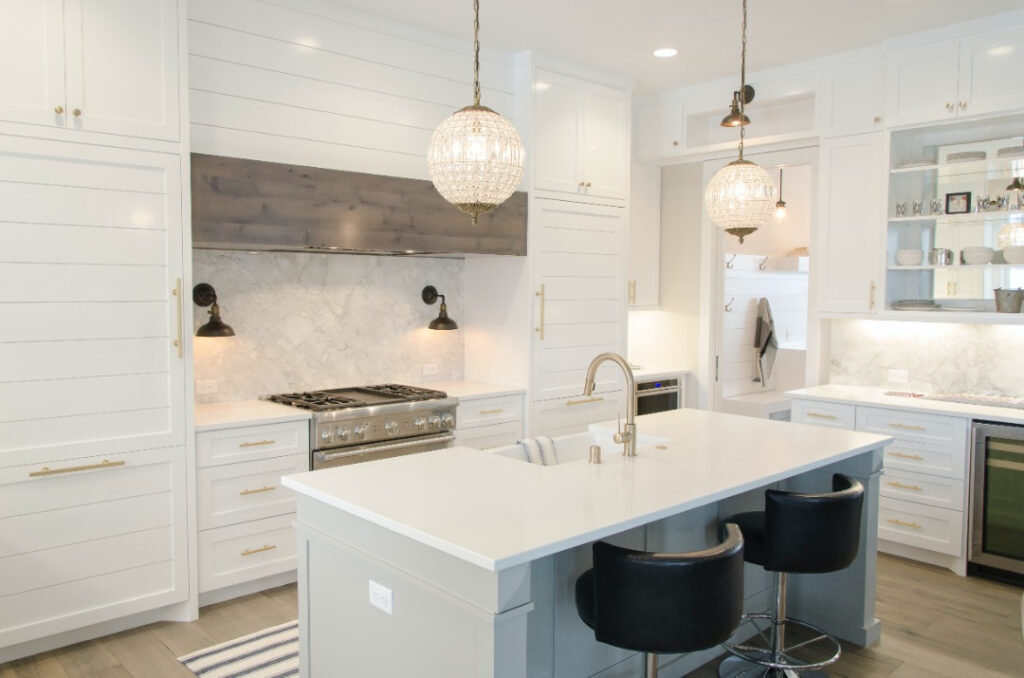 You can choose different styles for the same type of kitchen cabinets. But you may need to choose one type of cabinet for your entire kitchen.
That's why cabinet style and cabinet types are different scenarios. If you want to know about a few trendy cabinet styles for the kitchen, let's take a look at each style in detail.
1. Shaker-Style Kitchen Cabinets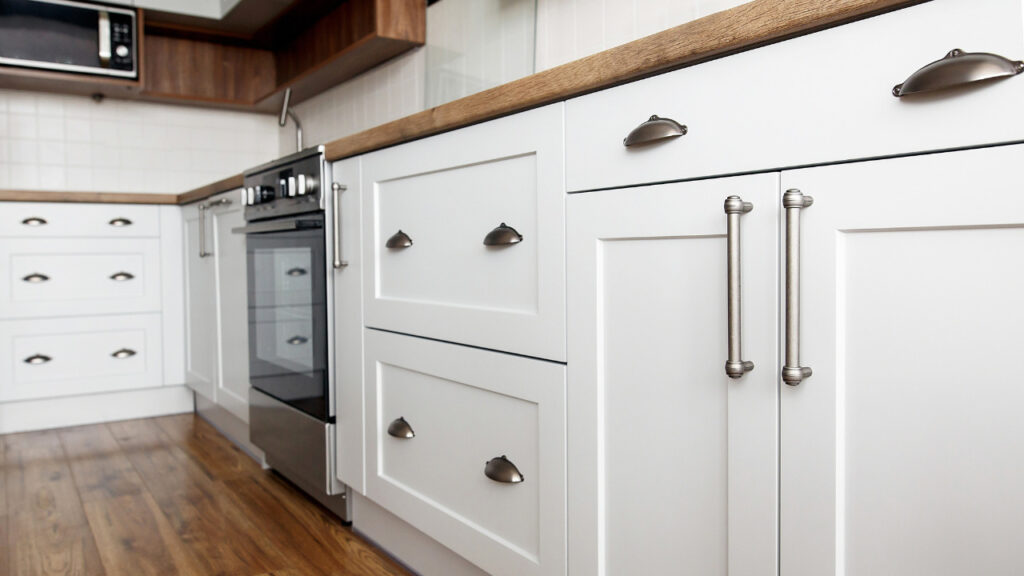 This style of cabinets is one of the most popular, in-demand cabinets especially for the modern kitchen. Homeowners prefer this style because of the smooth finish on cabinets. If you love modern cabinets layout but with a traditional touch, shaker-style cabinets would be a great choice for your kitchen.
The flat doors of these cabinets are unique . Most professionals prefer to use high-quality wood material (birch, maple, or chestnut) to install shaker-style cabinets. If budget is an issue, choose oak wood for a trendy cabinet style.
2. Simple-Paneled Style Cabinets
Simple paneled cabinets have a flat or smooth appearance which are perfect for an elevated galley kitchen remodel. So whether you have a galley style layout, this cabinet trend remains a pure classic because of its minimal look. Because of its simple design, there is no extra cost for decorative trims and different cabinet finishes.
You can use it for both modern or traditional-looking kitchens because of their unique and classic appearance The overall structure of paneled style cabinets includes flat or frameless doors and simple slabs.
3. Antique-Style Cabinets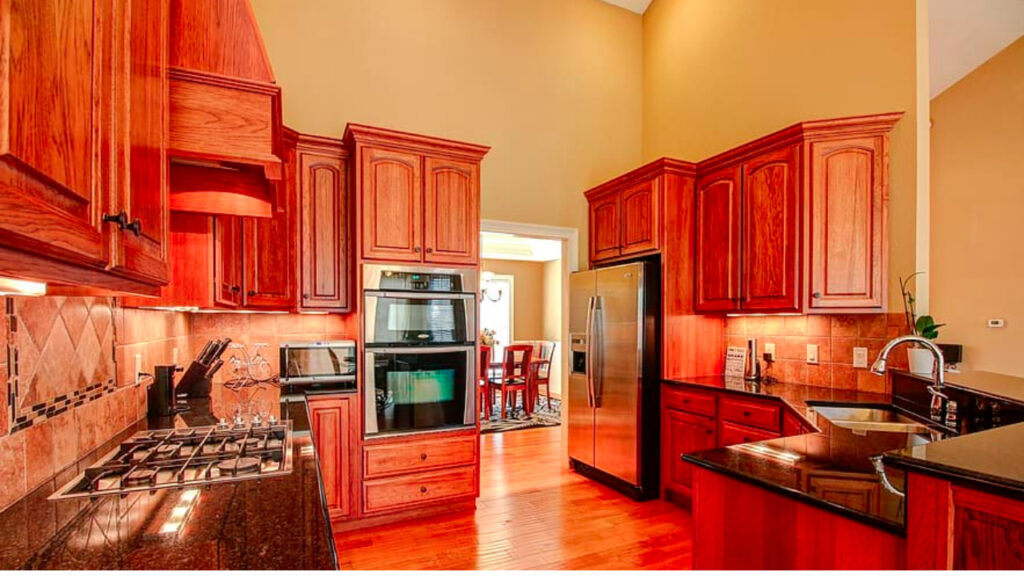 Do you want to give a rustic or antique touch to your kitchen space? If yes, antique style cabinets are all there for you! Because of its rustic look, you are free to use reclaimed or repurposed wood for kitchen cabinets.
You can get these cabinets in any style to give a vintage or aesthetic feel in your kitchen. If you use high-end or high-quality wood for cabinets and want to give them an antique look, distressing your cabinets may cost you a lot, especially if it is done by professionals.
4. Custom- Style Cabinets Doors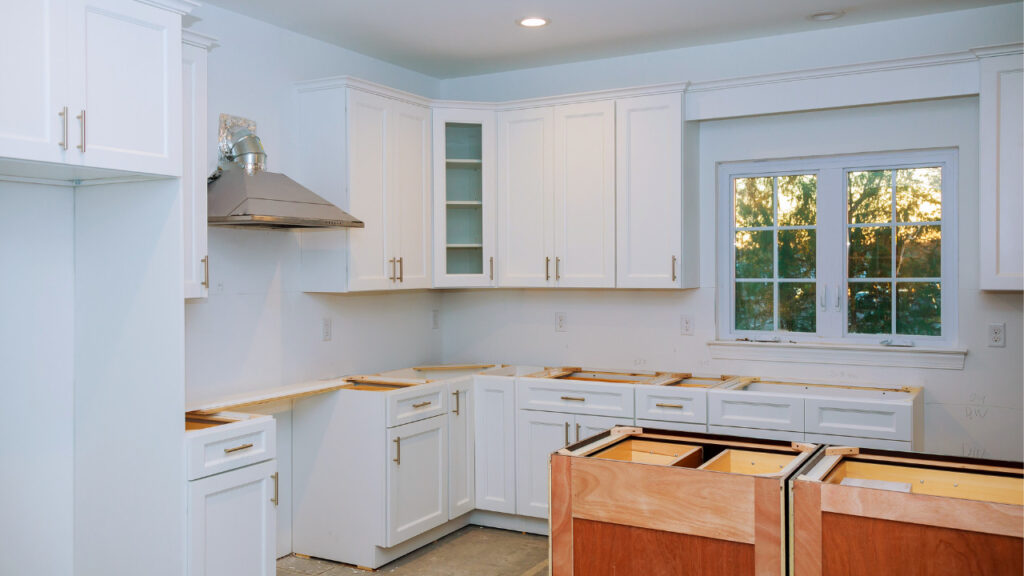 Kitchen cabinets with custom style doors are the best option. These styles can go with any type of kitchen cabinets. So, you can make changes and add a lot of new things to your overall cabinet's layout with custom-style cabinet doors.
You can install these cabinets yourself or you can also contact your local contractor to make customized doors for your kitchen cabinets. This style of cabinets is an ideal consideration if you want to add more than one type of cabinet in the kitchen without compromising over quality and budget.
4 Ways to Choose the Best Kitchen Cabinet Design
There are also some other important factors that you need to consider before choosing any kitchen cabinet design.
1. Kitchen Ergonomics
Kitchen ergonomics refers to improving the design of space, creating a comfortable working and cooking space. Most people think kitchen cabinets don't have any impact on kitchen ergonomics, but they're wrong! Cabinets also play a great part in the overall ergonomics of your kitchen.
Therefore, you have to think about your cabinet's accessories, hardware and other fixtures according to your kitchen space and requirements.
2. Materials to Use for Kitchen Cabinets
As per expert's suggestions, Cherry wood is one of the best materials used for kitchen cabinets because of its decorative and long-lasting finishes. However, you can also go for other alternative options according to your choice and budget.
You can also add stain or lacquer finish to your kitchen cabinets no matter what material you have been used. This way, you can get a smooth look and sleek cabinet finishes without any difficulty. Moreover, you can also use grain paint or finish for cabinets to give them a natural look.
3. Functionality of Kitchen Cabinets
The basic purpose of cabinets is their functionality for maximum storage. If you are looking for high-end cabinet design with more storage space, frameless cabinets would be the best consideration. Moreover, you can also add drawers and different units to your cabinets to make them more functional.
Keep in mind that the addition of drawers and storage units depends on the size of kitchen cabinets. So plan accordingly.
4. Kitchen Cabinets Hardware
Just like cabinets, cabinet hardware is also an essential thing to consider while remodeling your kitchen cabinets or kitchen. To make your cabinets a little bit more functional, you can add door hardware such as knobs and pulls at the time of remodeling.
Well, there is no need to step out of your budget while installing cabinet hardware. You can also go for reclaimed or repurposed hardware if your budget is tight.
Choose the Best Type of Kitchen Cabinets
There are different kitchen cabinets types based on their designs, sizes, layouts, finishes and also hardware. No matter what type of cabinets you choose for your kitchen, your budget is the first thing to keep in mind.
Moreover, you will also need to understand the installation pattern of kitchen cabinets, cost to install kitchen cabinets and how to choose the right design of cabinets. If you have answers to all these questions, you are all set to remodel your kitchen cabinets with this easy guide!