Your NY home is supposed to be that one place where you can get away from the hustle and bustle of the big city, somewhere you can rest and relax – your safe space. Obviously, your safe space needs to be calming, but it's easier said than done.
Issues with organization, too little space, and the wrong habits can turn your home chaotic and disorganized. Not to mention how interior design can be an overwhelming task that a lot of people think they can't handle. Well, we have some great tips to help you out.
By the end of this article, you will have gained some valuable insight and great interior decor tips to help you with turning your home into an outdoor oasis, so keep reading!
Floral Arrangements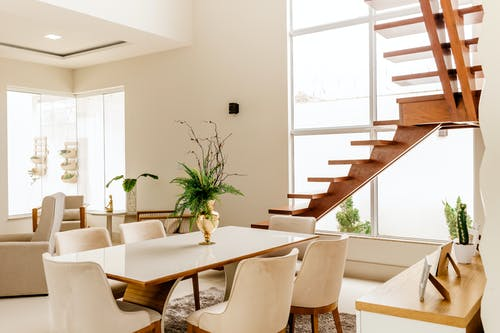 One of the best ways to make a space feel calm and peaceful is to add some delicate floral arrangements to it. You can get things like this via same-day flower delivery in New York when COVID19 restrictions have you staying at home, or you can get them locally from florist shops.
Pale colored or white flowers work best when paired with bright green leaves, and the resulting arrangements are perfect to make any room look calmer and more beautiful.
If you'd like to have some touches of brightness in your space, consider some smaller bouquets with bright flowers, but stay away from colors that would clash too much with your calm interior.
Add Plants
If you don't think you want any flowers, add indoor plants to your space. Not only do they look good, but they also improve the atmosphere and clear the air in spaces with little to no air ventilation.
Putting plants in the corner and along the walls is a great idea, but you can also get smaller indoor plants in pots to hang across the wall or from the ceiling in hanging pots if you're short on space.
Whether you're someone who doesn't have much of a green thumb or someone who isn't home everyday to be able to water their plants, there's a plant out there for you. There are even plants out there that are perfect for small apartments where most plants would not thrive, like places without much natural light.
Another great idea is to grow some vines along your walls for a cool effect. You might need to figure out a way to tie the vines to the walls while growing them, and most people use nails to hang them like you would for a painting. Of course, this will damage the wall but the result will be worth it!
Make a Vision Board
One of the hardest parts about following any single decor theme is to maintain the right balance between different elements of your interior matching that theme, but not matching each other too much. Gone are the days when different elements in a room needed to look identical – now it's all about organized chaos.
A great way to make sure everything you're doing meets a common vision while being different enough is to stop matchin items with each other, but to match them with the vision instead.
Let us explain – you need to make a vision board with inspiration for your new oasis, complete with fabrics, patterns, colors, and even furniture design. Then once you're ready to go out and shop, match all your new stuff to the vision board.
More often than not, you'll end up with what you set out trying to do with this method, and the guide can be a really good tool for decor shopping for the untrained eye.
Use Calming Colors
You can't have a calming oasis that's colored neon yellow and bright orange – your oasis needs to be in calming hues, like white and light pastels and blue or a very light green. Even mixing colors isn't a really good idea. Too many and your room will still be chaos, it will just be cotton candy and marshmallow themed chaos.
Another useful tip is to keep as much white in your home as possible, and to keep at least one of the walls white. This will allow for your space to look brighter and more open, which is a major plus for any safe space. What you need to avoid is funiture or colors that will suck the light up from your oasis, but more on that later.
Natural Materials Make a Difference
Humans feel calmer and happier when we're closer to nature, and our homes need to reflect that if we want to be happy in them too. This is why you might want to make sure that there aren't too many dark elements in the room either.
But more than that, try to incorporate as much of nature and the great outdoors as you can in the space. Fill it up with things like glass, rocks, marble, wood, clay, and stone decor. You can even add an aquarium full of fish in one part of the home.
Let Natural Light In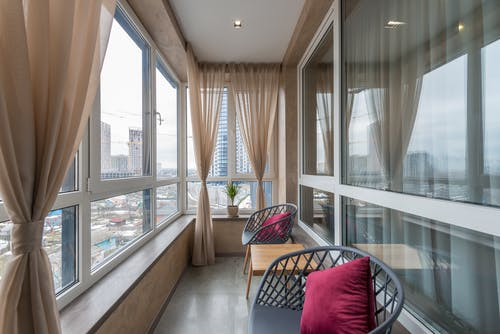 Your calming oasis needs to be bright and full of light, which is why white walls are recommended for this type of interior decor theme.
Change your heavy drapes into something lighter, like sheer cotton curtains paired with light or faux wood window blinds. Make sure to let the light in during the day too, since being exposed to natural light during the day can improve your circadian rhythm and help you sleep better at night.
This isn't to say that your room's lighting isn't important – invest in some good quality lights, and make sure to add some a little lower – only adding lights to the ceiling will give everything in your home a sharper effect which isn't going to calm you down or make the space look calm at all.
Use Fabrics and Textures
We just said that you shouldn't use too many colors in your home if you want to make it look like an oasis, so the question stands: how else do you make it look interesting and fun? And the answer is that you use patterns and textures in fabrics smartly.
Make sure to use natural fabrics like cotton and jute. At the same time, you can strategically use patterns of varying sizes in places like the curtains and the tablecloth to give your room some substance.
Pair this with the right flooring (we suggest wood or carpets!) and wall paint or paneling, and you'll have a room that looks calm but complete and interesting.