Although design can come in thousands of different shapes, colors, styles, and ideals, there's nothing as crystal clear as trying to figure out what's modern. A modern office feels like a breath of fresh air and an obvious home for a cutting-edge business that knows what it's doing.
If you're ready to boost your office to the next level and aren't afraid to try something new, these are the renovations that will help your business feel fresh.
1. Filtered Natural Light
Natural light is the secret tool that will help your employees feel more awake while also helping your company save a lot of money. It's vital that the light is filtered, though, since this will stop glare while also encouraging employees to focus on the task at hand.
Even if what you're creating is a home office, it's a great idea to at least add a sheer curtain to the windows in your office to stop too much light from leaking in.
2. Sound Absorption Throughout
Nobody wants to be distracted while they're in the office. Fight off distractions by using tools like better insulation, hexagon acoustic panels, and sound-absorbing barriers and partitions.
Focus on the areas that need the most concentration for spaces where you put the most sound-absorbing material in. This might mean call centers, private offices, or even patient rooms if this is a medical facility.
3. Ergonomic and Attractive Furniture
A fake report from the early 2010s had people convinced for over a decade that uncomfortable people work harder. This isn't true. Instead, uncomfortable people were more likely to be driven to distraction and would often quit faster than their comfortable counterparts.
Add furniture that's not only pleasing to the eye but also comfortable to sit and work in. You're supposed to be convincing your workers that an eight-hour shift is easy to sit through, so let the furniture do the talking.
4. Intelligent Layouts
Although it can be scary to look up the cost of office glass partitions, they change everything about the space they're in. A good layout will allow easy navigation of whatever room it's in while also boosting the visibility of everyone in it. Offices with cubicles should be laid out in a staggering formation with two or three clear pathways bisecting it. This will allow people to get where they need to go while still making sure they're not distracted by anyone walking by.
5. Smart Thermostats and Lighting
Smart lighting is a must for any modern office. When sunlight isn't available, your office should be able to light itself accordingly. Avoiding being too bright but also being able to keep your employees alert and focused is a must.
The same goes for thermostats! The average office is seen as cold by some and too warm by others, so it's a good idea to try and find a middle ground. Keeping the temperature at 68 or 69 degrees Fahrenheit is best for most.
6. Flooring That Handles it All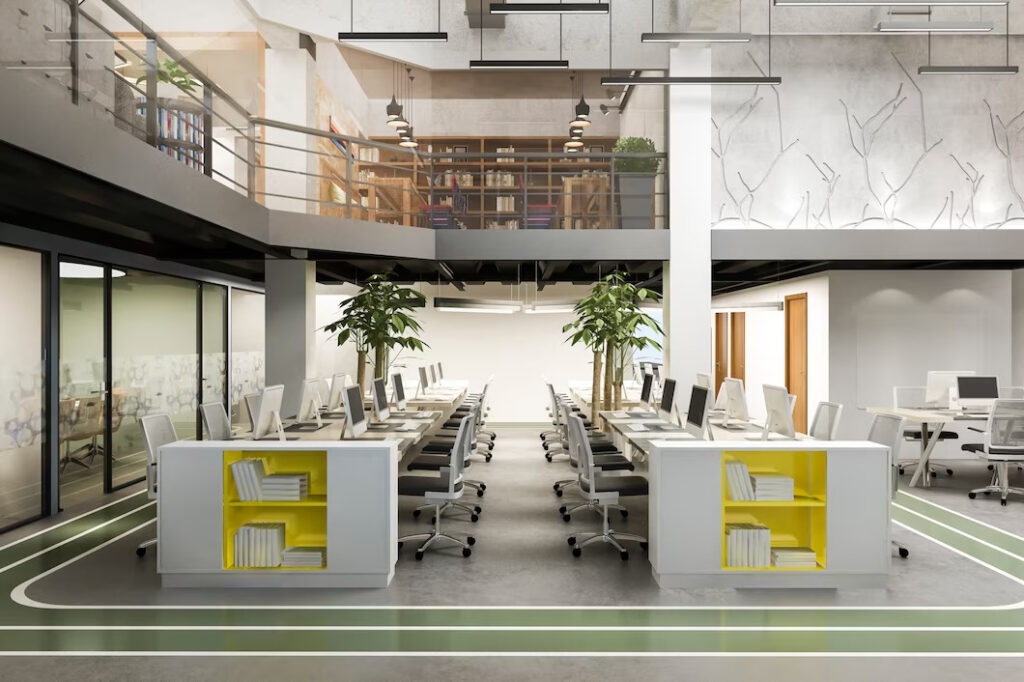 Every office needs sturdy and attractive floors that can handle anything that's thrown at them. Instead of hoping your low-pile carpet will do the job, go for laminate flooring. Invest in flooring that can handle scuffing, spills, dragged furniture, wheeled chairs, boots, and so much more.
Although you might not think it needs to be that strong for people just walking to and from desks, these floors get a lot more use than you'd believe.
7. Sleek Office Touches to Boost the Modern Vibe
A modern office needs to look sleek, futuristic to a degree, and like it's aiming for the future. Remember that any technology installed now, like large screens, smart boards, and more, will all be out of date or incapable of being used in ten years. Ensure that everything is removable and replaceable.
8. Safety Features That Aren't Clunky
Safety is one of the most important parts of any office, yet it is constantly overlooked. Instead of allowing your office's safety features to look clunky, let them blend into the office's aesthetic. This could mean a sleek and attractive glass railing system or any other clever design to keep the space functional and beautiful.
9. Welcoming Entrance and Break Spaces
No matter how much you update and upgrade the work areas in your building, if your entrance and break spaces aren't welcoming, you're not going to win your employees or clients over. Add greenery, clear markings for where the entrance is, and a bench or other seated area to make this as welcoming as possible. You want to let people feel invited in.
Modern Design is So Much More Than You Could Assume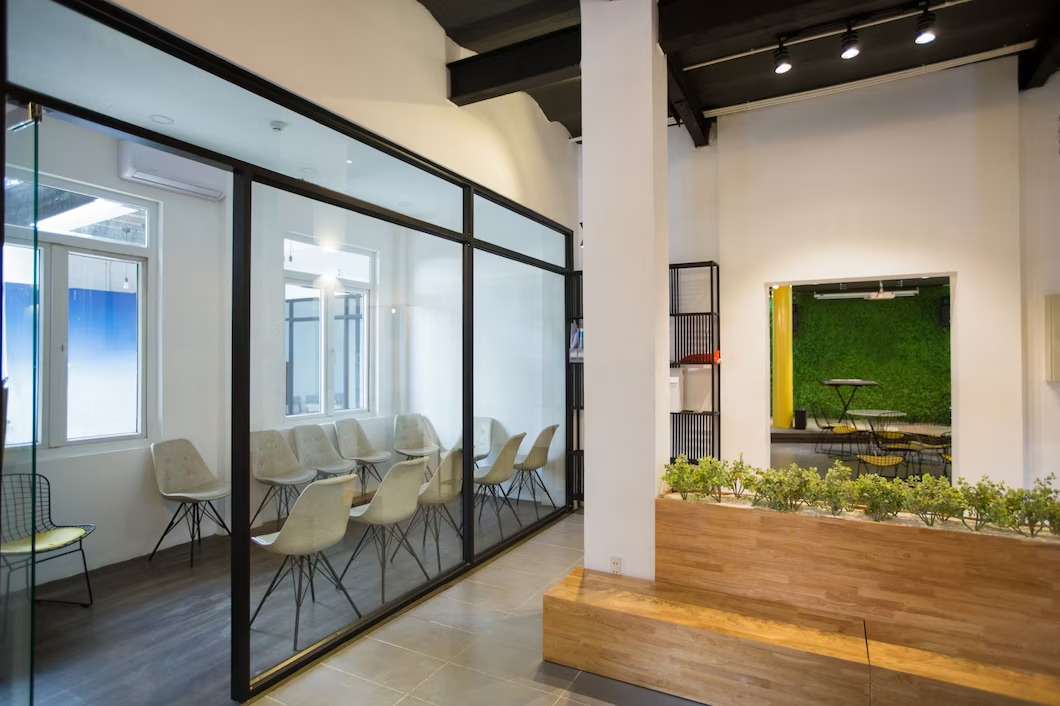 Although sleek glass railing and clean lines are as important as ever, there's nothing as important as energy efficiency and natural light in modern design. Consider learning from a company like Construction How to create a property that will stand out above all others.
Andrea Erickson is a freelance writer that loves sharing her knowledge and expertise in renovation and landscaping. She lives in her hometown of Austin, Texas where she enjoys spending time with her husband and decorating with her children. Andrea's work as a freelance writer can be found on Building Product Advisor, a new construction industry resource site.