When it comes to giving your new house a homely feeling, few things are as important as your choice of house color schemes interior.
No matter which color palette you choose for your living room, kitchen, bedroom, or bathroom, it will set the tone for your home's ambiance. The right house color schemes set the mood and style and transform the spatial settings.
Whether you plan to give your house a modern look or a Victorian or aiming for a unique blend of styles, choosing the right color can make a huge difference.
Let's go through some fascinating house color schemes to choose one for your house.
7 Wonderful House Color Schemes Interior to Give Your House a Sense of Style
1. Modern House Color Schemes Interior
If you want a modern house color scheme for your interior, think of neutral tones and bold accents.
For example, the color palette will include clean whites, elegant grays, and muted blacks as the foundation. You can combine this palette with vibrant splashes of colors of your choice.
Modern color schemes have a minimalistic and sophisticated approach. Keeping your furniture in line with the color scheme, eye-catching accessories, and vibrant furniture with a white accent will complete the look.
Your house will have a contemporary appeal and give a sense of welcome.
2. Victorian Colors Interior
If you have a thing for the nostalgia of the past, the Victorian era has a timeless charm. It might be your go-to house color scheme interior.
Victorian aesthetics have a sense of elegance no other scheme can match. The key to a perfect Victorian look is to balance the color scheme with intricate decor details. It will create a sense reminiscent of the Victorian era.
If you want a Victorian scheme for your house interior, think of having a rich and warm color palette. You may choose from deep burgundies, royal blues, and luxurious golds.
Combine these bold color schemes with intricate woodwork, vintage furniture, ornate wallpapers, and Volia! You have an authentic Victorian look for your house.
3. Gray Color Schemes for Interior House
Gray color has been in for house color schemes interior and emerged as a versatile choice for many.
Gray color, undoubtedly, has a neutral tone and nature. It will serve as a perfect backdrop for any house interior.
For a gray color scheme for your house, think of having a sophisticated and tranquil look. You can pair different shades of gray with certain textures. It will create a sense of depth within your living space and bedroom.
However, if you want a visual appeal with the gray color scheme, you can introduce color pops through artwork, paintings, vintage pieces, and furniture.
Whether you choose dark or light gray, you can express your style for your house through gray's elegant canvas.
4. Gray and White House Interior Color Schemes
We have just shed light on what an elegant color scheme gray has. How about combining gray with white for a serene and timeless color scheme for your house?
No doubt, this color duo of white and gray presents a clean and fresh look. If you are planning on a gray and white house interior, think of having a light gray and white crips color scheme. It will create a subtle and enchanting balance for your living space.
However, if you feel this color scheme is too mundane, introduce natural elements like woodwork or plants to add a subtle texture and warmth to your house.
5. Dark Color Schemes for House Interior
If you have a knack for dramatic ambiance, how about having a dark color scheme?
For that, think of having a bold statement for your house interior. You can choose deep hues like charcoal, navy, and rich emerald. These color schemes are perfect for creating a moody and dramatic ambiance.
Before choosing a dark color scheme, you can't ignore other interior elements. Lighting is the most crucial factor here, as a dark color scheme can make your space overly enclosed.
To prevent that, ample lighting fixtures, mirrors, and other reflective elements can help. Moreover, furnish your house with light furniture. It will create a visually appealing balance with the dark walls.
However, choosing the right flooring colors with a dark color scheme is crucial. So, do your homework thoroughly before opting for a dark color scheme for your interior.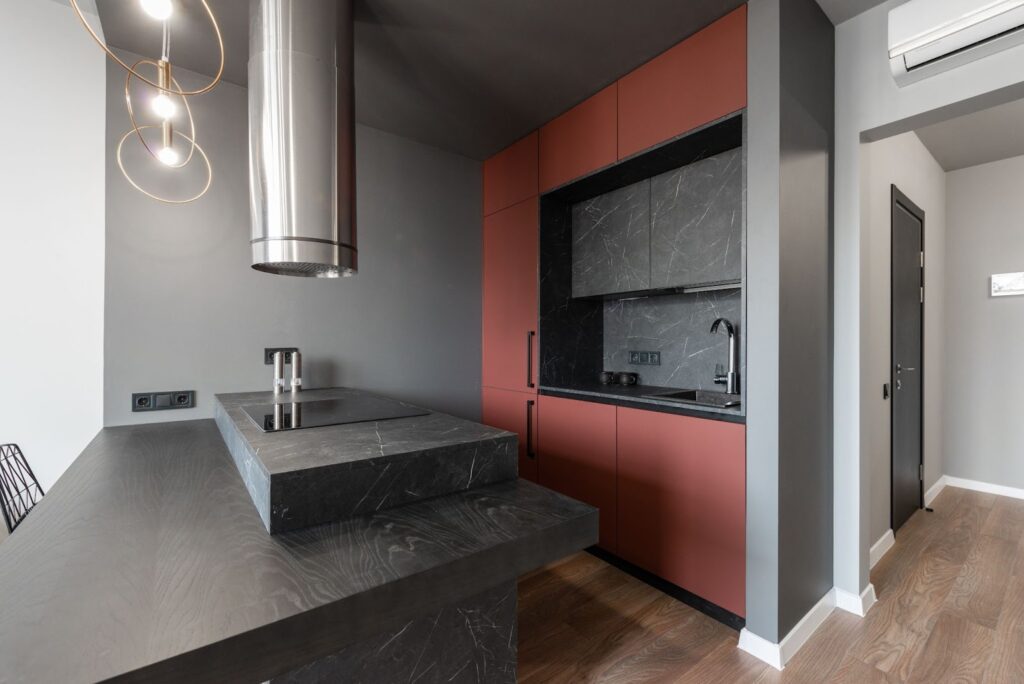 6. Blue House Color Schemes Interior
Ah, the refreshing blues. Blue is a popular color scheme for interior design for its calming and serene feel.
What does a blue house color scheme for your interior feel like? Whether you choose soft sky blues or deep navy, you can have an open, airy feel about your living space or a touch of sophistication.
Pair the blue with white, beige, or gold to enrich your blue color scheme. Whether you use blue as a dominant hue or an accent, blue can create a refreshing feel for your living space.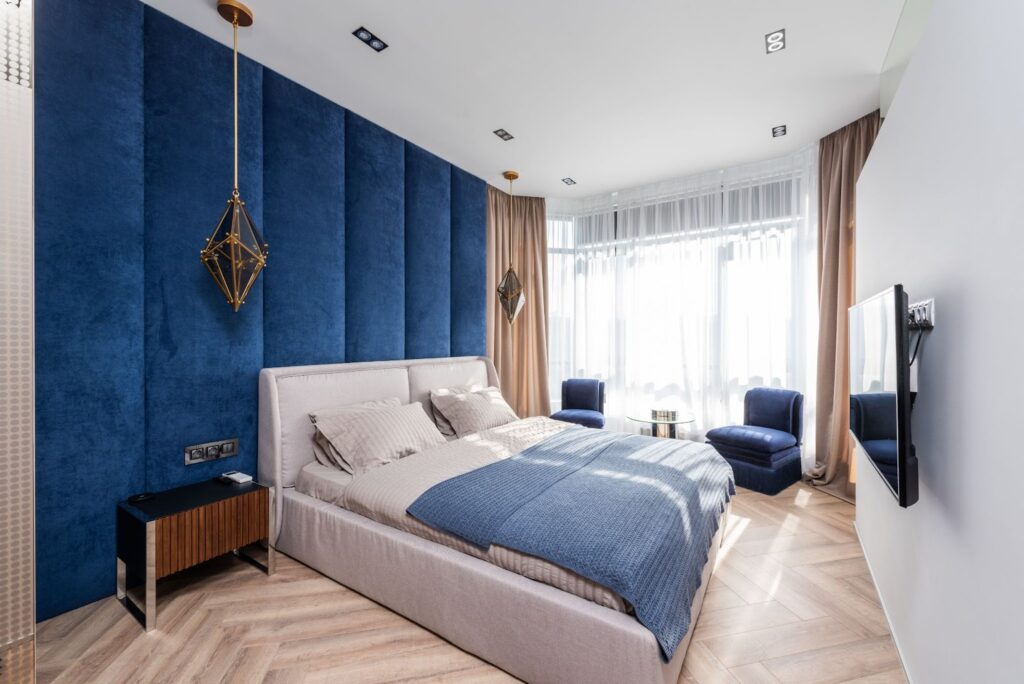 7. Tan House Color Schemes Interior
Do you want a cozy and welcoming, inviting feel for your house? For such warmth, tan is the right color palette for your house interior.
The exciting thing about a tan house color scheme for your interior is it comes in many styles. Whether you choose tan as a foundational color or combine it with other earthy color tones, tan will work well in any way.
However, a tan color scheme can give your place a monotonous look. To prevent that, you will have to put effort into selecting your furnishings. Introduce leather textures, natural fabrics, and woodwork that will work well with a tan color scheme.
If you want a naturally inspired ambiance, pair tan with shades of green.
Get Creative Using Beautiful Themes
Planning a new house is a tiring journey, albeit a creative one. You can either make it or break it. There's no other way around it. That's why we are here to help.
With these beautiful color schemes for house interiors, you can create a living space reflective of your personality and liking. However, before choosing any theme, understand the color harmony and contrast. If you carefully balance each interior element, your house will be eye-catching and present an enriched living experience.
So, go ahead, and create a personal haven for yourself with these house interior schemes.