One thing is for certain: tile flooring is back in style. You can find tile flooring gracing the floors of the top home design shows on television. And why not?
With many different types of floor tiles available on the market today, it's no wonder they are becoming more and more popular. So if you're considering tile flooring for your home, but are stuck on what different types of floor tiles to choose, don't fret.
In this article, we're going over five popular choices for tile flooring.
1. Ceramic Tile
Today's ceramic tile is a bit different from your mom and pops tile flooring. Ceramic tiles are a combination of sand, natural products, and clay. They are fired in a kiln, similar to clay pots. Nowadays, you can choose between glazed or unglazed ceramic tiles.
Because of their strength, durability, and resistance to stains, they make great tiling for bathrooms, kitchens, entryways, laundry rooms, and even mudrooms.
Not only are they durable, but they are also made to last. With one installation, you can love your floors for twenty years or more! All this at a cost between 50 cents to $7 per square foot.
If you're looking for high-quality ceramic tiling in the St. Louis area, we highly recommend CVM Enterprises Inc.
2. Porcelain Tile
Like ceramic tile, porcelain tile is made up of natural products and clay and fired in a kiln. Porcelain tiles are incredibly dense due to being fired at very high temperatures. Durable and strong, they are great for patios, laundry rooms, kitchens, and bathrooms.
They are less porous than ceramic tiles and are therefore more water-resistant. However, this comes at a price.
One drawback to porcelain is the price, coming in at a range of $3 to $10 per square foot.
3. Glass Tile
Glass tiles are made from thin pieces of glass. A translucent glaze is fired onto the back of the tile. One advantage of glass tiles is that they come in a wide variety of colors and patterns.
Great for bathrooms, kitchens, and living rooms, glass tiles are the more expensive option for tile floors. With a price range between $5 to $15 per square foot, they can eat up your budget quickly.
4. Cement Tile
Cement tiles are created by pouring natural pigments into a mold and backfilling with cement. They come in a wide range of colors and patterns and are made for high-traffic areas.
Great for bathrooms, mudrooms, and laundry rooms, these tough tiles are meant for wear and tear. Another bonus for cement tile is the price, at around $1 to $5 per square foot.
It's a durable tile that won't break your budget.
5. Marble Tile
Made from natural stone cut out of mountainous regions, marble is synonymous with style, elegance, and beauty. The Vanderbilts used marble in vacation homes, like The Breakers Mansion in Newport, Rhode Island.
Quite naturally, this tile is known for being expensive, coming in a hefty price tag of $5 to $25 per square foot. But, if you've got the money, it's a beautiful tile for almost any room.
Different Types of Floor Tiles: Which Will You Choose?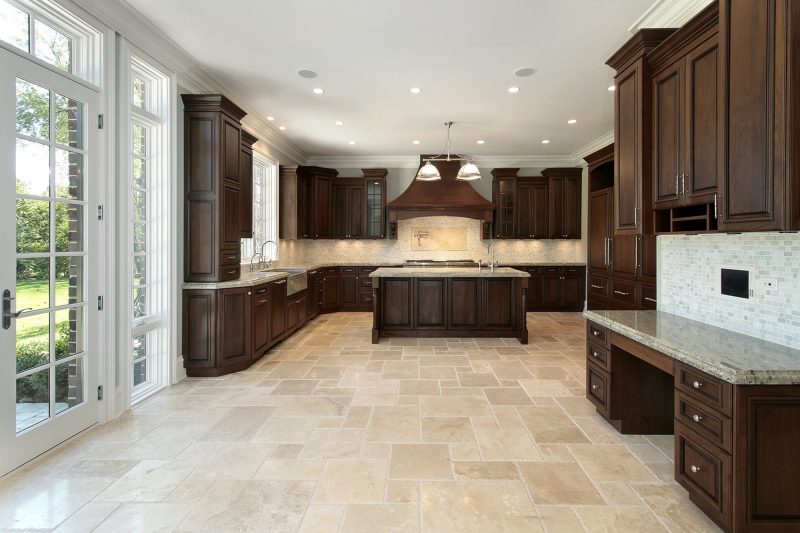 Armed with the different types of floor tiles popular today, which will you choose? Of course, you can't go wrong with floor tile that meets your needs, looks great, and comes at an affordable price or lavish luxury style.
Please visit our blog for more great articles about construction, real estate, and homes.