Are you struggling to attract consumers to your commercial property? Consider updating your curb appeal! Stunning landscaping could make all the difference when attracting people to your business.
There are now over 615,000 landscaping services businesses in the US. That's a 5.3% increase from last year. Before you choose a commercial landscaping service, it helps to know what to look for.
Here are seven tips that can help streamline your search. With these tips, you'll have an easier time narrowing down your options.
You can find a reliable commercial landscaping company based on your needs and budget.
Choosing the first business you come across, on the other hand, could waste your time and money. You might hire a team that lacks hands-on experience. They might not have the tools necessary for the job, either.
Choose a top-quality commercial landscape contractor you can depend on. Start your search with these seven easy tips today.
1. Know What You Want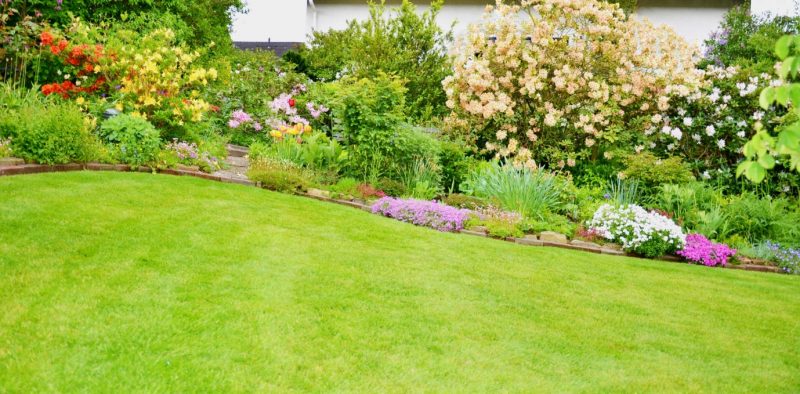 Before choosing a commercial landscaping service, take a moment to determine your goals. Setting your expectations will help you find the right contractor for the job. Otherwise, you might not realize they fail to meet your expectations until later.
What do you want to accomplish for your landscape?
It's important to note that what works for one business might not work for another. A restaurant might need different services than a hospital. Perhaps you need someone with experience handling office building landscaping instead.
Make a list of your needs and expectations before you start searching. Then, you can narrow down your choices based on your needs.
If the company doesn't offer the commercial landscaping services you're looking for, you can scratch them off your list.
2. Look for Experience
Before choosing a commercial landscape contractor, talk to other business owners in the area. Ask if they already hire a commercial landscape company. If they do, ask about their experience with their contractor.
Make a list of questions you want to ask beforehand. For example, you might consider asking:
Is the contractor experienced
Are they knowledgeable
Do they always arrive on time
How much do their services cost
Are you satisfied with the services you receive
Have you experience any issues
Make sure you find a company that specializes in commercial landscaping. Make sure they're capable of working on large, commercial properties, too.
If your professional network can't help, that's okay. Start searching online instead. Make a list of companies to research further.
Then, visit each company's website and Better Business Bureau listings. Determine how long each team has worked in the industry. Try to find a long-established landscaping business.
An established business has likely worked out any operational kinks. These teams will know how to work efficiently. They'll know how to avoid costly mistakes when working on your property, too.
A new business, on the other hand, might still need to get its footing.
3. Research Their Qualifications
Once you find an experienced commercial landscape contractor, look into their qualifications.
First, make sure the company has the proper paperwork in order. For example, they might need a license for:
Occupational (lawn service)
Arborist (tree trimmer)
Irrigation (specialty plumber)
BMP (fertilizer & round-up) spraying
Make sure their licensing is relevant to the services you need. If the company doesn't have an up-to-date license for commercial services, scratch them off your list.
Consider if they have any other additional industry qualifications. You can also ask if they have any professional affiliations.
Make sure each company on your list is insured, too. Determine if they have general liability and worker's compensation insurance. Otherwise, ask what happens if they damage your property or get hurt on the job.
An insured company will have your best interests in mind. If there's an incident, they won't expect you to cover the charges.
Ask each company for proof of their documentation.
4. Consider Sustainability
Some businesses prefer choosing commercial landscaping companies that can ensure a sustainable landscape. Ask each commercial landscaping service if they prioritize sustainability.
You can create a landscape that's cost-effective and energy efficient. Saving water will save you money in the long run. You can make a major impact on your budget and the environment with sustainability practices.
Consider asking each commercial landscape company questions like:
Do you recycle yard waste (fallen branches, clippings, leaves, etc.)
What changes can you make to help me save resources and money
Where do you purchase your plant materials
Do you use native plants
What programs do you offer (irrigation, lighting, etc.) for efficiency
Can you recommend organic programs that are suitable for my property
The landscaping company should consider sustainability practices with every service.
5. Review Their Services
Remember, you'll want to find a commercial landscaping contractor who can meet your needs and expectations. Review each company's services.
For example, you might need landscape construction, including:
Erosion control
Outdoor amenity installation
Turf installation
Water fear installation
Planting
Hydroseeding
Retaining walls
Hardscapes
Drainage
Perhaps you're more interested in landscape design to create focal points on your property. Some companies are more concerned with landscape maintenance.
Make sure the company can meet your needs and expectations.
6. Read Reviews
Reading customer reviews can help you find a reliable landscaping company.
Check each commercial landscaping company's BBB and Google My Business listings. Read a handful of reviews for each site. Watch out for any major complaints.
Choose a contractor who has a strong reputation to back them up.
7. Consider Pricing
The US landscaping industry is now worth over $100 billion.
Before making your final choice, ask at least three different contractors for quotes. Determine what's included with the pricing. Review each contractor, too.
Don't choose the cheapest option you can find. Instead, review your notes. Choose a reliable company that can meet your needs and expectations.
You'll likely get what you pay for. Choosing the cheapest option could mean low-quality services.
Instead, choose a team you can rely on.
Grow On: 7 Tips for Finding a Commercial Landscaping Service
Don't rush to choose the first commercial landscaping service you find. Instead, consider these seven factors as you review your notes. Choose a reliable, experienced team that can meet your needs.
They can boost your curb appeal, helping you attract more customers in the long run.
Searching for more tips? You're in the right place.
Check out our latest guides today.