Commercial kitchens are the busiest part of any restaurant. The stainless steel countertops, assembling stations, ventilation, kitchen appliances, storage requirements, etc all are super functional on a regular day. The type of commercial kitchen in a restaurant explains a lot about the cooking, functionality, and workflow.
The floor plan for a commercial kitchen matters the most. So if you are an enthusiast restaurateur looking to expand or renovate the commercial kitchen, this blog will help you. 
Importance of Restaurant Kitchen Layout
No commercial kitchen has the same layout, at least not the same type. A dining floor plan can cater to the best and safe space for the customers. Hence a restaurant's kitchen layout is important for the following reasons.
Productivity and Safety Measures
The floor plan for a commercial kitchen layout describes how well or poor the workflow is. Are serves bumping into each other? Or are they tripping over the floors just to make do from one station to another? When a restaurant kitchen layout is fully functional it helps increase productivity. It is designed keeping the safety precautions in mind so that in case of emergency or accidents right measures can be taken.
Cost Effective
An effective restaurant kitchen layout will save you tons of money. A dishwashing station properly installed is a long-term asset. If you compromise on the layout style just to save a few dollars, you may eventually end up spending a lot more later on. Plus, installing adequate and updated appliances is another key factor to remember.
Health Precautions
The health code is one of the most important factors for a successfully running commercial kitchen. Installing property cold storage units is essential, especially for perishable goods. You have to pass the sanitation and food safety license. But if a washing station is way far from the food preparation area, you may face some difficulty in gaining that license. So yes, the kitchen layout style plays an important factor for the health inspection authorities.
Employee Encouragement
All of the kitchen team spends their entire day manned at each working station. It will result in fast burnout. Strategically the kitchen layout must have ample space according to the kitchen ergonomics to make the long working hours comfortable. Therefore the commercial kitchen layout design must have a positive impact on the employee's productivity.
5 Factors to Consider for a Restaurant Kitchen Layout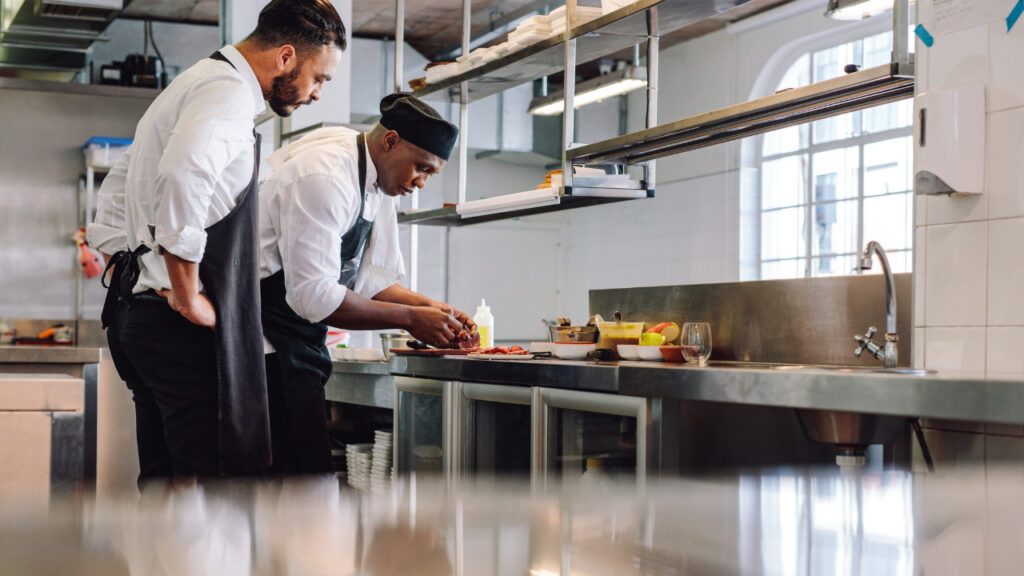 If you own a small restaurant, careful layout planning is crucial. Keep in mind the following factors to choose the best kitchen layout.
Storage Space
Every commercial kitchen has a dedicated space for storage. Two types of storage spaces are commonly found – cold storage for all the groceries and the other one for cooking utensils and place settings.
For a commercial kitchen dry goods like food items are placed in the commercial fridge (the cold storage). The freezers contain perishable goods. Therefore, you will be needing different forms of storage spaces.
Washing Station
Cleaning is a regular chore occurring several times an hour in a commercial kitchen. A separate washing station is a must. The size may vary depending on the daily need. Usually, a separate washing station is installed for food and dishes. This is to prevent any type of contamination and to keep things tidy.
Food Preparation
Depending on the type of menu that is served, the food preparation area usually consists of counter space, cutting utensils, and storage containers. It is near the cold storage for a handy workflow. One must allocate appropriate space for this station so that the food ingredients do not come in contact with dirty dishes.
Cooking Station
The main action takes place at the cooking station. The area consists of high cooking ranges, commercial fryers, and ovens. These days, cooking stations are usually organized with a digital kitchen order system. A ticket appears on the display of the KDS. This is a highly effective system to streamline all orders without losing the actual ticket.
Service
Once the food is prepared, it is time to plate the dishes. That is what the service station is for. This specific point is reserved to keep the food warm and is also closer to the dining area. Meals are properly plated and garnished before servers take the prepared meals to hungry customers. Usually, the service station also consists of heat lamps to keep the food warm until served.
5 Best Commercial Kitchen Designs
The Island Design
For a large commercial kitchen, building a kitchen island design is a good approach. The food prepping station is the center of attention in this layout while other stations surround it. Chefs can cook the meals rather more proficiently with a diverse menu. You can cook a variety of dishes at once. Gourmet kitchens are known to have island-design layouts. 
Advantages
Allows chefs to collaborate and communicate with one another.
Makes a visually appealing centerpiece for consumers.
There is plenty of room for various cooking techniques and equipment.
Reduces needless motions in the workflow.
Disadvantages
Takes up a lot of area, making it inappropriate for compact kitchens.
Additional plumbing and electrical connections may raise construction and equipment expenses.
Assembly Line Layout
One of the most common commercial kitchen layouts with a linear shape. It begins with the food prep station, in a straight line, and the part where food is served. Mostly found in fast food restaurants, assembly line layout offers much efficiency and focus is the service point.
Advantages
Suitable for high-volume production and quick servicing.
It is simple to supervise and control because the process is linear.
Disadvantages
May not be appropriate for restaurants with a variety of menus.
There isn't enough room for numerous chefs to work together successfully.
Open Kitchen Layout
In this type of layout, customers can see the set of actions in a kitchen. Any commercial kitchen can have an open layout style – all you need is to take down the wall. But for customer safety purposes, a glass partition is usually conjured.
Advantages
Excellent to entertain customers while they wait for their meal.
Excellent opportunity to utilize a small space
Create a customized sitting area by placing bar stools.
Disadvantages
Loud noises from the kitchen can be distracting for many customers.
A cooking aura can diminish the entire ambiance of the place.
Zone Layout
A specific zone is reversed for food preparation and creation. For instance, there's a salad station, a frying station, or a pizza station. In the zone layout, different stations allow creation of multiple foods off the menu without waiting for an order to complete. Hotels commonly have zone layout-style kitchens. Catering services are also known to prefer zone layout kitchen style, especially for large events.
Advantages
Clear organization and distinct workstations for each task.
Allows for a more orderly kitchen operation.
Disadvantages
Careful planning is required to guarantee that each zone has enough space and supplies.
To maintain collaboration, communication between zones may need to be improved.
Galley Layout
In this type of layout, all working stations are placed at the perimeters of the kitchen due to the tight space. Two parallel walls are consumed for the kitchen equipment. The galley layout is mostly used in small commercial kitchens with limited sittings.
Advantages
Multiple cooks can be adjusted despite the small size.
Best suited for small trucks or cafes for more space.
Disadvantages
Not suitable for larger kitchens.
Space might be too cramped for parallel stations.
3 Steps to Create an Effective Commercial Kitchen Layout Plan
Consider Menu
Unsurprisingly, a commercial kitchen layout is designed keeping the menu in mind. The kind of food you're planning to serve is an independent factor. Therefore you will need to speak to the head chef who knows the menu and can help you determine the type of floor plan and layout that is required.
Zone Segregation
The standard dining room to kitchen area ratio is 60 to 40. The smaller part of the restaurant is reserved for the kitchen which is further segregated into workstations. When running a small restaurant, you'll have to make compromises.
The standard zone segregation includes:
Prep and baking station
Hot station
Cold station
Cleaning station
Kitchen Ergonomics
A well-organized kitchen is what a chef needs. Therefore kitchen ergonomics plays a vital role. You can utilize the open shelves and racks instead of closed cabinets. Shelving units are clever and easily mounted on the wall. Plus you can hang the necessary utensils around the workstation without needing to move them throughout the kitchen.
Transform Your Restaurants Right Away
Customers do not get to see the inside of the kitchen unless it's an open layout, but the team does. It is important to cater to the floor plan that will serve maximum space and does not hinder the kitchen staff. It's best to keep things simple to avoid any further complications in the commercial kitchen layout design. Therefore you can consult professionals for the purpose.