Finding the right home for you and your family can be a difficult task. Sometimes you find a good home, but it's in a terrible location. Other times, you know where you want to live, but there aren't any available homes for sale.
A simple solution to this problem is to build a house from the ground up. This option allows you to customize your future home to fit all of your needs.
However, you might not know how to get a house built. How do you even begin the process?
We're here to answer your questions. Keep reading for a handy guide on how to build a house on a vacant lot.
The Pros and Cons of Building a House
First, let's talk about the benefits and downsides of building a home. There are some risks to building a house, such as timeline delays and financial setbacks. Additionally, the costs of building a house are typically higher than buying an older one.
Yet, learning how to get a house built provides you with unique possibilities. As noted above, you choose the layouts of houses you're interested in. Some builders allow you to customize everything, from the type of flooring to where individual outlets are placed.
Of course, building a house also allows you to choose the neighborhood and lot based on where you want to live. Newly developed neighborhoods are often safer, cleaner, and more friendly.
Assess Your Finances and Loan Eligibility
Before you reach out to a contractor to learn how to build a house, you need to assess your budget. How much can you afford to spend on the lot and your future home?
Some home building companies have lots available, which means your prices are all-inclusive. Alternatively, you can buy a lot, then hire a contracting company to build your home.
Be sure to identify all of your costs. Building a home and being a homeowner typically includes:
Paying closing costs on your loan
Property taxes
HOA fees (especially in newly developed neighborhoods)
Utilities
Homeowners insurance
Furnishing your new home
And more
If these costs are adding up too quickly, but you like the idea of living in a brand new home, look into new construction homes. You can find out more here about new construction homes for sale.
After assessing your finances, talk to your bank and other lenders to identify your home loan eligibility. You can see how much money you can get approved for, as well as your prospective loan terms and interest rates.
Figure Out Your Top Priorities
Now that you know what you can afford, you can start digging into the details of your new home. Learning how to get a house built is just as much about the design as it is the finances.
Figure out what your top priorities are in terms of the layout of your new home and its design elements. Obviously, going all-out on high-end building materials, appliances, and other features will quickly increase your costs. However, part of the appeal of custom-built homes lies in these touches of class and luxury.
Start with the basics, such as:
Square-footage
The footprint of your home
Number of rooms and bathrooms
Layout
Room sizes
Etc.
Then, you can move onto the finer details. This is where learning how to build a home get's interesting. As noted earlier, some builders allow you to dictate every aspect of the home. You can choose:
Appliances
Countertop and cabinet materials
Flooring materials
Paint colors
Window size, placement, and design
Window treatments
Lighting (styles, locations)
And more
If you aren't someone who enjoys getting into the nitty-gritty details, homebuilders also provide basic plans that will make your life easier. This can make it much simpler to learn how to get a house built.
Find the Right Location
Next, finding the right location for your new home is just as important as learning how to build a house to your specifications. The location of your home affects so many facets of your life.
This includes your commute time, your neighbors, coding laws, and your overall safety and security. If you have children, you need to think about nearby parks and playgrounds, as well as the school district the home falls under.
Search for a Reputable Home Builder
Obviously, you can't learn how to get a house built without working with a home builder. However, you shouldn't settle on the first home builder you find. Not all contractors are created equally.
Do some digging into the local building companies to find out more about your options. Here are some factors you need to consider:
Experience
Licensing and Insurance
Customer reviews
Pricing
Services
Capabilities and styles
Availability
Additionally, find out if the homebuilders handle every aspect of the build. If not, it means they're subcontracting things like plumbing, electrical, roofing, etc. This can add to your overall costs.
Work With the Contractor to Design Your Ideal Home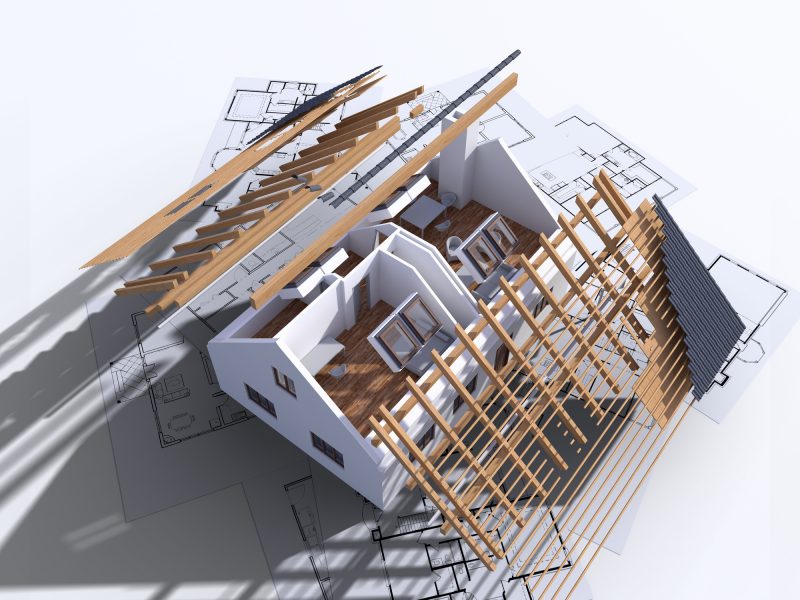 Finally, once you pick your home builder, work with them to design the perfect home for your needs. At this point, it's possible that you will have to compromise on some of your design ideas. You might also have to accept longer timelines than you initially expected.
The home you have built in your head (and the timeline) might not be plausible in reality. It may come down to a structural issue, weather issue, or financial issue. However, they will work hand-in-hand with you to help you find a solution you will be happy with.
Want More Tips on How to Get a House Built?
Not sure whether you want to build or buy? Hopefully, our guide on how to get a house built has put some things into perspective for you.
Clearly, there are a lot of good reasons to build a house, rather than buy an existing home. That being said, it's not the right option for everyone.
For more tips on how to build a house, buy a house, or remodel a house, stick around. Read through some of our other articles to find more valuable homeowner advice and information. Our blog was created to help people like you.