You might wish to set your TV above your heater or wood stove, but the only accessible wall space is an uneven stone fireplace wall. You can still learn how to install a TV wall mount on an uneven brick wall, but you'll have to spend a little more time preparing.
It may require patience and another set of hands to install a stone wall tv mount that does not have a fireplace, comparable to putting a tv mount on a brick wall.
Stones can have an irregular surface, making it more difficult to mount your television bracket than a flat drywall part. If you don't handle the television cautiously, you may be in unavoidable situations. But don't worry; we'll cover all you need to know about mounting your TV in this article.
Is It Okay To Mount A TV On Uneven Stone Fireplace?
When done correctly, installing your television on an uneven stone fireplace wall is just as safe as mounting it on a plasterboard or drywall surface. However, you may need to conduct additional prep work to ensure that the mount is flush and stable against the wall at the mounting positions.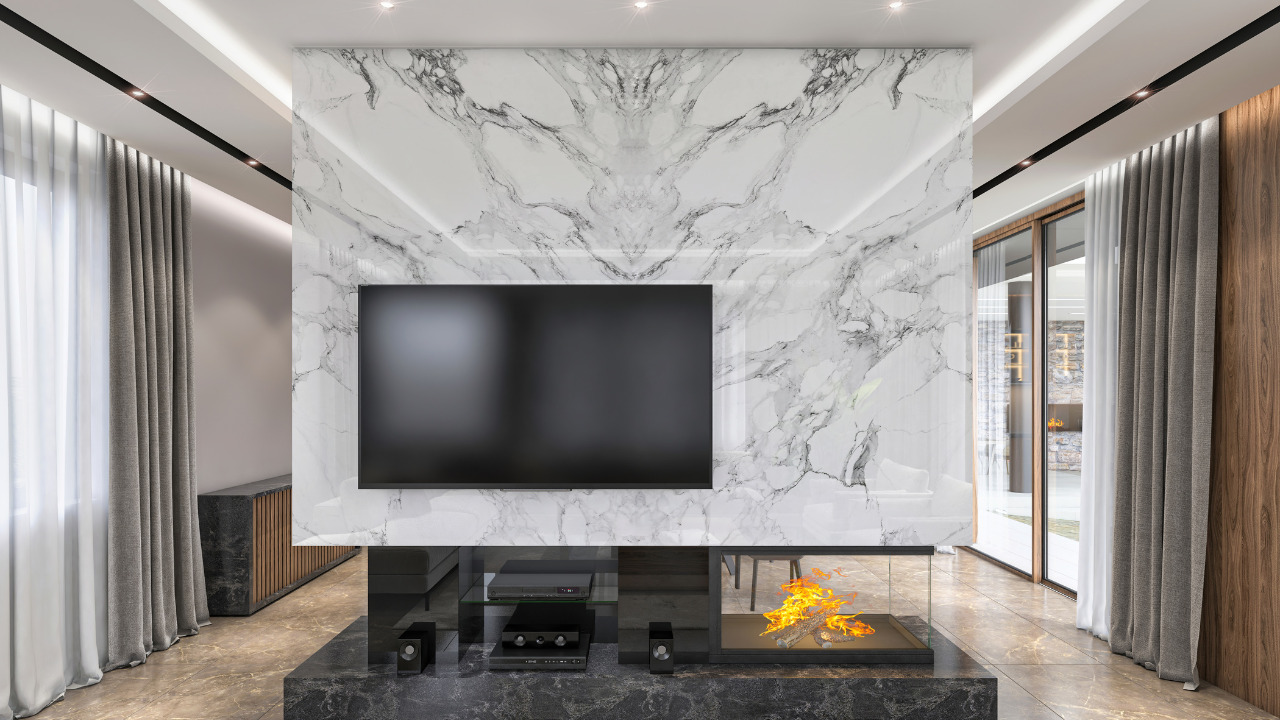 This may entail looking for stones that protrude further than the rest and chiseling them down to prevent the TV wall mount from becoming obstructed. The tough aspect is placing your television on an uneven stone wall or fireplace. It's critical to take time and methodically install your system.
Factors To Consider Before Mounting A Tv To An Uneven Stone Fireplace
A few factors to consider when a homeowner buys a TV mount for a stone wall, especially one for an uneven one.
As a preliminary step, confirm the stone's soundness and ascertain whether it is a true stone or just a façade before investing in a pricey TV mount.
The presence of studs behind a veneer stone wall indicates that simple lag bolts can likely be utilized for mounting through the wall to the studs. However, a suitable concrete anchor or masonry anchor will be required for the TV wall mount installation if the stone is genuine.
Specify Your Needs Before Choosing A Mount
Your needs will determine the finest kind of mount for you. A fixed mount will do most of the time, especially if you're hanging your TV in the living room. However, if additional flexibility is required, you can choose a different alternative that better suits your requirements.
Consider The Mounts Wisely
Consider which style of mount might improve your viewing experience before choosing one. Although static mounts, swivel mounts, and articulating mounts—typically featuring a swing arm that travels outwards—are the most popular.
After determining the mount type and structural support, you must choose the appropriate anchor type. Whether you need a concrete or sleeve anchor, you must ensure you have the right one for your application.
Remember that only some wall mounts have the right anchors for some applications. Verify that the anchor can support the necessary weight by doing as such.
Steps To Mount A TV On Uneven Stone Fireplace
Mark The Mounting Point On The Wall
First and foremost, ensure that the mounting is at the desired location. You can use tape and position it on the surface according to the size of the television. As a result, you'll have a good sense of the space you'll need for the mounting.
Then, mark the holes where the anchors will be placed using the mounting bracket. Decide on a mounting location for your TV by taking measurements and evaluating the sort of wall you're working with. You can mount it on any concrete or stone surface.
If you want to fix the timber framing behind you, you'll need an electrical sensor to locate the studs.
Use Stud Spacing And Appropriate Framing
In the case of imitation stone walls, be sure your chosen mounting location aligns with regular wall stud spacing. Plot a hole or drill a hole with the help of a masonry drill. Check the hole's size after drilling to see if it fits the diameter of the cement anchor.
Drill a new hole if the first one doesn't match the cement anchor. It will be tough to drill to the correct capacity but strive to do so.
Mark The Space For Cable
Make a hole in the wall where your cabling may be snaked through and returned to your power bar or electric access point. Place the cement anchor in the hole using the hammer.
Furthermore, apply masonry epoxy to the anchors for more firm support and ensure they do not fall. This will secure the anchors. Wait until it has completely dry before proceeding.
Install Mounting Brackets
It's now time to put the mounting bracket on this. You'll need the screws to remember the mounting bracket's size. Before buying the screw, tighten it using the socket wrench. If your television comes with a stand, unfasten the screw from the television.
Now is the time to mount your television. Connect the mount to the television first. Then tighten the bolts into the frame connected to the stone via the attached mounting bracket. Finally, hoist the television and connect it to the wall using a mounting bracket. To support the mounting bracket, you can use a clip or slot.
Use A Cable Concealer To Hide Wires
After installing an electronic item, particularly a television, the biggest issue is that several cable wires connect to it, giving your room a dusty appearance.
But there is a solution: get a cable concealer and easily attach all of your wires, giving you a neat appearance and safeguarding you from any hazard. You can even spray-paint it to match the fireplace's color.
Static Mounts Are Suitable For TV Mounting On Uneven Stone Fireplaces
Consider which mount style would be ideal for your viewing experience when choosing the mount. Although static mounts are the most popular, swivel and articulating mounts, which usually incorporate a swing arm, may provide greater TV viewing.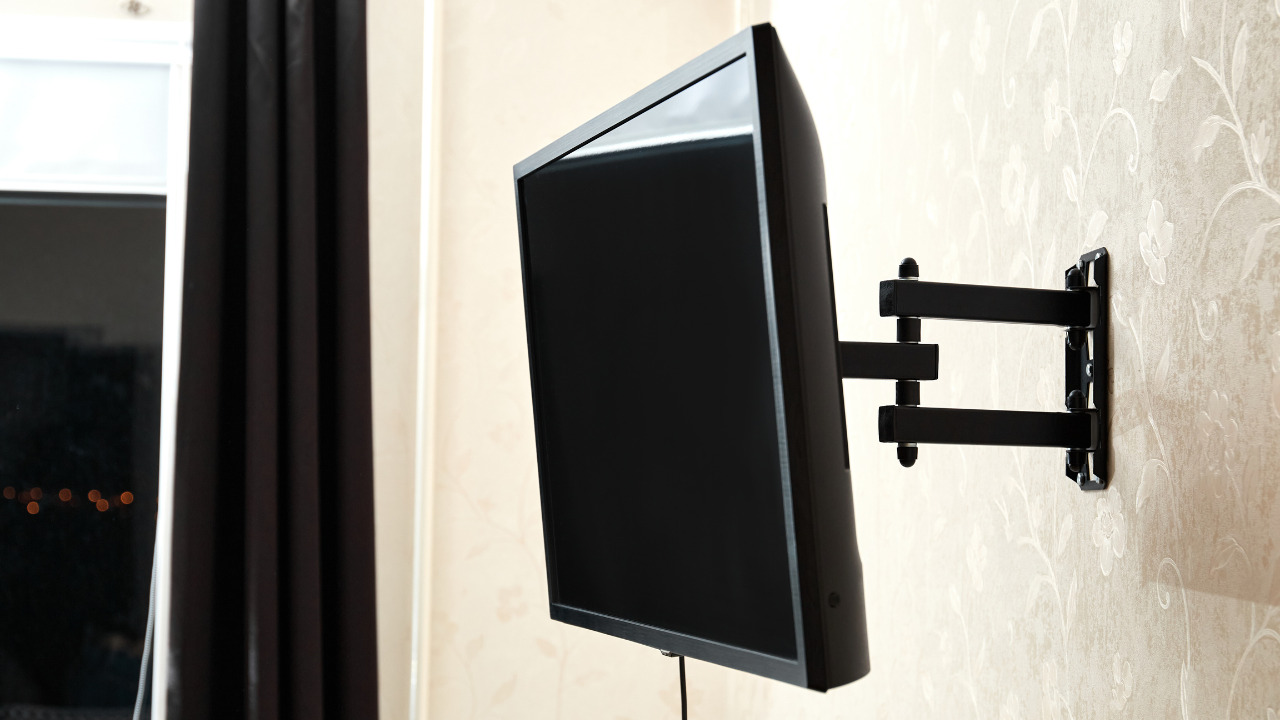 Following your decision on whatever mount style you choose, another factor to consider is the structural support behind the stone wall. To choose the correct anchor, you must first determine the type of support behind the wall.
Hire Professionals For TV Mounting Services
You can spend less on labor by managing your TV installation. The size and weight of your TV may mean that after you've screwed in the mount, you'll probably need at least one more person to help you hang the TV.
Even though DIY projects can be cost-effective, it's frequently preferable to leave certain jobs, like mounting a TV over a fireplace, to the professionals to prevent additional expenses for TV repair. Professionals with knowledge and expertise in wall mounting can ensure that your project is completed correctly and safely.
Despite the greater expenses, using a TV mounting specialist could give you much-needed peace of mind.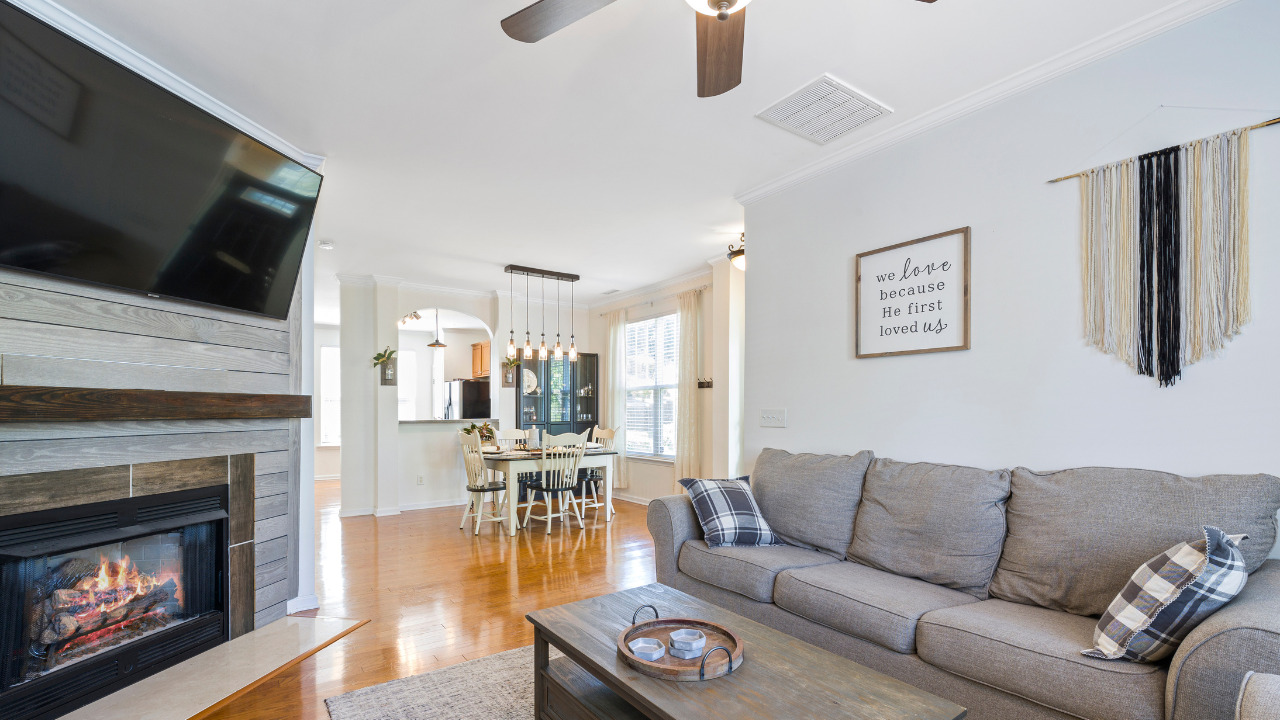 Final Thoughts
This article describes the simplest steps for mounting a television on a stone fireplace. But be cautious when installing it, and ask someone to assist you if you don't understand what you're doing. On the uneven stone wall, try to pick the most even area while having a depth adjuster as a workaround.
Purchasing hanger bolts, washers, and nuts would be the simplest way to cope with the uneven stone wall. The nuts can modify the wall mount after installation to make it flatter or plain.