Did you know that high ceilings are linked with a psychological sense of freedom and creativity?
People also love them for their grandeur and dramatic appeal. Also, higher ceilings make a space look bigger and whatnot. All these reasons make high ceilings a preferable option over other ceiling types.
No matter if it's a cathedral or vaulted ceiling, you can always choose them for your traditional and trendy homes. To match them perfectly with your existing interior, people consider different decor options for high ceilings. Painting your high ceilings is also one of the popular decor options.
Panting can act as an element of visual interest that can further enhance the visual appeal of higher ceilings. But the question is how to paint a high ceiling. Well, painting higher ceilings is different from painting a suspended or flat ceiling. The painting job can be tougher than you think and goes more than just picking up the right tools.
You want to paint your ceiling but don't know where to start. Don't worry you are not alone in this. To simplify it for you, let's walk through the journey of painting high ceilings.
How to Choose Paint for High Ceiling
The first step in painting your high ceiling is probably the most important step. Choosing a paint can be more difficult than you think yet important. You have three basic options to choose from when we talk about paint selection:
Same paint color for both ceiling and wall
Darker ceiling with lighter walls
Lighter ceiling against darker walls.
Choosing from these options depends on your room size and your desired outlook. You can opt for an all-white color because it makes your space look natural. It is also recommended to use darker paint for high ceilings such as vaulted ceilings in combination with light walls. This is because dark color paints will make the room feel cozy and will enhance its dramatic appeal. So, from soft black to dark grey, you can choose any color of your choice.
5 Easy Steps to Paint High Ceilings
Whether you have to paint a cathedral ceiling or paint a vaulted ceiling, the basic painting process remains the same for all high ceilings. Once you choose the paint for your ceiling, now it's time to perform the painting job. Here is the step-by-step procedure for painting high ceilings in your homes. 
1. Collect the Right Tools and Equipment
The first step in painting a high ceiling is to gather the right equipment and materials. Some of the painting essentials you'll need are:
Paint roller brush (frame + cover)
Paint tray
Angled paint brush
Ladder/ scaffolding
Gloves
Painter's tape
Drop cloth
Paint and/or primer.
2. Clear the Room
The next step in painting a high ceiling is to clear the room first. Whether it's a living room or a bedroom, clear the space first to prevent mess and minimize the chances of damage to your valuable items. Here are tips to consider while clearing your room for painting purposes.
Take all the furniture out or move it in the center of the room
Remove all the decorative items from the walls
Use a drop cloth to cover the floor and items that are too heavy to move
Clear the corner of the ceiling using TSP (trisodium phosphate) in warm water to remove any cobwebs
Mark the ceiling boundary using painter's tape
Also, cover the ceiling fans or light holders to save them from extra drips
3. Prime/ Paint the Ceiling
Now it's time to climb the ladder and start the work. Some ceilings need the primer layer before painting. Pour it into a paint tray and start the painting process. Here is how you can paint your ceiling effectively.
Use a roller and extension pole to apply the primer.
Dip the roller in the paint tray and make sure that it is evenly covered with the paint.
Start with the ceiling corners and edges bringing paint up against the tape.
Now start making overlapping 'W' strokes. Move the roller from right to left and left to right to create horizontal strokes.
Apply less pressure on the edges to prevent the formation of the line when it overlaps with adjacent paint.
Repeat the 'W' strokes and cover the whole ceiling surface.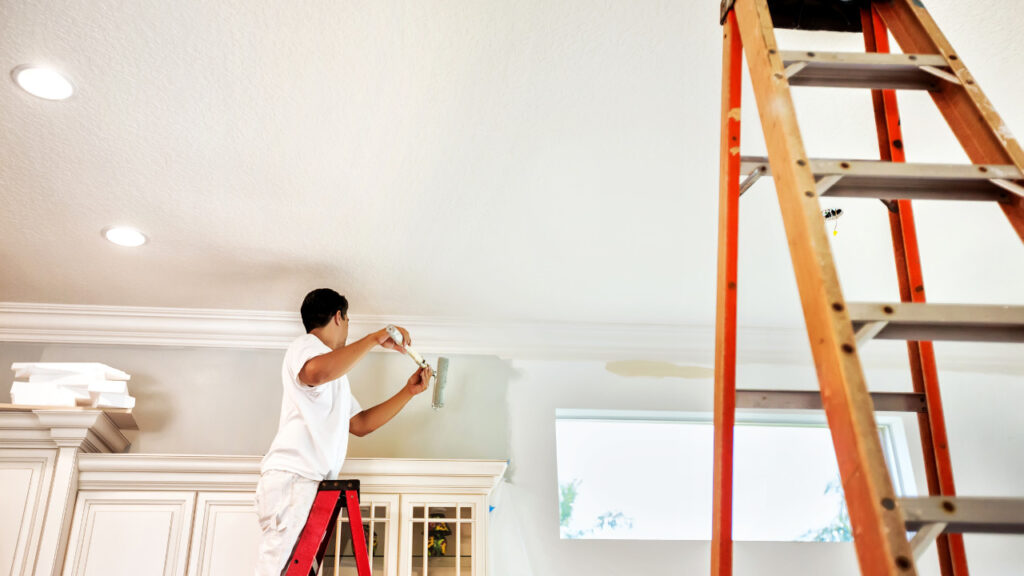 4. Finish the Ceiling
Once you have painted the whole ceiling surface, it's time to finish it. Check the ceiling for any missed spots, overlaps, or correction areas using a bright light. Remove the painter's tape by pulling it off gently from the ceiling surface. Wait for a few hours to let the ceiling dry. For the best results, make sure to follow the expert tips on DIY painting projects.
5. Clean Up
The last step of the cleaning process is to remove any mess left behind. Dispose of the remaining paint, clean your tools by rinsing them with water, and pick up the drop clothes without spreading any paint.
Time to Upgrade Your Ceilings with Paint
High ceilings are a preferable option for both modern and old residential places. These ceilings can be easily upgraded with paint. You can do the painting job as a DIY project and follow the right sequence to paint to perfection.
However, the task can be quite challenging, especially if you are doing it for the first time. Painting a ceiling not only requires the right tools but the right skills for a neat finish. It can be even risky as paint spills can be quite slippery. So, if you don't feel like doing it on your own, you can trust professionals for the best painting services, that too without creating a huge mess.