Painting over wallpaper is a practical and creative way to give your home space a fresh new finish and appearance. Whether the wallpaper is patterned, peel-and-stick, or simply outdated, you can give your walls a makeover by following easy steps for painting wallpaper. So, how to paint over wallpaper?
Let us walk you through step-by-step guidelines and instructions for painting over wallpaper. Moreover, we will discuss whether it's advisable to paint over wallpaper and when not to paint wallpaper.
6 Easy Ways to Prepare for Paint Over Wallpaper
Proper preparation and knowledge about the process are essential before painting your walls. Following are some of the easiest ways identified to achieve the best results when painting over wallpaper.
1. Inspect and Clean the Walls
Firstly, thoroughly clean the wallpapered walls to remove any dirt, dust, or grease. Secondly, inspect the walls for any peeling edges or damaged surfaces.
If you observe any peeling or damaged areas, glue them back in place carefully using the wallpaper adhesive.
2. Smooth Out Bubbles and Wrinkles
Before starting the painting process, ensure a smooth and even wall surface. For that, you can use a wallpaper roller to smooth out bubbles or wrinkles in the wallpaper.
Furthermore, if you notice any old paint, you should carefully remove the paint from the wallpaper to smooth it out.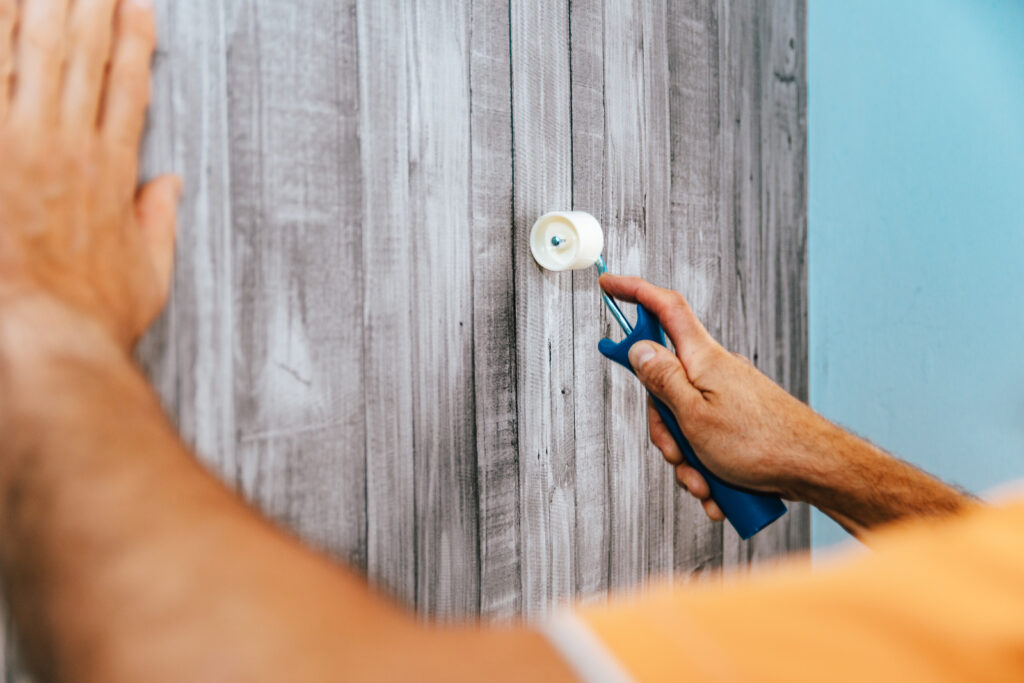 3. Apply a Primer to Cover the Wallpaper
A primer is a great way to prevent the wallpaper's pattern or color from bleeding and seeping through the paint. Select a high-quality primer that can do a good job of covering the wallpaper and preventing it from paint damage.
4. Fill the Gaps or Seams in the Wallpaper
If you notice any gaps or seams in the wallpaper, cover and fill them using a spackling compound. Sand the filled areas till they get smooth. After that, level the rest of the wall with a roller.
5. Choose the Right Paint for the Walls
Depending on the wall surface, opt for high-quality latex paint suitable for the areas to be painted. To best hide the imperfections on the wallpaper, go for matte or satin finishes.
6. Select a Painting Technique
The last step is to select a painting technique. For large, open areas, you can use a roller. For the corners and edges of the walls, choose a paintbrush.
Carefully apply thin coats of paint to avoid buildup or paint drips. Allow the coats sufficient time to dry before applying the next.
9 Steps to Paint Over Patterened or Peel and Stick Wallpaper
Plain walls or wallpapers that are years old can give your living space a dull look. You can either install new wallpaper or simply paint over the old ones. It can give your living space a fresh and updated look.
Patterned wallpapers bring a personal style and vibrancy to any room. On the other hand, peel-and-stick wallpaper offers a convenient and easily-removable way to decorate your walls.
Let's breakdown in detail the steps to paint over either patterned or peel-and-stick wallpaper:
1. Evaluate the Wallpaper Pattern
Check your pattern on the wallpaper closely before starting the painting process. Consider the wallpaper pattern's color, size, and complexity. If you have a lighter and simpler pattern, it will be easier to manage when painted over.
However, if the pattern is bold or intricate, you may find it challenging to cover it completely with paint.
2.Gather Your Paint Supplies
Check your toolbox to see if you have all the necessary supplies before you start painting over patterned wallpaper. The supplies include:
High-quality primer with stain-blocking properties
High-quality latex paint and matter/satin finish (depending on your preference)
Paint tray and paint roller
Paintbrushes (small and medium sizes)
Painter's measuring tape
Plastic sheets to protect the floor and furniture
Sandpaper
Paper towels or clean rags
Wallpaper adhesive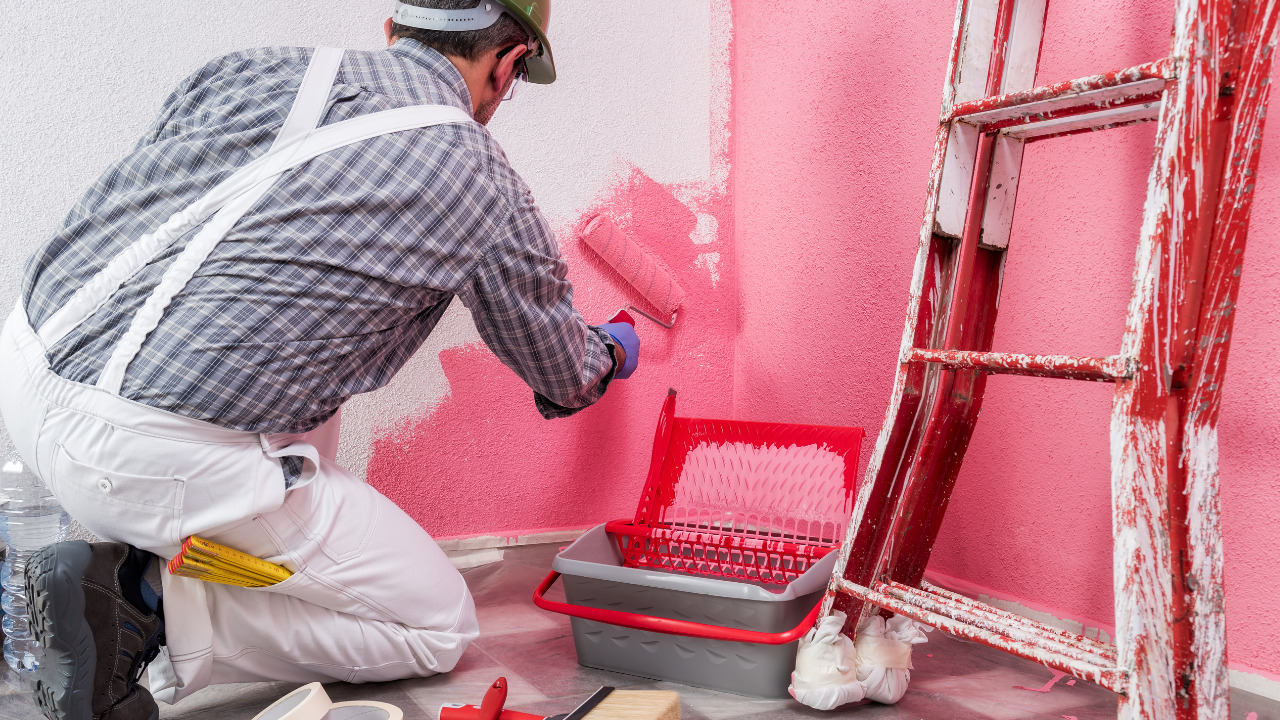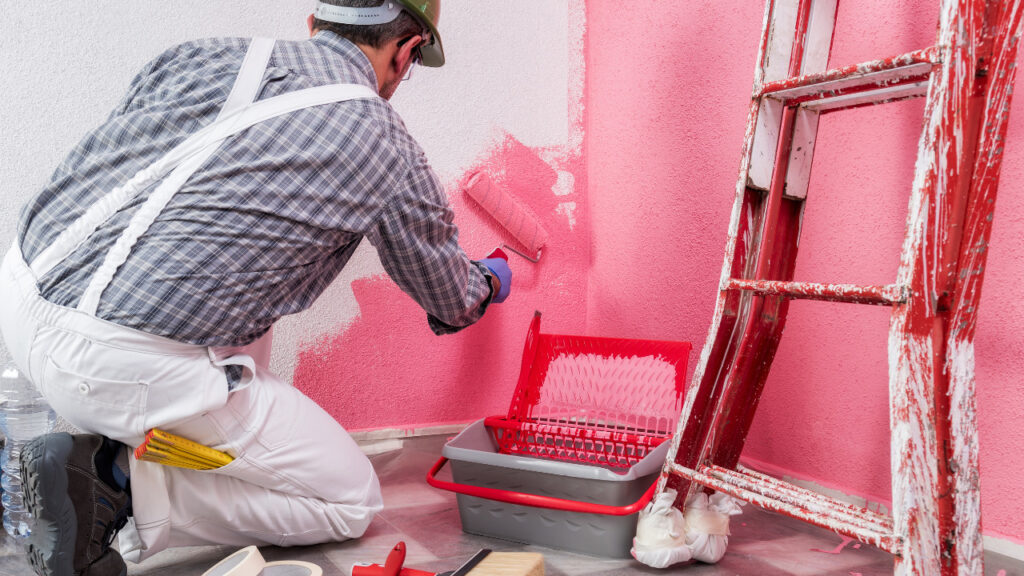 3. Prepare the Room
The best way to paint over wallpaper is to prepare the room first. Do a thorough cleanse of the room as much as possible. Remove all the furniture and décor items from the walls. If you can't move heavy furniture, cover them with plastic sheets to protect the furniture and the floor.
4. Clean the Wallpaper
Take a mild detergent and mix some water into it. Use this to clean the wallpaper thoroughly. However, you can use a soft cloth or sponge to scrub dirt, dust, and grease.
Before proceeding to paint, let the wallpaper dry completely.
5.Apply the Primer
For peel-and-stick wallpaper, apply a thin coat of primer before painting. You can also use ceiling paint as primer. 
However, refrain from oversaturating the wallpaper with primer, as it can affect the adhesion. Let the primer dry according to the label instructions.
6. Test a Small Area
It's better to test the primer and paint on a small wallpaper area before you commit to painting the entire wall. Carrying out this step will determine if the paint adheres well and cover the pattern effectively.
If you find the results satisfactory, proceed with painting.
7. Apply Paint
Finally, it's time to apply the paint over the wallpaper. Start by using a paintbrush on the edges of the wall. After that, use a roller and apply thin paint coats to the wider areas. It's best if you know how to paint a wall with a roller. 
Remember, it's best to prefer multiple thin coats than applying one thick coat. It will help you achieve a smoother finish and prevent paint from dripping. Let each coat dry completely.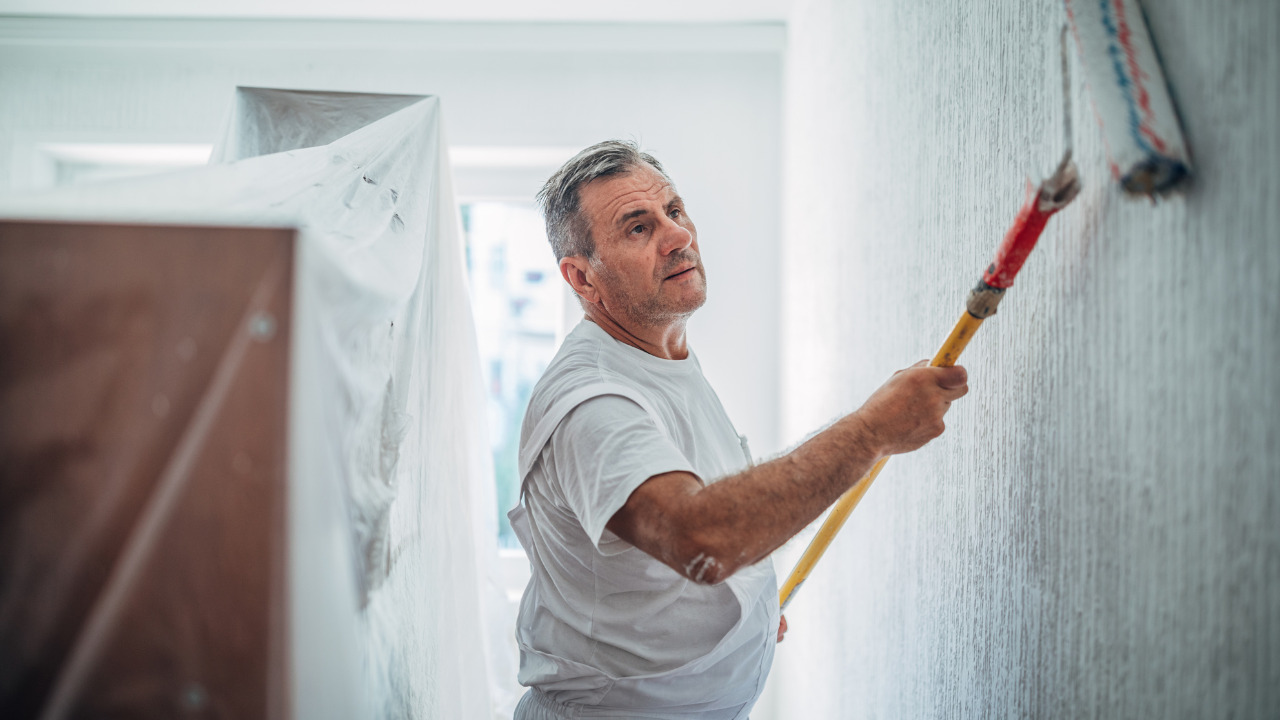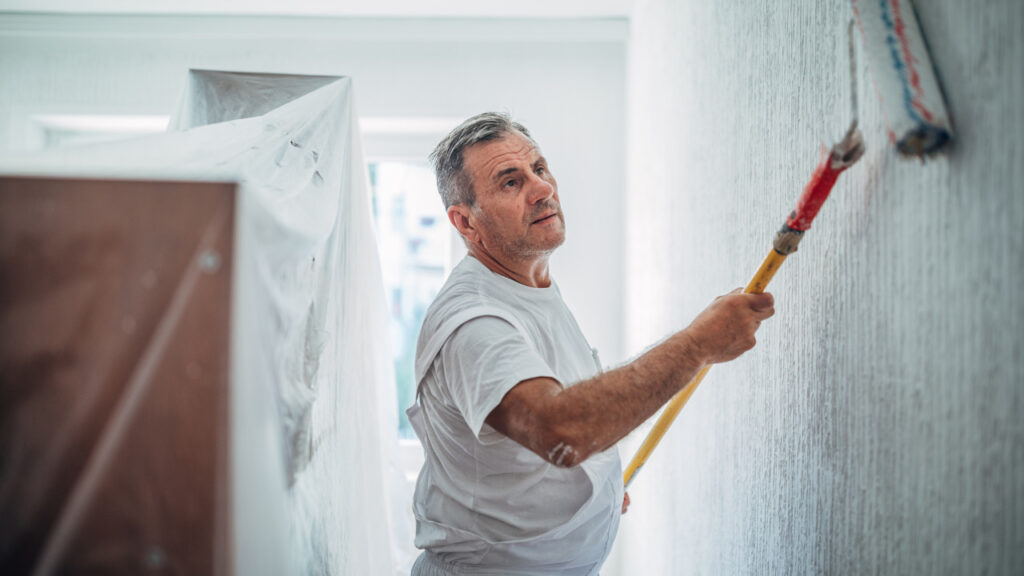 8. Inspect and Touch-up
Once the final paint coat gets dry, inspect the wall for any areas where the pattern may still be showing.
If you find any, apply additional paint coats. Always use a small paintbrush for touch-ups. It ensures a seamless transition between the painted areas and any edges or corners.
9. Remove Painter's Tape and Clean Up
After the painting, remove any painter's tape you adjusted to protect the surfaces. However, you should be careful while removing the tape as it can pull off any fresh paint if removed hastily.
Properly dispense off the plastic sheets, cleaning brushes, or rollers, and clean up your workspace.
4 Conditions When Not to Paint Wallpaper
Painting over wallpaper is a creative solution to bring aesthetics to your living space. However, it's not advisable in some scenarios.
Let's understand the situations when not to paint wallpaper. It will help you decide whether to paint your wallpapers or consider alternate options.
1. Severely Damaged Wallpaper
If the wallpaper has extensive damage like peeling, bubbling, or tearing, painting over the wallpaper will not yield good results.
If you paint it over damaged wallpaper it will affect the appearance. Moreover, the paint may not adhere properly to the bubbling or wrinkled surfaces.
In such a scenario, remove and replace the wallpaper before painting.
2. Highly Textured Wallpaper
Sometimes, the wallpaper can get textured or embossed surface due to various reasons, like moisture or humidity etc. The texture can occur due to ruined paint adhesion. If that is the case, you can find it challenging to paint over such areas effectively.
However, if you still paint over the textured wallpaper, it may accumulate in the crevices. It will make it hard for you to get a smooth and even finish.
3. Moisture and Humidity Prone Areas
Some places in the house such as basements, kitchens, and washrooms are extremely prone to moisture and high humidity. If the moisture gets in, the wallpaper adhesive can weaken, leading to bubbling or swelling in the wall.
Moreover, humidity can compromise the paint's durability. It can lead to peeling and chipping of the wallpaper.
4. Unstable or Loose Wallpaper
An unstable or loosely-hanging wallpaper can ruin the paint as well. If the wallpaper is not securely attached to the wall or has noticeable loose edges and corners, you should never paint over it.
Even during wall painting, the brush movement over wallpaper can cause further detachment and uneven paint application.
Renovation Starts with Paint
If you want to transform your home in a cost-effective manner, painting over wallpaper is a budget-friendly way to do so. However, assess your wallpaper's condition before starting your project, as the outcome depends on it.
You can now confidently start painting over wallpaper at home project. The guidance provided in this article is enough to understand when to paint and when not to.