Shiplap is an excellent way to make a bold statement in your house. It adds character to the ambiance your house has, and you can easily personalize it with the paint color of your choice. Whether it's faux or real, the way to paint shiplap is the same. Let's explore in this article how to paint shiplap and find out what paint colors will work the best.
6 Essential Tips to Know Before Painting Shiplap
Shiplap is a wooden board that you often install on the surfaces you want to give a rustic look. Traditional shiplap has a groove cut into the top and bottom, allowing the pieces to fit together and form a tight seal. This also gives shiplap it's distinctive appearance, with subtle horizontal reveals between each piece.
Now, how do you paint shiplap? Don't forget the best part: you can do this yourself. Check out these five easy tips for easily painting shiplap:
1. Get a Primed Shiplap Board
If you want to paint the shiplap instead of just staining it, a primed shiplap is the way to go. You can prime the boards yourself. However, you can get the boards primed for not much of a price difference. It will save you time and money.
A primed shiplap board will give the paint a smooth surface to adhere to. It also radiates a nice overall finish.
2. Materials You Will Need
You will need the following materials:
Spackle
150-grit Sandpaper
Paint Sprayer Cup Liners
Primer
Paint
Caulking
Gather the following tools:
Putty Knife
Sanding Block
Painter's Plastic Sheeting
Painter's Tape
3. Paint the Shiplap Boards Before Installing
Now here comes the big concern: do you paint shiplap before or after installation? Well, the best way to paint shiplap if you use a color other than white, is to paint the boards before installing them on the wall. It's just like painting a vinyl siding. 
However, if you want to paint a shiplap wall that's already been installed, you can still paint it.
4. Paint Shiplap Walls Using a Sprayer
You have the option to paint the grooves in shiplap by using a paint sprayer. This idea is valid for when you paint a shiplap wall that's already been installed.
You can use a paint sprayer for wooden surfaces or an airless sprayer to paint the cracks in the shiplap. A sprayer will give the shiplap great coverage and make your shiplap painting fast, easy, and effortless.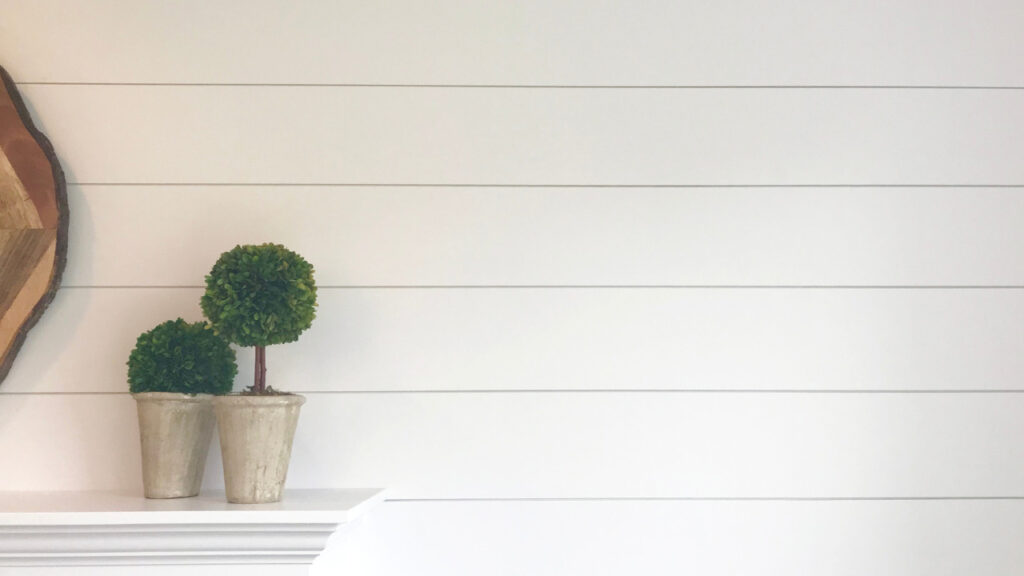 5. Give Shiplap Two Paint Coats for the Best Results
When you are painting shiplap, you need to apply two paint coats to get the best results. It doesn't matter whether you use a sprayer to paint or do it by hand. Two coats of paint will give it a smooth finish.
Another question arises: should you roll or brush shiplap? You can use both a roller and a brush, but a foam roller is recommended for a nice paint job without much texture.
Furthermore, what sheen of paint do you use on shiplap? You can use different types of paint designed for exterior or interior surfaces. However, a professional will recommend a semi-gloss because it gives great coverage and you will find it easy to clean.
Matte is the most popular sheen for shiplap. If you don't want the shiny finish of semi-gloss, you can try a satin sheen.
6. Don't Forget Trimming the Paint
Another query that often pops up is should shiplap and trim be the same color? This decision is totally up to you. You can have it all in one color. However, a lot of people choose a color for the shiplap and then stain their trim or paint their trim white.
If you want a different color for the shiplap, then make sure to paint both the shiplap and trim with two coats each before installing them on the wall. You can use an angled brush or a small roller for this step.
Once again, if you are working on a shiplap wall that's already been installed, you can use a paint sprayer. Just make sure to tape off the room, including the trim. It will prevent paint from getting somewhere accidentally if you don't want it.
How to Paint Different Kinds of Shiplap?
The type of shiplap you have chosen for your house will dictate how should you paint it. Some types have overlapping grooves that are harder to paint than faux shiplap. On the other hand, some have deep crevices that make it difficult to paint between boards.
Let's walk through each type of shiplap painting method to see how you should plan your painting project:
1. How to Paint MDF Shiplap?
MDF shiplap is sleek, shows no sign of wood grain, and is easy to install. It is a tongue and groove style shiplap, which means you have no visible wall showing through the cracks.
If you are installing MDF shiplap, you can either pre-paint the tongues with a paintbrush or use a paint spray after installation.
If you choose hand painting, you can simply trim this type of wall molding with a brush and roll on the paint like a normal wall. However, it's best if you pre-paint the shiplap cracks.
Once you get all of the MDF on the wall, you may find it difficult to get a paintbrush through the small crevices. By pre-painting these small cracks, you can save yourself some frustration after installation.
Now, what to do if you have already put it on the wall, you can still paint shiplap cracks with a paintbrush. It will make it easier to cover the small spaces. Once you finished painting the cracks, simply trim and roll the rest of the MDF as usual.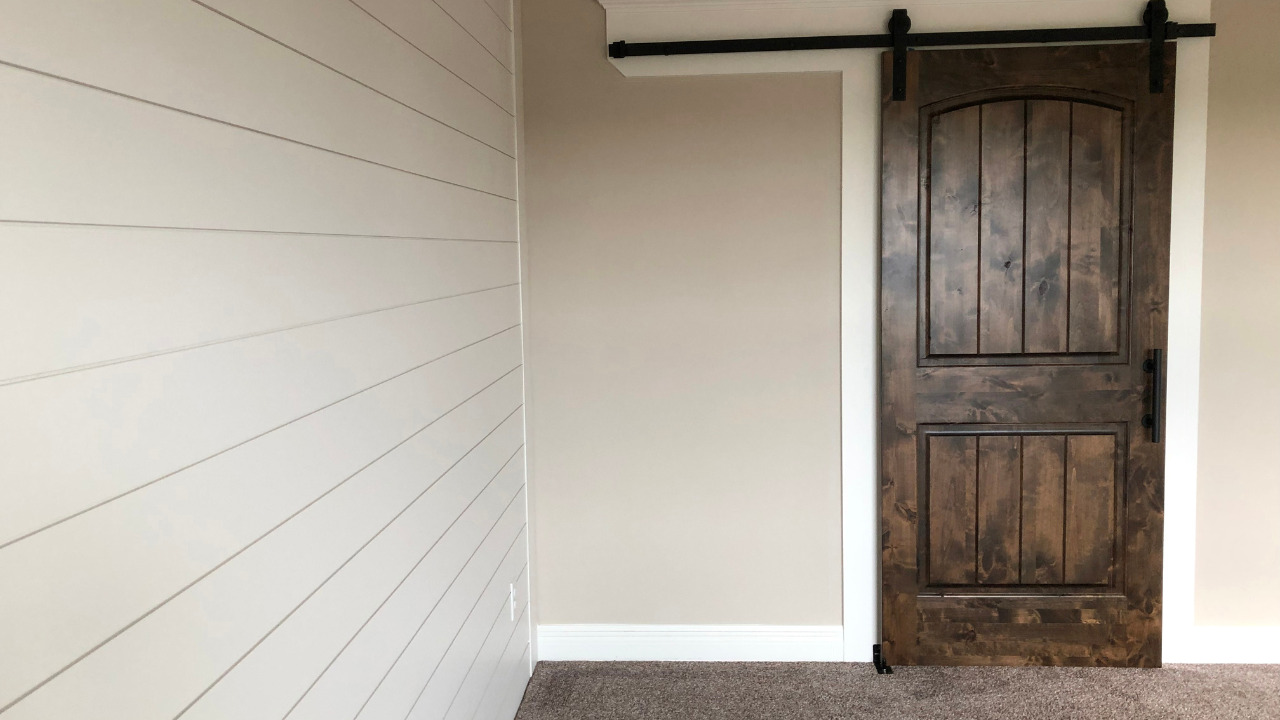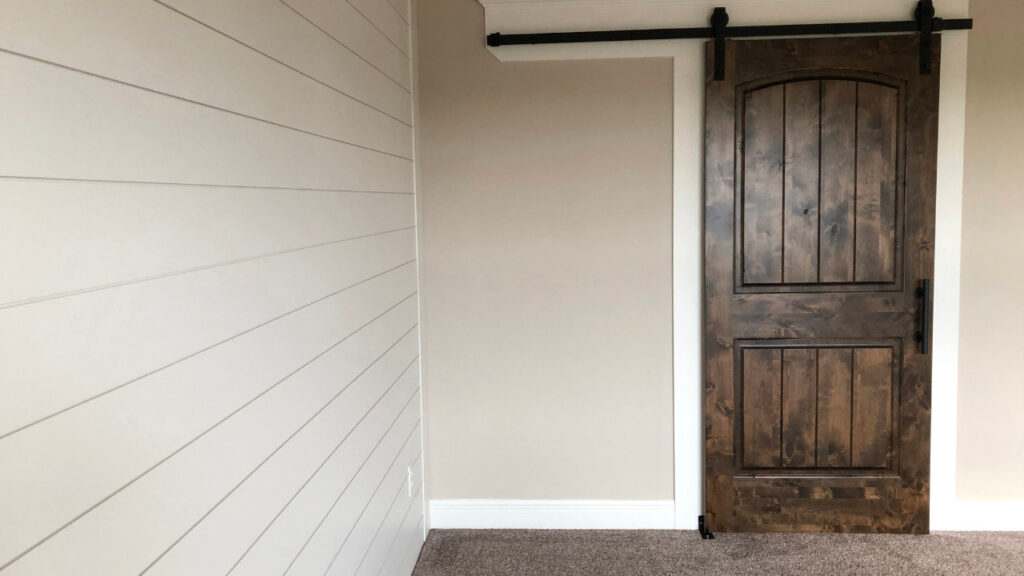 2. How to Paint Cedar Plank Style Shiplap?
If you are hand painting cedar planked walls, you will know it's not for the faint of the heart. You will need to hand-paint each groove in addition to cutting in. Afterward, you can paint the wall surface with a roller.
If you are painting a small shiplap, hand painting is doable. If it is large, you can use a paint sprayer or hire a professional. It will cut down on time as well as provide a cleaner finish. If the paint gets old, you can easily remove it just like from the vinyl siding. 
3. How to Paint Tongue and Groove Style Vertical Shiplap?
The best way to paint a tongue and groove style vertical shiplap is to spray paint it after installation. The spray paint gets into the grooves so much easier than hand painting and gives the shiplap a nice coverage. The paint job will be a nice, smooth finish if you know how to spray paint wood.
The paint sprayer might be tricky and needs practice to use. However, you will find them much easier to use than hand painting. Make sure to get a paint sprayer that offers two different spray nozzles. It comes in handy when you are painting furniture, so you can easily switch to the nozzle type you want for your paint finish.
Transform Your Space with Beautifully Painted Shiplap
Whether you are installing a shiplap to your dining room to create an accent wall, updating your living room hearth, or adding extra rust to your bathroom or bedroom, painting a shiplap can give it an extra glare.