Earthquakes can be just as destructive as they are difficult to predict. Living in a location that is prone to earthquakes can be a scary thought. You may feel on edge or nervous about when disaster will strike.
While there's no way to know for sure when an earthquake will come, there are some ways you can protect yourself and your home from these natural disasters. Taking safety precautions to protect your belongings can reduce damage to your home. And if all else fails, policy options like earthquake insurance coverage can help you avoid paying the damages yourself.
If you live in an area that sees frequent earthquakes, there are some ways you can prepare to keep your home and your belongings as safe as possible.
Secure Potential Safety Hazards Around Your Home
One of the first and most essential steps to preparing your home for an earthquake is to check for safety hazards. Even everyday items you may not think twice about — like ceiling lights and shelves — can become a considerable hazard if an earthquake strikes.
If you have these things in your home, be sure they are highly secure. Attaching them directly to your walls or ceiling with heavy-duty items like metal brackets or thick wiring is recommended. Safely securing these items reduces the risk of falling during an earthquake and causing injury.
You can also use wall anchors to secure heavy furniture on your floors, such as dressers, cabinets, and couches. It's not uncommon for these items to topple over or move during an earthquake. When this happens, they can not only cause massive damage, but they can potentially cause injuries.
Securing safety hazards can ensure you and your belongings stay as safe as possible if an earthquake strikes.
Keep Valuables and Heavy Objects in Safe Locations
Some items in your home hold high sentimental or monetary value. If these items are easily breakable, it's essential to store them properly in case an earthquake occurs.
Placing larger, easily breakable items on lower shelves that have been secured can lower the risk of potential damage. You can take things a step further by using velcro or museum putty if you have valuables like vases or glassware. These tools allow you to secure your items to the bottom of your cabinet and lower their chances of moving around and breaking.
You should also place heavy objects on low shelves in case they fall during an earthquake. If these items weigh enough, they can cause injuries or further damage to your home. Keeping them on a low shelf ensures they can't cause too much harm.
Take Precautions to Avoid a Fire Hazard
When many people think of an earthquake, they likely don't associate it with fire. However, the movement of earthquakes can often lead to fires if proper preventative measures aren't taken.
Faulty wiring can become damaged during an earthquake, leading to a house fire in a short amount of time. To avoid this risk, be sure to have an electrician come out and check all the wiring in your home. They will inform you of any potential hazards that need to be addressed.
Gas leaks can also be a common cause of fires after an earthquake. Gas lines are often dislodged during all the movement, causing gas to leak into your home. From this, a fire can be quickly started and cause massive damage.
To avoid this, consider installing an earthquake shut-off valve on your gas lines. When seismic activity is sensed, the gas in your home will automatically be shut off. Even if your gas lines are dislodged, you won't risk gas seeping into your home.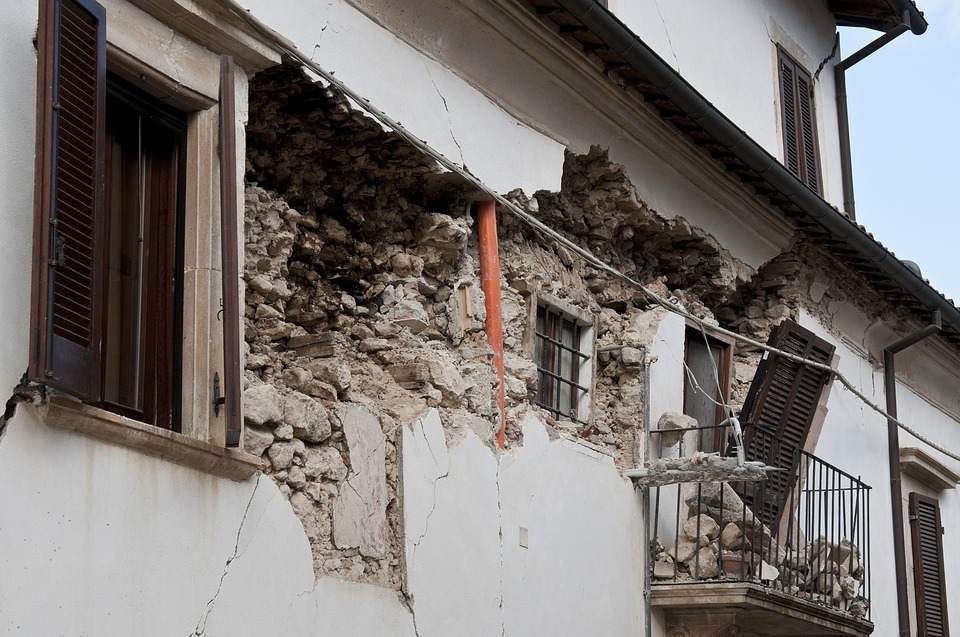 Be Aware of Structural Damage Before an Earthquake Strikes
Many people are aware of the damage an earthquake can cause. When trying to protect your home from destruction, it's best to ensure you have a strong starting point.
If your home has structural damage, this will only be worsened by an earthquake. Cracks in locations like your foundation or walls are a cause for concern when no earthquake is present; however, when one strikes, these pre-damaged areas can become extreme destruction.
Not all earthquakes are strong enough to cause extreme structural damage. But if you have existing damage, it may open the door for a much weaker earthquake to cause destruction.
Contacting a professional to assess your damage and repair it before a potential earthquake can help lessen the possibility of heavy damage to your home.
Purchase Earthquake Insurance to Help Cover Costs
You can't ensure you won't see any damage if an earthquake strikes — even if you take every precaution possible. To avoid paying for repairs and replacements out of pocket, you can opt to purchase earthquake insurance.
If you live in an area prone to these natural disasters, you will need to add-on this coverage to your existing home insurance policy. However, the additional cost is well worth it if you find your home damaged after an earthquake.
With this policy, you'll receive coverage for damages to your home and personal property, allowing you to repair and replace ruined belongings. You will also receive compensation for additional living expenses if your home is damaged and deemed uninhabitable.
Purchasing insurance coverage for an earthquake may not be the first thing on your mind when you consider preparing your home, but it is an essential step. Without coverage, you could find yourself paying massive expenses without any assistance.
Preparing Your Home For Possible Earthquakes
Living in an area prone to earthquakes can be unsettling at times. These natural disasters are unpredictable, destructive, and dangerous. While you may not be able to know when they are coming, you can take steps to keep yourself and your home safer in the event of an earthquake.
Taking precautions like securing safety hazards, locking down valuables and heavy objects, preventing potential fires, and being aware of existing structural damage can significantly reduce your chances of extreme destruction if an earthquake strikes.
If all else fails, having insurance coverage to assist in the costs of replacing and repairing your home and belongings can make a massive difference.
Alexandra Arcand writes and researches for the insurance comparison site, Clearsurance.com. She is an insurance expert who enjoys helping others keep themselves safe from natural disasters.