Bored of your kitchen giving a dull vibe? It's probably time for a kitchen remodel plan.When it comes to revamping, there is nothing better than changing your old kitchen cabinetry and moving with the trend of white kitchens. Well, white kitchen cabinets are all the rage these days. This is a popular trend since the 1980's and is ruling the world. There are multiple reasons behind the popularity of white kitchen cabinetry including their simplicity and versatility.
Once you get the white cabinets installed, the next big thing is to decide appropriate flooring options for your kitchen. But what floor looks the best with white cabinets?
Well, you may find it overwhelming to find what floor type will best with the white cabinet work.
Let's find more about choosing a floor type for your white cabinet.
5 Best Floor Designs for White Kitchen Cabinets
Whether you are aiming for a modern kitchen or a traditional one, be mindful that your kitchen remodeling idea makes all the difference. Following are some of the best options you can consider while revamping your kitchen with classic white cabinets.
1. Light Colored Wooden Floor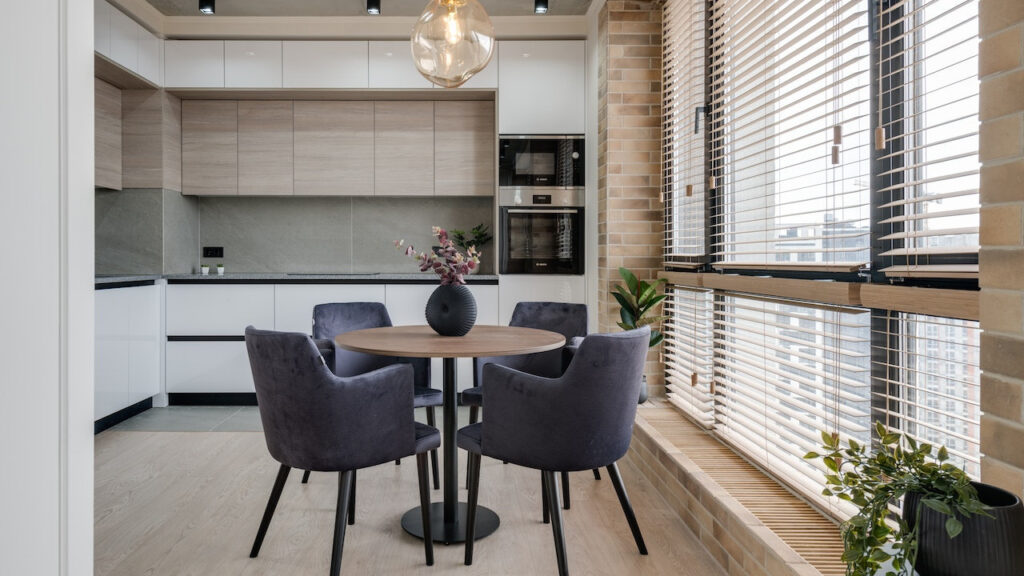 Light wooden floors known for their sturdy, sleek and subtle look are one of the best flooring options that goes well with your white kitchen. Wood, being the durable material, serves as the best flooring material.
Some of the reasons behind the popularity of these wooden floors are:
They add the element of visual interest in a space.
It's good at hiding scratches and other imperfections.
Wood flooring is easy to maintain as it is easier to clean just like cleaning the cabinets.
Light color of wooden floors increases the brightness within a room.
Through illumination, light wood floors create an illusion of space.
You can easily match with a variety of interior styles.
All of these benefits make it a perfect choice for the white kitchens. While choosing a wooden floor for your kitchens, you have a wide variety of woods to choose from such as red oak, maple, white oaks, white ash, etc. Red oak floors are a fairly common type of wooden floor that complements the white kitchen theme.
2. White Marble Tile
Love the look of white marble floors? Marble has been quite a popular construction material since Ancient Greek Times.
These marble tiles make an ideal flooring option when you are looking for an elegant interior. No matter if it's your bathroom or kitchen, white marble floor can always be your go-to option. These, white-marble floors can also go well with the white cabinets in your kitchen.
Some of the benefits of using white marble tiles for your kitchen are:
Marble gives a unique appearance to your kitchen.
The material is known for its strength and durability.
It makes any kitchen look spacious and bigger.
Marble works as a great insulator so keep your kitchens warm during winter and cool during summers.
This flooring type is low-maintenance as you can clean with a moist mop.
Marble tiles for kitchen floors are also an eco-friendly option you can go after.
The only downside of using marble floors for your kitchens is that it is an expensive option as compared to other alternatives.
3. Large Format Stone Tiles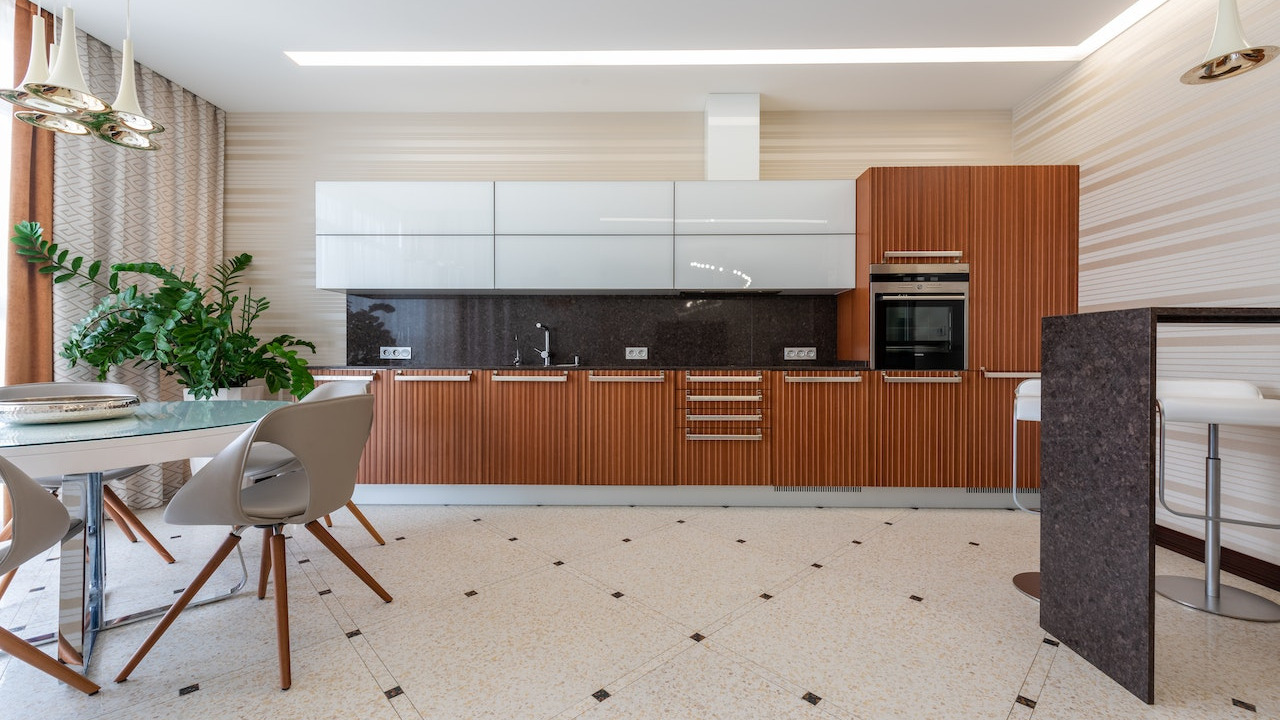 Next in the list of flooring options for white cabinet kitchens are large format stone tiles. These tiles make a space look more expansive due to fewer lines and give a more finished appearance. Large tiles are also known as slabs and by definition are the tiles with at least one edge greater than 15 inches.
Other than stone, these tiles can be made up of ceramic and porcelain. Also, large tiles are available in square, circular and rectangular shapes. You can choose to have glossy finish cabinet ends for the exterior as it will compliment the stone tiles. 
Some of the advantages of having large format stones tiles are:
It provides a modern look to your kitchen.
These tiles are lightweight and durable.
You can easily clean them due to fewer grout lines.
Due to their non-porous nature, they are considered as a more hygienic option.
Large tiles are easy to install as compared to installing multiple small tiles.
4. Mosaic Tile Floor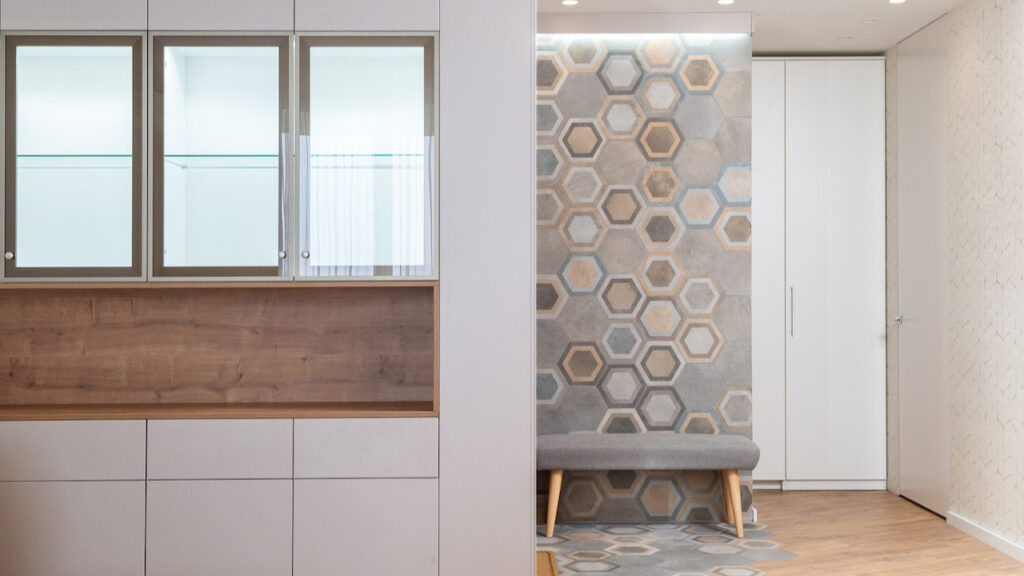 Mosaic art style has been ruling the construction and architecture industry since 5000 years ago. Over the years, the mosaic art changed in different forms. These mosaic tiles are even in-demand and give a stunning effect to a space. These mosaic tiles are even available in a variety of material options.
Some of the benefits of mosaic tiles are:
It makes your room look brighter.
These tiles are resistant to stain.
Mosaic tiles are very easy to clean.
These mosaic tiles are also available in a variety of colors and mosaic patterns. However, to choose the flooring color, make sure to keep your existing design requirements in mind.
5. Terracotta Tiles
When you are looking for the best flooring options for your white kitchen cabinetry, you can always consider terracotta tiles. Having these in your kitchen creates a warmth and rustic interior.
These tiles are quite flexible when it comes to choosing size and shape. Terracotta tiles can be arranged in different patterns to achieve a natural look. Other than this, terracotta tiles are quite durable and can get along with different interior options.
Right Floor for White Kitchen Cabinets
White kitchen cabinets have been quite popular due to their versatility and simplicity. To further enhance the kitchen outlook, you need to choose a flooring option for your white cabinets. This is because flooring can affect the overall look of your home. When it comes to choosing a flooring option, there are multiple options you can consider. The kitchen floor that complements white cabins can give your kitchen both trendy and modern look.
When choosing a flooring type, make sure what color scheme you want to follow and what option fits in your budget. It is also recommended to consult professionals regarding the choice of flooring material.